Engel solutions for the smart factory
Engel inject 4.0
industry 4.0
Process stability, productivity and availability together with maximum data security and flexibility remain the guiding principles of inject 4.0.
ENGEL is a solid and reliable partner helping you pave the way towards your smart factory.
inject 4.0 combines the advantages of the smart machine, smart production and smart service to create a solid foundation for smart production. Thanks to horizontal and vertical data integration, every component of inject 4.0 can contribute to your smart factory.
Engel ensures seamless exchanges and the availability of relevant data across the entire value chain through horizontal data integration. You benefit from plug-and-produce production systems that can easily be integrated into other ENGEL systems and peripheral devices, guaranteeing maximum flexibility.
At the same time, vertical integration allows continuous communication from the individual sensor, any peripherals and the machine with the MES system and even the ERP system. The result is maximum transparency throughout the production process and an unprecedented database on which to base analysis and decision-making.
With inject 4.0 Engel has set the goal of advancing cross-system communication to enable you to utilise the full potential of your production operation.
In areas such as data security ENGEL applies the latest safety standards and implements uniform, secure and service-oriented communication interfaces such as OPC UA – so you can rely on smooth, secure operations.
Injection Moulding Machines
machines from 280 kN to 55,000 kN clamping force
Automation
Conveyor systems
Conveying technology
Automation
Safety systems
Facility safety technology
Automation
Famox system
Mould change systems
Maximising production potential with ENGEL inject 4.0
In three coordinated areas, Engel offers technology and infrastructure that can be used to establish an intelligent machine park and unlock the full potential of your production operation:
smart machine – raising process stability and quality through self-regulating systems
smart service – maximising availability with intelligent monitoring and remote maintenance tools
smart production – ensuring high productivity through an MES specially tailored for injection moulding firms
More stability, higher quality
Smart machine stands for self-regulating ENGEL machines and robots that can identify the smallest deviations in production conditions. Intelligent assistance systems can determine, recommend and automatically set the ideal production parameters, as production operations continue. As a result, machine operators can expect maximum support, even in highly complex production processes.
Smart machine solutions from ENGEL enable you to utilise the full potential of your machine at all times. You benefit from reproducible quality and significantly fewer rejects while reducing energy consumption.
Smart machine solution enables you to:
utilise the maximum potential of a machine thanks to active and passive assistance systems
support operators in processes that are becoming increasingly complex
save time setting the ideal production parameters, for example when starting up the machine or changing materials
achieve greater process stability by automatically compensating for fluctuations in ambient and production conditions
extend the service life and enhance energy efficiency thanks to optimum machine settings
reproducibility, even in sensitive applications
Even small fluctuations in production conditions can have a large influence on your final product. The pioneering ENGEL smart machine products detect such influences during running operations and automatically adjust the production parameters accordingly. Therefore, your ENGEL machine and robot regulate themselves and automatically adapt to the current production conditions. Machine operators are given optimal assistance and you can rely on achieving consistent high quality, significantly fewer rejects and greatly improved energy efficiency.
Practical solutions for increasing process stability (intelligent assistance systems):
iQ weight control
iQ clamp control
iQ flow control
iQ vibration control
flomo
iQ weight control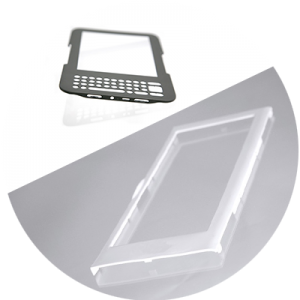 Intelligent process fluctuation compensation
Keep control of all external production conditions: fluctuations in raw materials and changes in ambient conditions can substantially impair the quality of your moulded parts. The intelligent ENGEL iQ weight control software adapts the switchover point and holding pressure profile to match the current conditions, shot for shot. The effects of external influences are thus compensated for, fully automatically and in real time.
consistent part quality – compensates external influences and fluctuations in raw materials, enhances process and weight reproducibility
greater productivity – achieves significantly fewer rejects and quick restarts after machine standstill, boosts energy efficiency
intelligent operating concept – no additional hardware necessary, maximum performance thanks to integration into the state-of-art ENGEL CC300 control unit
Youtube video (iQ weight control)
iQ clamp control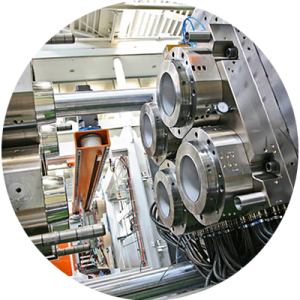 Intelligent clamping force optimisation
Produce perfect parts while using resources economically. In mould breathing, the reduction of clamp pressure when the melted material is being injected into the mould, can cause quality issues with the part. Mould breathing that is too great or too small can produce burn marks or flash. The intelligent ENGEL iQ clamp control software determines the optimum clamping force quickly, automatically keeping mould breathing within the ideal range and thus reducing rejects.
resource-friendly production – an optimised clamping force boosts energy efficiency and reduces wear on the mould
reduced reject rate – achieves a significant reduction in the number of parts with burn marks (diesel effect) or flashes
consistent quality – automatically determines the ideal clamping force and adapts it accordingly when changes in the process occur
cost-effective process optimisation – simple monitoring of quality-relevant information at the mould without additional sensors
iQ flow control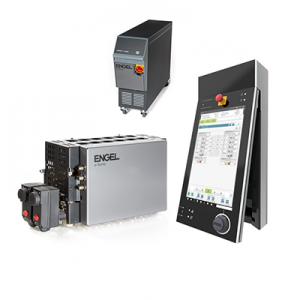 Constant, efficient temperature control processes
iQ flow control software is a revolution in temperature control processes. iQ flow control optimises temperature control processes based on the measurements provided by the e-flomo water distribution system. Together with the temperature control unit, iQ flow control independently regulates temperature differences for each distribution circuit along with pump capacity, thereby ensuring consistent conditions.
Everything from a single source – ENGEL e-flomo, e-temp and iQ flow control are perfectly coordinated
Fewer rejects – thanks to consistent process conditions
Significant energy savings – reduced wear thanks to intelligent speed control
iQ vibration control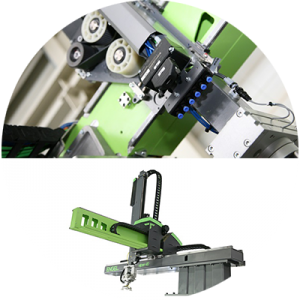 Positioning speed optimisation
The new standard for fast and precise positioning: the dynamic ENGEL iQ vibration control not only detects oscillation in the robot's own movements with sensors, but also actively compensates for vibration caused by external influences. This guarantees that the precise positioning of your moulded parts can be executed even faster, saving valuable cycle time during production.
greater productivity – fast positioning for even shorter removal times
maximum lifetime – thanks to the compensation for external disturbances
optimal process reliability – achieved through the greater accuracy of the robot movements
flomo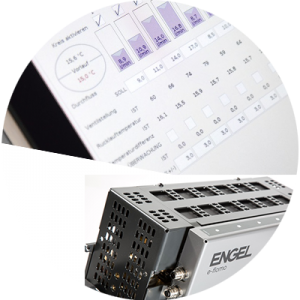 Consistent production processes under any conditions
Achieve top production results with optimal mould temperature control: ENGEL flomo, e-flomo and e-flomo premium are intelligent water manifold systems that help you to increase parts quality, process reliability, cost effectiveness and energy efficiency. Thus you can reduce or exclude various interfering factors on the machine and achieve higher reproducibility with minimum rejects.
constant process conditions – the maintenance-free water manifold system controls flow rate, pressure, temperature and temperature difference
compact with a small footprint – can be mounted directly beside the mould so that no long hose connections are necessary
integrated in the control unit – perfect visualisation, monitoring, controlling and documentation of process parameters
high operator convenience – reduced set-up time & high flexibility even for small batch sizes: the flow rate is adjusted automatically upon calling up the part data
ENERGY EFFICIENCY
Energetska efikasnost u industriji je pojam koji je na našim prostorima postao bitan krajem 2008. i početkom 2009. godine, sa početkom svetske ekonomske krize. Većina privrednika je, do tada, najčešće deklarativno razmatrala trošak struje, kao bitan element kompletnog pregleda troškova. Pritom uticaj energetske efikasnosti na zagađenje prirode gotovo uopšte nije bio razmatran.
Kompanija Neofyton je među prvima u Srbiji i regionu počela aktivno prezentovanje značaja energetske efikasnosti, kako zbog smanjenja troškova proizvodnje, pa samim tim i povećanja profitne stope, tako i zbog podizanja svesti o ograničenosti resursa i širim ekološkim principima.
Ušteda energije korišćenjem Neofyton mašina
U poređenju sa direktnim konkurentima u sferi mašina za brizganje plastike, a korišćenjem standardne hidraulike u koju su ugrađene tzv. "smart" pumpe, naše mašine troše i do 50% manje energije. Korišćenjem servo-hidraulike, postoji potencijal za uštedu do čak 70%. Posedujemo veoma precizan uređaj za merenje potrošnje električne energije, kojim se to i dokazuje.
Kompanija Engel je bila prvi proizvođač mašina za brizganje plastike, još 2009. godine, koji je u svoj upravljački sklop uveo, kao standardnu opciju, stranicu za prikaz potrošnje struje – "Ecograph", gde se navođenjem težine za svaki proizvod (kalup), u svim ciklusima dobija podatak, kako o ukupnoj potrošnji struje po satu, tako i o specifičnoj potrošnji struje po kilogramu prerađene plastike (kWh/kg).
ENVIRONMENTAL PROTECTION
Oprema koju zastupamo doprinosi OČUVANJU ŽIVOTNE SREDINE na nekoliko načina.
Kada govorimo o pratećoj opremi, a pre svega o čilerima za hlađenje vode našeg dobavljača Eurochille, kojima se temperira kako hidraulika i servo motori u mašinama, tako i kalupi (alati) u kojima se i formiraju gotovi proizvodi, čilerski sistemi koje mi prodajemo omogućavaju novi koncept hlađenja korišćenjem tzv. "adijabatskog efekta".
U letnjem periodu hidraulika i servo motori mašina za brizganje zahtevaju hlađenje vodom temperature do 28°C. Korišćenjem tzv. "free cooling" uređaja sa "adijabatskim efektom", hlađenje procesne vode se odvija bez korišćenja rashladnih kompresora (koji koriste freone za izmenu toplote). Izmena toplote, tj. hlađenje se odvija isključivo korišćenjem ventilatora, čime se postiže ušteda od 6 do 8 puta u odnosu na klasične čilere koji koriste kompresore sa freonom.
Jedan od naših kupaca je, korišćenjem "adijabatskih" uređaja za hlađenje, umanjio potrebnu količinu električne energije za hlađenje, za 1.400.000 kWh/godišnje, tj. za oko 70.000 EUR. Dodatna prednost je odsustvo rizika, da usled pucanja cevi dođe do curenja freona u atmosferu i velikog zagađenja.
Slična računica se može primeniti na naše Engel mašine za brizganje plastike, kao i na Piovan sušare za sušanje granulata.
More support, improved availability
Smart service solutions are aimed at minimising planned, and especially unplanned, maintenance. Our predictive maintenance systems reliably identify wear and estimate the remaining service life of system components through continuous evaluation of machine data. This enables you systematically to predict previously unforeseeable breakdowns, account for these in your maintenance planning and thereby maximise the availability of your machinery.
Get fast, qualified support online, anytime

If an unplanned downtime should still occur, fast and straightforward assistance is critical – and we provide it around the world and around the clock. Thanks to e-connect.24 remote online maintenance, our skilled service team can resolve many problems in a few clicks. Wherever you are, our world-wide service network is there for you, quickly restoring your systems to fullworking order.
Smart service solution means:
determining the remaining service life of system components
fewer unexpected downtimes and an improved ability to plan maintenance work for maximum system availability
shorter downtimes and faster troubleshooting through online support
maximum protection and ideal support at all times
The ENGEL smart service solutions provide straightforward, professional support, around the clock and around the world. They also give you better control of your spare parts and maintenance overhead so that you can keep your machines operating in a cost-effective way.
Practical solutions for increasing availability:
e-connect.monitor – with e-connect.monitor you can monitor process-critical components during operation
e-connect.24 – qualified remote maintenance and online support for fast troubleshooting, around the clock and directly at your production cell
protect (+) – intelligent plant protection at a fixed price – keep a large part of the costs for spare parts and service under control with a fixed price for the first 5 years after delivery of the production cell
e-connect.monitor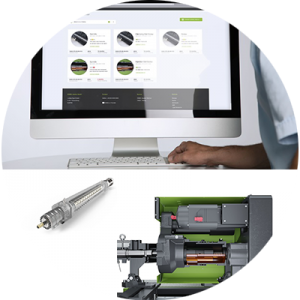 Monitoring process-critical components
The predictive maintenance system from e-connect.monitor now makes it possible to monitor process-critical components during operation. As a result of the forecast on the remaining service life of the components, you can minimise unplanned downtimes, time planned maintenance correctly and maximise the availability of your machinery.
Monitoring during operation – thanks to ultra-modern sensor technology, machine stops are not necessary to monitor components such as screws and spindles
Avoidance of unplanned downtimes and increase in machine availability – alarm function timely informs when remaining service life of the component is critical and replacement necessary
Optimise planned downtimes – better planning of maintenance periods
Cost-efficiency – no unnecessary routine maintenance work, no stocking of spare parts
e-connect.24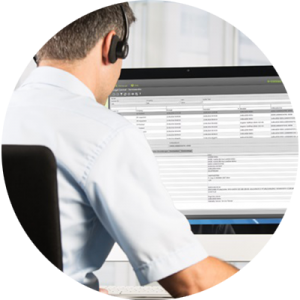 Fast remote maintenance around the clock
Perfect online support, directly on your machine: ENGEL e-connect.24 gives you access to qualified remote maintenance and online support around the clock. 560 service engineers worldwide help you at any time to quickly identify the fault and get things back under control: in a case of a maintenance issue or fault, the system allows you to send an electronic service request to your first level support technician. Our specialists immediately start looking for the cause of the problem via a remote connection.
saves time and costs – free 24/7 ENGEL online support; the investment usually already pays for itself when the first major machine standstill occurs.
top machine availability – minimised standstill duration thanks to quick troubleshooting and fault resolution.
global expertise – top ENGEL experts accessible worldwide
Comprehensive controls and quick help are provided by the free ENGEL e-connect app.
protect (+)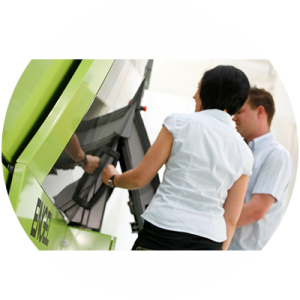 Controls costs for spare parts and service
New machine, smart protection: ENGEL protect and protect+ help you keep control of the costs for spare parts and service for your new production cell right from the start. This comprehensive service package covers the majority of the costs incurred in the first 5 years after delivery at a single fixed price.
fixed maintenance costs – reliable coverage of costs for defects through guaranteed services covering spare parts, packaging, delivery and assembly
qualified support – worldwide 24/7 service and spare parts delivery with fast and early problem recognition and resolution
increased productivity – minimises downtime and thus ensures top machine availability
optimal value protection – ideal tool for ensuring the long-term top-level operation of your production cell
Engel e-connect korisnički portal
Sve informacije na jednoj lokaciji – dostupne u bilo koje vreme i svugde. Besplatni portal za e-povezivanje korisnika grupira sve informacije koje su vam potrebne u vezi vašeg proizvodnog sistema. Prijavljivanje na portal omogućava pristup svim potrebnim informacijama uvek kada su Vam potrebne.
Engel e-connect korisnički portal (PDF 652 KB)
Skinite besplatnu e-connect aplikaciju za: iOS (iPhone/iPad), Android ili Windows (Phone/Desktop)
The free ENGEL e-calc app is a comprehensive tool for every injection moulder. With this tool you can very easily calculate shot volume, filling pressure, clamping force, cooling time and the screw speed. Instead of making tedious calculations, you will quickly receive the desired results within just a few clicks. These are displayed clearly structured on one page.
Skinite besplatnu e-calc aplikaciju za: iOS, Android ili Windows (Phone/Desktop).
ENGEL plastyfine/plastyfine lite
Recognise moulding defects quickly and easily with the ENGEL plastyfine app. The comprehensive image database is always at hand and helps you to identify defects. ENGEL plastyfine describes both the physical causes and technical process remedies. Your mobile advisor also includes important tips for reducing and avoiding defects. The effects of parameter adjustments on the process and quality of the moulded parts is presented in a clear and understandable way. Helpful hints for troubleshooting as well as general processing information can be called up with the click of a button. Test the free ENGEL plastyfine lite version or take advantage of the full functionality of the ENGEL plastyfine app.
Skinite besplatnu plastyfine lite aplikaciju za: iOS (iPhone/iPad) ili Android.
Skinite besplatnu plastyfine aplikaciju za: iOS (iPhone/iPad) ili Android.
Enhanced networking, greater productivity
ENGEL's smart production solutions link various elements of the production process and create transparency throughout the overall system so that you can utilise resources with maximum effectiveness while raising productivity.
Specially developed for injection moulding firms, the MES TIG authentig clearly maps and controls your networked machinery. This allows you to maintain an overview of current production operations and improve capacity utilisation.
Smart production solution promises:
greater transparency in production by networking your machinery and several sites
improved capacity utilisation and more efficient machinery through optimised capacity planning
documented quality and traceability for your products
an integrated communication concept, even for third-party products such as peripherals
Practical solutions for raising productivity:
TIG authentig – 

keep production under control with this intelligent MES – perfect for managing data records, optimising set-up times and fulfilling documentation requirements
TIG authentig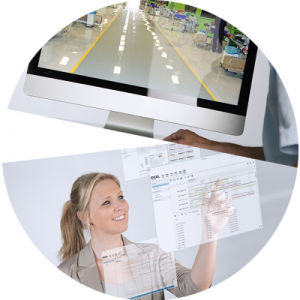 The intelligent MES for injection moulding
Plan production efficiently and check data in real time: TIG authentig provides you with important insights into and a good overview of what is going on in your production and how it is running. With the help of its various modules, you can for example very easily create production plans on your PC at any time or check the status and progress of production from your desk. You can also use the system to manage data records, optimise set-up times or fulfil the documentation requirements of your customers.
The TIG authentig modules:
Monitoring – production status at glance
Planning – intelligent, detailed order planning
Setup – start production quickly with appropriate data settings
Quality Process & Quality Measuring – complete documentation of process and quality data
Maintenance – planning and documentation of maintenance
Energy – monitor and control power usage
Analyzer & Reporting – key indicators of production and individual analyses
Neofyton provides "turnkey" solutions
From system design to machine installation and training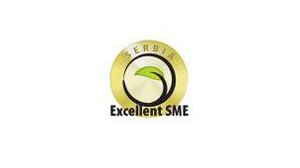 Excellent Small & Medium Enterprises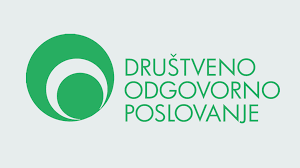 Djordje Vajfert Award for Corporate Social Responsibility - Serbian Chamber of Commerce