Injection Moulding Machines
Engel Injection Moulding Machines
Engel je najveći svetski proizvođač mašina za brizganje plastike i gume, koji u svom proizvodnom programu poseduje električne, hidraulične i hibridne mašine za brizganje. ENGEL je jedna od retkih globalnih kompanija, 100% u porodičnom vlasništvu, koja ulaže napor u konstantno upravljanje kvalitetom kako bi kupcima ponudila mašine za brizganje plastike koje prate sve trendove i zahteve tržišta. Korporativna filozofija ove austrijske kompanije je da svojim kupcima ponudi kompletna rešenja u oblasti brizganja plastike iz jednog izvora (mašine za brizganje plastike i gume, automatizacija, obuka, trening). Duh inovacije, izgrađen na decenijama iskustva: ENGEL je uvek u toku i oslanja se na kreiranje najnovijih tehnologija i obezbeđivanje održivog globalnog rasta.
Prezentacija ENGEL kompanije (PDF 2.14 MB)
Lokacije ENGEL fabrika u svetu (PDF 1.18 MB)
10 razloga da izaberete ENGEL (PDF 1.25 MB)
Injection Moulding Machines
machines from 280 kN to 55,000 kN clamping force
Automation
Conveyor systems
Conveying technology
Automation
Safety systems
Facility safety technology
Automation
Famox system
Mould change systems
Modeli mašina za brizganje plastike
The ideal machine concept for every application: ENGEL reassures with its experience and know-how as global market leader in plastics machinery. With proven and innovative injection moulding machines from 280 kN to 55,000 kN clamping force, hydraulic, fully electric, horizontal and vertical solutions.
duo | duo 450 combi |duo 800
The powerful injection moulding machine for large parts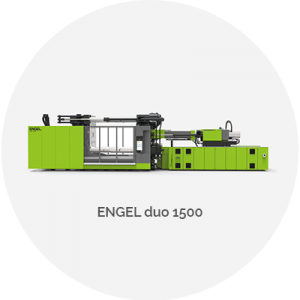 The powerful dual-platen injection moulding machine with a flexible layout and compact exterior dimensions – ideal for large-volume parts, sophisticated automotive components and high-tech products
With its flexible layout and compact size, the ENGEL duo integrates ideally with your production. No matter whether you produce large parts, manufacture highly sophisticated components for the automotive industry or absolutely need a perfect surface for your high-tech products.
compact size – injection moulding machine with a small footprint and low height
flexible machine layout – perfectly designed, variable large-scale machine with a standardised modular kit
short cycle times – thanks to optimised movement dynamics and synchronised locking
efficient production – smart energy concept & maximum cost-effectiveness in the production of large-volume and large-scale parts
clamping force – from 3,500 kN to 55,000 kN
clean & highly precise linear guidance system – available for clamping forces from 3,500 to 7,000 kN
ENGEL has revised its hydraulic injection units from scratch and presents the next generation of its successful ENGEL duo. With their innovative features, the machines achieve even higher levels of precision, ergonomics and efficiency than before.
duo 450 combi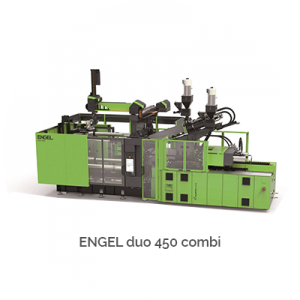 ENGEL is committed to a broader use of recycled materials, opening up new opportunities for the plastics industry: skinmelt, an ENGEL technology for the production of sandwich components, enables products with a very high portion of recycled materials.
Circular Economy: Sandwich-moulded components with a recycled core
Circular Economy is one of the focus topics at K 2019 – naturally also for ENGEL. At our stand, we are showcasing an example with a recycled material content of about 50%, manufacturing transport boxes from recycled and virgin material on a duo 3660H/1560W/450 combi; both materials are polypropylene. Thanks to grade purity, the sandwich-moulded products can also be easily recycled at the end of their service life.
The magic word here is skinmelt: this process involves fusing the two melts prior to injection. The skin – the virgin material – is the first to reach the cavity. It is pushed forward by the incoming recycled PP and pressed against the cavity walls, while the core is filled with recycled material. In this particularly compact production solution, based on the duo dual-platen design injection moulding machine, the second plasticising unit for the skin material is mounted at an angle above the horizontal injection unit inside which the recycled material is melted. This design is extremely space-saving.
The mould is sourced from Haidlmair, an Austrian firm specialising in manufacturing moulds for the production of storage and logistics containers, which will use the transport boxes produced at the K show for its own in-house logistics. We collaborate with "Der Grüne Punkt – Duales System Deutschland" for the recycled material. DSD's PP regrind, produced under the Systalen brand, originates from household refuse that is collected in the yellow bin bags and bins used to dispose of lightweight recyclable packaging, before being sorted and processed in separate categories.
Material
PP (new and recycled material)
duo 800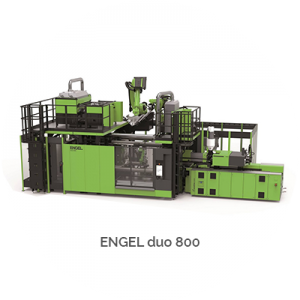 ENGEL makes the most complex injection molding challenges easy to handle – with solutions from a single source. In this exhibit, everything comes from our extensive modular system and therefore meshes seamlessly: from the injection moulding machine through several articulated robots to the IR ovens.
The next giant leap in the development of thermoplastics-based lightweight composite design
At the ENGEL stand, you will find the world's first production cell to use infrared radiation to heat up and form three organic sheets of differing thicknesses, as well as shaping a high-quality visible surface in the same injection moulding process stage. The process presented, in which demo parts for passenger car door modules are manufactured using the organomelt process, is a joint development with automotive supplier Brose.
The exhibit, centred on a duo 3660/800 injection moulding machine integrates three ENGEL easix articulated robots all operating at the same time and two IR ovens. These are necessary due to the different thicknesses of the prepregs and both originate from our own development and production. Like the ENGEL articulated robots, they can be conveniently operated using the injection moulding machine's CC300 control unit. In our systems solutions, the moulding machine, robots and peripherals all access the same database which alleviates the risk of faults and hugely improves efficiency.
Material
thermoplastic fabric
PPLGF30
e-cap
The caps & closures machine with maximum energy efficiency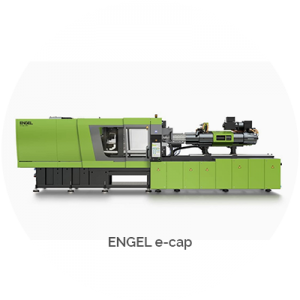 The all-electric high performance machine for maximum output and minimum energy consumption in the production of caps & closures
Maximum output with minimal energy consumption: The ENGEL e-cap is the all-electric, high-performance injection moulding machine for your efficient caps & closures production. Shortest cycle times, top productivity and a maximum of good parts allow you to achieve unbeatable production conditions in the future.
maximum performance – powerful injection unit combined with increased ejector force & increased clamping speed
precise manufacturing – impressive process stability results in a maximum of good parts
optimum efficiency – less energy and cooling water consumption & top availability
top system competence – strong global partnerships for moulds and auxiliaries
clamping force – from 1100 kN to 4200 kN
e-duo
The electric powerhouse for large precision parts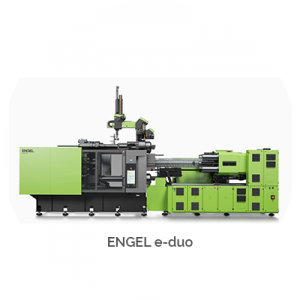 The powerful dual-platen large-scale machine with electric drive technology – perfect for large-scale precision parts
When large parts require extreme accuracy: The ENGEL e-duo injection moulding machine combines the power and flexibility of our successful dual-platen, large-scale machine with the special precision and energy efficiency of our proven electric drive technology. In particular, the ENGEL e-duo is ideal for manufacturing parts with long flow paths that perfectly meet your high quality and efficiency standards.
efficient production – space-saving, flexible injection moulding machine with an intelligent, energy-efficient drive concept
high productivity – high injection speed & integrated servo-hydraulic system for parallel operation of the core pulls
precise quality – perfect platen parallelism, intelligent contact force system and force transmission through two symmetrically arranged spindles
clamping force – from 5,000 kN to 7,000 kN
v-duo
The space-saving vertical machine for large lightweight components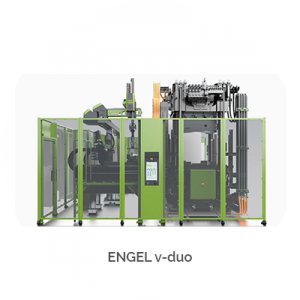 The compact vertical machine – perfect for sensitive manufacturing of fibre composite parts and for processes with high cavity pressure
The future of the automobile is driven by lightweight design: This is why we developed the ENGEL v-duo. This vertical large-scale machine is a sensitive power package that achieves extremely precise results, especially, in fibre composite applications and processes with high cavity pressure. In addition, it is highlighted by many individual equipment options, excellent energy efficiency and its compact size.
space-saving precision – ideal for inserting prepregs or for the high-pressure RTM process
versatile clamping unit – maximum accessibility & operational safety make the ENGEL v-duo the perfect choice for fully automated production processes
excellent cost-effectiveness – tie-bar guiding, platen parallelism control & ENGEL ecodrive as standards
clamping force – from 4,000 kN to 36,000 kN
victory | victory 80 | victory 120 | victory 300 tech | victory 120 AMM
The tie-bar-less machine for efficient production of technical mouldings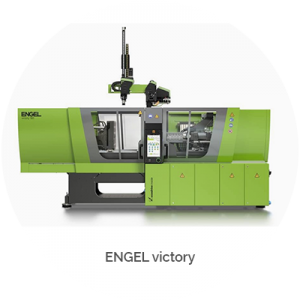 The universal tie-bar-less plastics machine for flexible, efficient and reliable production of technical mouldings
Flexible, energy-efficient and reliable: The universal ENGEL victory is your perfect modular system for manufacturing a wide range of technical mouldings. With its proven tie-bar-less technology, you can use this relatively small injection moulding machine even for large moulds. This means that you only invest in the clamping force you actually require.
versatile concept – the optimal basic machine for all-round applications and a variety of technologies
low energy consumption – low friction, clamping pressure lock-in & electro-hydraulic control pump, ENGEL ecodrive (optional)
absolute freedom – ENGEL tie-bar-less technology for complex, innovative, mould designs, rapid mould change & unobstructed robot movements
optimal mould protection – patented ENGEL force divider for outstanding platen parallelism and uniform clamping force distribution
clamping force – from 280 kN to 5,000 kN
Youtube video (victory 1050/180 – product: 40mm flip-top cap)

Youtube video (quick tool change demonstration)

Youtube video (victory 3550/500)

Youtube video (injection moulding machine victory – tie bar less technology)
victory 80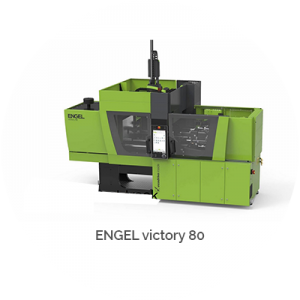 victory 80 fast track – tie-bar-less, hydraulic
ENGEL has the perfect solution if you need a machine on short notice – you benefit from fast machine availability and flexibility.
Great quality and short lead-times
If you need a machine on short notice, a rapid, high-quality solution is key: the fast track model series for the victory and duo sees ENGEL offer customers premium technology with a comprehensive, but fixed specification, and a very short lead-time.
We are showing you what this means in practical terms on a victory 80. As usual, everything is from a single source: a victory injection moulding machine, proven many times in practical applications, with a perfectly matched automation solution. The lead-time for a victory fast track of this type is 6 working weeks after receipt of order. For more details, please refer to the promotional conditions*.
Material
victory 120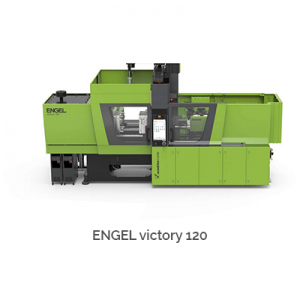 victory 120 tech – tie-bar-less, hydraulic
ENGEL delivers top-quality machines – and supports you in making optimum use of the numerous machine advantages: the tie-bar-less design offers great cost-effectiveness and efficiency and new yet proven assistance systems ensure that you can reduce complexity and rejects.
Experience transparency, assistance and efficiency live
On a victory 460/120 tech injection moulding machine, ENGEL is presenting state of the art smart production: in addition to the proven products, iQ weight control, iQ clamp control and iQ flow control, the two new assistance systems, iQ melt control and iQ process observer are installed on this exhibit.
At K, ENGEL is clearly demonstrating iQ weight control's great potential to close the loop for recyclables by processing fully recycled ABS. To simulate realistic conditions, recycled materials from two different companies (MGG Polymers and Bage-Plastics) with different flow properties are being used. The assistance system adapts the parameters to the new circumstances during the first shot after the material change so that good parts are consistently produced regardless of the recycled material supplier.
Material
victory 300 tech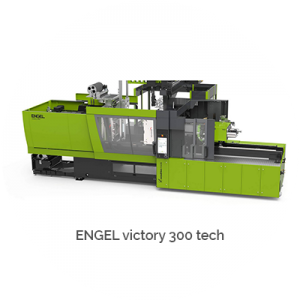 victory 300 tech – tie-bar-less, hydraulic
Smart surfaces are gaining in importance – ENGEL has developed proven technologies such as foilmelt which allow a wide range of possible material combinations. The result is parts that are both visually and functionally premium quality.
Highly flexible for the demands of the future
Foil applications are increasingly in demand – especially in regard to topics such as autonomous driving. For the requirements and challenges that this development involves, ENGEL foilmelt is the solution of choice. It is possible to process both multi-layer foil systems with paint film surfaces, as well as structured, backlightable and functionalised foils with capacitive electronics. At K 2019, we again increased the degree of technology integration: contour trimming takes place directly in the mould, removing the need for an external laser station and eliminating a complete work step.
In Düsseldorf, you will have the opportunity to experience a highly flexible roll-to-roll IMD application for unlimited design options up close: on a victory 1060/300 tech injection moulding machine and integrated viper 20 linear robot. We will be producing complex, three-dimensional sample parts with different decorations. This production-ready method, developed in collaboration with Leonhard Kurz, Schöfer and Isosport Verbundbauteile, makes it possible to thermoform, back inject and die-cut a limitless selection of surface systems from roll to roll in the mould in this one-step process. At the K show, ENGEL will be mixing recycled material in the form of plant scrap shredded together with the foil.
Material
victory 120 AMM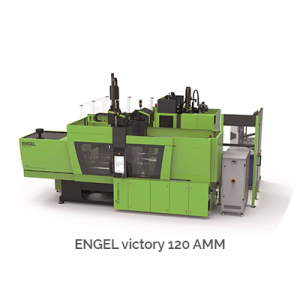 victory 120 AMM | insert 60V/45 – tie-bar-less, hydraulic | vertical, hydraulic
At ENGEL, we are known for breaking new ground – and this also applies to materials: in Düsseldorf, we are showing our solution for processing amorphous metals. Due to its high strength and hardness combined with high ductile qualities, it can be used in mobility, aerospace, medical technology, industry, lifestyle and electronics. Let's talk about the application opportunities at K.
A world premiere: amorphous metals in a polymer composite for the first time
ENGEL frees the way for mass production with metal alloys and their very special properties: the new victory AMM (Amorphous Metal Moulding) has been developed for processing amorphous metals from the Heraeus AMLOY product range; the machine differs significantly from a victory for plastics processing on the injection side. At K, a victory 120 AMM will be teamed with an ENGEL insert 60V/45 rotary xs vertical injection moulding machine, equipped with a two-station rotary table.
At our stand, we are producing housing demo parts that meet the requirements of a wide variety of portable electronic devices such as smartphones, tablet computers and e-book readers. The basic body of the housing is first injection moulded from a zirconium-based AMLOY alloy on the victory AMM. After part removal, depositing and transfer by a viper linear or easix articulated robot, the insert machine injects a liquid silicone rubber (LSR) seal.
Material
AMLOY, liquid silicone rubber (LSR)
e-victory
The tie-bar-less machine for precision technical mouldings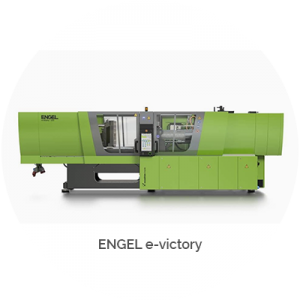 The smart, clean, tie-bar-less machine for the production of small technical and medical technology parts
Whether filigree or complex, optical or micro-parts: the ENGEL e-victory injection moulding machine delivers quality that meets the strictest requirements. With its servo-electric injection unit, the tie-bar-less mould area and the low-emission drive technology, the ENGEL e-victory is the smart, clean choice for the production of precision technical mouldings or small medical parts.
perfect precision – tie-bar-less injection moulding machine with a precision, servo-powered, electrical injection unit
flexible use – suitable for moulds with and without core pulls thanks to "on-board" hydraulics
excellent energy efficiency – tie-bar-less machine with a servo-powered, electrical injection unit, clamp pressure lock-in & innovative, quiet ENGEL ecodrive servo-hydraulics
excellent mould protection – ENGEL force divider: perfect platen parallelism & uniform clamping force distribution
more freedom – for complex, innovative, mould designs, rapid mould change & unobstructed robot movements
clamping force – from 280 kN to 4,000 kN
e-mac | e-mac 280
The small all-electric injection moulding machine for standard applications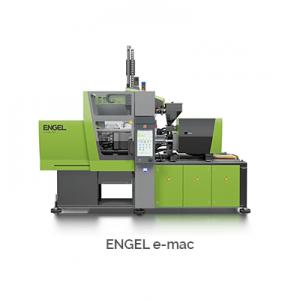 The cost-effective, all-electric small machine for extremely productive, economical and energy-efficient operation
Small machine and high output for a low investment: Impressive on account of its speed, precision and extremely economical, energy-efficient operation, the ENGEL e-mac is your successful entry into the world of all-electric injection moulding. To keep a long story short: it is an investment that pays dividends surprisingly quickly thanks to the attractive purchasing price.
compact efficiency – injection moulding machine with high productivity and small footprint
flexible range of applications – advanced options package for standard applications
long service life – thanks to linear guiding of the moving platen
low energy consumption – all-electric drive concept with an innovative energy recovery system
clamping force – from 500 kN to 2,800 kN
Series expanded on the upper end
Fast, precise, energy efficient and available at an attractive price. With this range of characteristics, all-electric series have become very well established, especially in the teletronics and technical moulding industries. For Fakuma 2017, ENGEL expanded the series on the upper end with a 2,800 kN version.
Youtube video (e-mac 310/100 automotive)
e-mac 280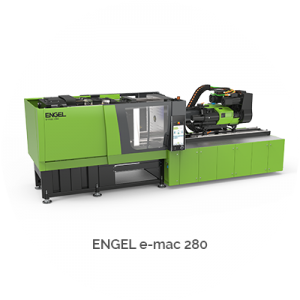 Workaholic with iQ – e-mac 280 | Toggle lever, all-electric
The all-electric e-mac delivers what is needed in series production: stable processes, consistent precision and round-the-clock efficiency. And thanks to an advanced machine concept, it does this with low maintenance costs and a long, reliable life span. Your advantage: intelligent assistance systems from our inject 4.0 programme reduce rejects or downtime to nearly negligible factors. With a self-regulating e-mac, you can rely on problem-free production – for the lifetime of an ENGEL machine.
The family is expanding
The e-mac series was previously available with clamping forces from 500 to 1,800 kN. To increase area productivity and consequently cost efficiency, the Teletronics and Technical Moulding industries are using progressively larger moulds with a larger number of cavities. ENGEL has taken this trend into account by expanding the series.
Fits like a glove
Particularly interesting is the new size, with a clamping force of 2,800 kN, for the following industries:
teletronics
technical moulding
Always good for a surprise: the e-mac series not only impresses in technical moulding and teletronics applications but also in the medical and packaging area with the classic features of an all-electric injection moulding machine, its compact design and maximum performance.
Energy efficiency and precision – consolidated on a compact footprint
An all-electric e-mac 740/280 injection moulding machine, tube collars made of HDPE (Borouge) with a total shot weight of 81.6 grams was produced in a 48-cavity mould from Sibo during the eight days of the trade fair in Düsseldorf. The cycle time is eight seconds, and therefore precisely in the range in which the e-mac can play to its production efficiency benefits.
Material
e-motion | e-motion 120 TL | e-motion 160 T combi
The all-electric injection moulding machine for high-end applications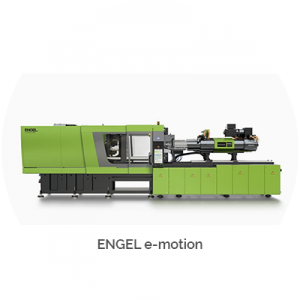 The durable, all-electric injection moulding machine for highly efficient production of parts that require constant, clean quality
Greater output, more speed, higher precision, top cleanliness: The ENGEL e-motion is the optimal production unit for the ever-growing demands of a dynamic market. Thanks to a sophisticated, flexible, all-electric machine concept that gives you constant, clean quality in a highly efficient way.
low maintenance costs – durable injection moulding machine with a perfectly designed, closed-circuit lubrication system
high dynamic – short injection times due to dynamic servo-motors with breath-taking acceleration performance
efficient production – energy-efficient drive systems & high performance thanks to short dry cycle times
precise cleanliness – clean room capability thanks to sealed toggle levers & precision linear guides for the moving platen
e-motion TL – all-electric machine solution with the proven tie-bar-less design
clamping force – from 300 kN to 6,500 kN
Youtube video (e-motion 740/180T)
e-motion 120 TL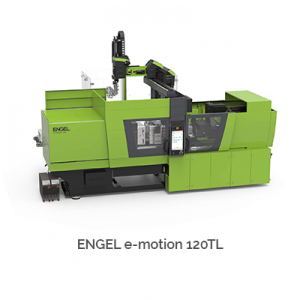 e-motion 120 TL – Tie-bar-less, all-electric
Improved melt uniformity and purity
We open up new freedoms for lighting designers: At ENGEL, we have developed a new plasticising process specifically for PMMA processing, where we reduce the thermal load and ensure air-tightness. This ensures high luminous efficiency, even for light guides featuring complex shapes and long structures. We can also minimise material damage to LED geometries with long flow paths. We are demonstrating the huge potential of this new development on an all-electric and tie-bar-less e-motion 310/120 TL injection moulding machine.
Material
Youtube video (e-motion 120TL)
e-motion 160 T combi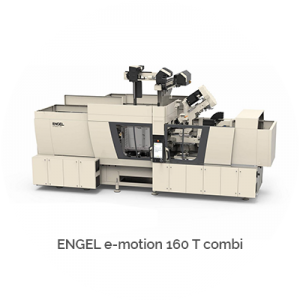 e-motion 160 T combi – Toggle lever, all-electric
Since 1945, ENGEL has stood for the individualisation of customer requirements: with the broadest modular kit on the market, this also applies to multi-colour applications, which are increasingly in demand. No matter whether you are interested in a hybrid, all-electric or hydraulic version – we supply you with a complete and perfectly matched production cell from a single source.
Multiple components for shorter cycle times
ENGEL often breaks new ground and this is also evident in this case, in which uncommonly, more is less. We have split the injection moulding process for producing the housing sections for medical devices into two components. By simultaneously spraying a thin film twice at a time, which cools very quickly, we bypass the longer cooling time of one-component production. The result is a substantial reduction of the cycle time.
We are presenting this innovation on the cleanroom version of an all-electric ENGEL e-motion 310H/170W/160 T combi injection moulding machine with an 8-cavity mould by Hack Formenbau. The two-component precision mould is fully servo-electric in its operation and is the first to use a software programme newly developed by ENGEL. This ensures that the servo-electric movements of core-pulls, for example, can be controlled in the same way as those of hydraulic systems. You can also look forward to experiencing a world premiere with this exhibit: the new ENGEL compact cell makes a substantial contribution to the compact production cell design.
Material
e-speed
The high-speed machine for maximum output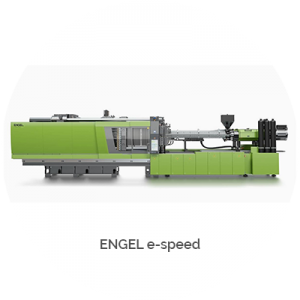 The robust, fast and dynamic injection moulding machine – geared specifically for continuous high performance in the packaging industry
Maximum speed, dynamics and performance: The ENGEL e-speed is trimmed for durable high-performance from top to tail. All system components withstand the most exacting demands and are thus ideally suited for intensive use in the packaging industry. And if you are looking for unbeatable energy efficiency in this class of injection moulding machine: the machine will also impress you with its all-electric clamping unit and innovative energy recovery system.
fastest ENGEL injection moulding machine – designed for permanent high-speed and maximum output
short cycle times – extremely fast dry cycle times, high injection speed, parallel movements
improved efficiency – even with high shot volumes, thanks to the servo-electric screw drive
perfect cleanliness – durable machine concept with encapsulated toggle levers & linear guidance of the moving platen
clamping force – from 3,800 kN to 6,500 kN
insert
The vertical injection moulding machine for perfectly overmoulded insert parts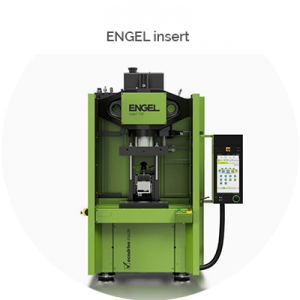 The compact, variable injection moulding machine with vertical clamping unit – perfect for precision moulding of insert parts
When it comes to overmoulding inserts, precision is a premium. With its compact, variable machine concept and vertical clamping unit, the ENGEL insert is the ideal solution. To meet every mould requirement, this model range is available with a vertical or a horizontal injection unit. Plus, as the ENGEL e-insert, available with a servo-powered, electric injection unit and featuring the innovative hydraulic ENGEL ecodrive as a standard, it will achieve even more precision.
individual injection moulding machine – available in the single, rotary & shuttle variants, depending on the mould area requirements
minimal footprint – ergonomically optimised working height without operator platform & short design especially with a vertical injection unit
excellent energy-efficiency – low friction, clamping pressure lock-in & electro-hydraulic control pump, ENGEL ecodrive
easy accessibility – efficient protection of the open work area by means of a light curtain
clamping force – from 300 kN to 4,000 kN
elast
The elastomer injection moulding machine for special requirements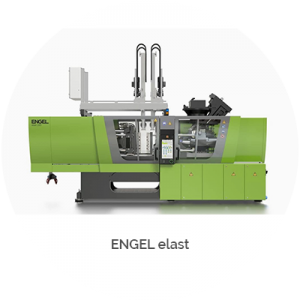 The flexible, powerful injection moulding machine for highly efficient, process-stable processing of rubber, solid and liquid silicones and thermoplastic elastomers
Whether your elastomer products are designed to seal, dampen or provide protection: the ENGEL elast is the flexible power package for elastomer applications of all types. This complete series of machines and automation solutions is perfectly suited for highly-efficient, process-assured processing of rubber, solid and liquid silicone or thermoplastic elastomers.
homogeneous material preparation – using FIFO or screw units for rubber strips or solid silicone
fastest cycle times – an injection moulding machine with machine movements specially designed for the task
high platen stiffness – for particularly stringent quality requirements in elastomer and silicone part production
clamping force – from 450 kN to 6,000 kN
flexseal
The compact machine for O-rings and flat seals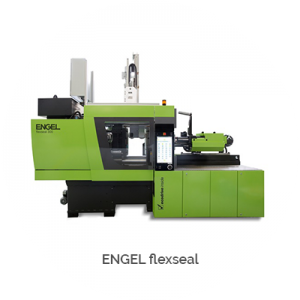 The compact hydraulic machine for the efficient processing of all common rubber compounds – specifically developed for O-rings and flat seals
For all who desire to produce O-rings and flat seals competitively using very little space: the compact hydraulic ENGEL flexseal machine ensures the efficient processing of all common rubber compounds. The horizontal machine design with screw injection unit ensures very high precision for production with the small and mid-sized shot volumes this requires.
low space requirements – delivers more output on a smaller footprint
open design – excellent accessibility to the strip feeder & injection unit
flexible configurations – injection unit individually selectable & compatible with existing moulds
high precision – excellent results with all common elastomers (rubber, solid silicone, LSR & TPE)
fully automatic production – standardised interfaces for take-out equipment & unobstructed ejection chute
particularly energy efficient – equipped with the hydraulic ENGEL ecodrive as standard
clamping force – 3000 kN
ENERGY EFFICIENCY
Energetska efikasnost u industriji je pojam koji je na našim prostorima postao bitan krajem 2008. i početkom 2009. godine, sa početkom svetske ekonomske krize. Većina privrednika je, do tada, najčešće deklarativno razmatrala trošak struje, kao bitan element kompletnog pregleda troškova. Pritom uticaj energetske efikasnosti na zagađenje prirode gotovo uopšte nije bio razmatran.
Kompanija Neofyton je među prvima u Srbiji i regionu počela aktivno prezentovanje značaja energetske efikasnosti, kako zbog smanjenja troškova proizvodnje, pa samim tim i povećanja profitne stope, tako i zbog podizanja svesti o ograničenosti resursa i širim ekološkim principima.
Ušteda energije korišćenjem Neofyton mašina
U poređenju sa direktnim konkurentima u sferi mašina za brizganje plastike, a korišćenjem standardne hidraulike u koju su ugrađene tzv. "smart" pumpe, naše mašine troše i do 50% manje energije. Korišćenjem servo-hidraulike, postoji potencijal za uštedu do čak 70%. Posedujemo veoma precizan uređaj za merenje potrošnje električne energije, kojim se to i dokazuje.
Kompanija Engel je bila prvi proizvođač mašina za brizganje plastike, još 2009. godine, koji je u svoj upravljački sklop uveo, kao standardnu opciju, stranicu za prikaz potrošnje struje – "Ecograph", gde se navođenjem težine za svaki proizvod (kalup), u svim ciklusima dobija podatak, kako o ukupnoj potrošnji struje po satu, tako i o specifičnoj potrošnji struje po kilogramu prerađene plastike (kWh/kg).
ENVIRONMENTAL PROTECTION
Oprema koju zastupamo doprinosi OČUVANJU ŽIVOTNE SREDINE na nekoliko načina.
Kada govorimo o pratećoj opremi, a pre svega o čilerima za hlađenje vode našeg dobavljača Eurochille, kojima se temperira kako hidraulika i servo motori u mašinama, tako i kalupi (alati) u kojima se i formiraju gotovi proizvodi, čilerski sistemi koje mi prodajemo omogućavaju novi koncept hlađenja korišćenjem tzv. "adijabatskog efekta".
U letnjem periodu hidraulika i servo motori mašina za brizganje zahtevaju hlađenje vodom temperature do 28°C. Korišćenjem tzv. "free cooling" uređaja sa "adijabatskim efektom", hlađenje procesne vode se odvija bez korišćenja rashladnih kompresora (koji koriste freone za izmenu toplote). Izmena toplote, tj. hlađenje se odvija isključivo korišćenjem ventilatora, čime se postiže ušteda od 6 do 8 puta u odnosu na klasične čilere koji koriste kompresore sa freonom.
Jedan od naših kupaca je, korišćenjem "adijabatskih" uređaja za hlađenje, umanjio potrebnu količinu električne energije za hlađenje, za 1.400.000 kWh/godišnje, tj. za oko 70.000 EUR. Dodatna prednost je odsustvo rizika, da usled pucanja cevi dođe do curenja freona u atmosferu i velikog zagađenja.
Slična računica se može primeniti na naše Engel mašine za brizganje plastike, kao i na Piovan sušare za sušanje granulata.
Neofyton partner kompanije ENGEL
Neofyton je zastupnik kompanije ENGEL za tržišta Srbija, Hrvatske, Bosne i Hercegovine, Makedonije, Crne Gore, Nigerije i Kameruna.
ENGEL iQ weight control (kontrola težine) pomaže vam da zadržite kontrolu nad svim delovima proizvodnje: ovaj inteligentni softver misli i ocenjuje – komad po komad. iQ weight control nadoknađuje fluktuacije u kvalitetu materijala i u okruženju mašine za brizganje – bez ručnog prilagođavanja, potpuno automatski i u realnom vremenu.
Engel e-connect korisnički portal
Sve informacije na jednoj lokaciji – dostupne u bilo koje vreme i svugde. Besplatni portal za e-povezivanje korisnika grupira sve informacije koje su vam potrebne u vezi vašeg proizvodnog sistema. Prijavljivanje na portal omogućava pristup svim potrebnim informacijama uvek kada su Vam potrebne.
Engel e-connect korisnički portal (PDF 652 KB)
Skinite besplatnu e-connect aplikaciju za: iOS (iPhone/iPad), Android ili Windows (Phone/Desktop)
The free ENGEL e-calc app is a comprehensive tool for every injection moulder. With this tool you can very easily calculate shot volume, filling pressure, clamping force, cooling time and the screw speed. Instead of making tedious calculations, you will quickly receive the desired results within just a few clicks. These are displayed clearly structured on one page.
Skinite besplatnu e-calc aplikaciju za: iOS, Android ili Windows (Phone/Desktop).
ENGEL plastyfine/plastyfine lite
Recognise moulding defects quickly and easily with the ENGEL plastyfine app. The comprehensive image database is always at hand and helps you to identify defects. ENGEL plastyfine describes both the physical causes and technical process remedies. Your mobile advisor also includes important tips for reducing and avoiding defects. The effects of parameter adjustments on the process and quality of the moulded parts is presented in a clear and understandable way. Helpful hints for troubleshooting as well as general processing information can be called up with the click of a button. Test the free ENGEL plastyfine lite version or take advantage of the full functionality of the ENGEL plastyfine app.
Skinite besplatnu plastyfine lite aplikaciju za: iOS (iPhone/iPad) ili Android.
Skinite besplatnu plastyfine aplikaciju za: iOS (iPhone/iPad) ili Android.
Neofyton provides "turnkey" solutions
From system design to machine installation and training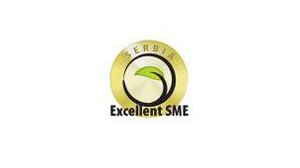 Excellent Small & Medium Enterprises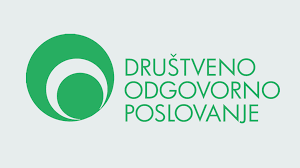 Djordje Vajfert Award for Corporate Social Responsibility - Serbian Chamber of Commerce