Injection Molding Machines
The ideal machine concept for every application: ENGEL inspires confidence with its experience and know-how as a global market leader in plastics machinery, with trustworthy and innovative injection molding machines from 280 kN to 55,000 kN clamping force, hydraulic, fully electric, horizontal and vertical solutions.
duo | duo 450 combi |duo 800
The powerful injection molding machine for large parts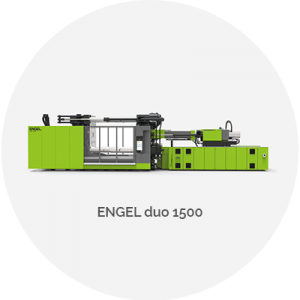 A flexible layout and compact outer dimensions of the powerful dual-platen injection molding machine are ideally suited to the production of large-volume parts, sophisticated automotive components and high-tech products.
Thanks to its flexible layout and compact size, the ENGEL duo integrates in an optimal way with your production, whether you produce large parts, very sophisticated components for the automotive industry or you absolutely need a perfect surface for your high-tech products.
compact size – injection molding machine with a small footprint and low height
flexible machine layout – perfectly designed, variable large-scale machine with a standardized modular kit
short cycle times – thanks to optimized movement dynamics and synchronized locking
economical production – smart energy concept and maximum cost-effectiveness in the production of large-volume and large-scale parts
clamping force – from 3,500 kN to 55,000 kN
clean and highly precise linear guidance system – available for clamping forces from 3,500 to 7,000 kN
ENGEL has examined its hydraulic injection units from scratch and now presents the next generation of its successful ENGEL duo. With their innovative features, the machines achieve even higher levels of precision, ergonomics and efficiency than before.
duo 450 combi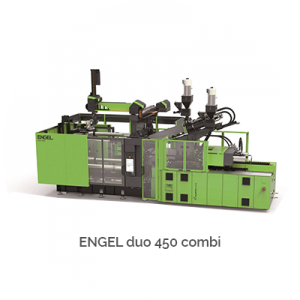 ENGEL is committed to a more extensive use of recycled materials, opening up new opportunities for the plastics industry: skinmelt, an ENGEL technology for the production of sandwich components, generates products with a very high portion of recycled materials.
Circular Economy: Sandwich-molded components with a recycled core
Circular Economy is one of the topics in focus at K 2019 – naturally, for ENGEL as well. At our stand, we are presenting an example with a recycled material content of about 50%, manufacturing transport boxes from recycled and virgin material on a duo 3660H/1560W/450 combi; both materials are polypropylene. Thanks to the purity of grade used, the sandwich-molded products can also be easily recycled at the end of their service life.
The magic word here is skinmelt: this process means fusing two melts prior to injection. The skin – the virgin material – is the first to be injected into the cavity. It is pushed forward by the incoming recycled PP and pressed against the cavity walls, while the core is subsequently filled with recycled material. In this particularly compact production solution, based on the dual-platen design injection molding machine, the second plasticizing unit for the skin material is angled above the horizontal injection unit inside which the recycled material is melted. This design is extremely space-saving.
The mold is obtained from Haidlmair, an Austrian manufacturer specializing in molds for the production of storage and logistics containers, which will use the transport boxes produced at the K show for its own in-house logistics. We cooperate with "Der Grüne Punkt – Duales System Deutschland" for the recycled material. DSD's PP regrind, produced under the Systalen brand, comes from household refuse collected in the yellow bin bags and bins used to dispose of lightweight recyclable packaging, before being sorted and processed in separate categories.
Material
PP (new and recycled material)
duo 800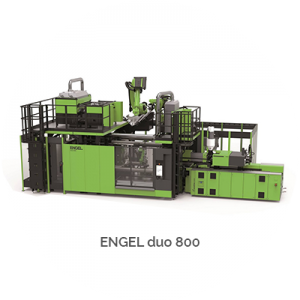 ENGEL simplifies the most complex injection molding challenges – with single source solutions. In this display, everything comes from our extensive modular system and therefore integrates seamlessly: from the injection molding machine, via several articulated robots to the IR ovens.
The next giant step in the development of thermoplastics-based lightweight composite design
The ENGEL stand presents the world's first production cell using infrared radiation to heat up and form three organic sheets of varying thicknesses, as well as shaping a high-quality visible surface in the same injection molding process phase. The process, in which demo parts for passenger car door modules are manufactured in the organomelt process, has been jointly developed with automotive supplier Brose.
The exhibited model, based on a duo 3660/800 injection molding machine, integrates three ENGEL easix articulated robots all operating simultaneously and two IR ovens. These are necessary in order to handle the different thicknesses of the pre-pregs and all are results of our own development and production. Like the ENGEL articulated robots, they can be appropriately operated using the injection molding machine's CC300 control unit. In our systems solutions, the molding machine, robots and peripherals all access the same database which reduces the risk of faults and hugely improves efficiency.
Material
thermoplastic fabric
PPLGF30
e-cap
Caps and closures machine operating with maximum energy efficiency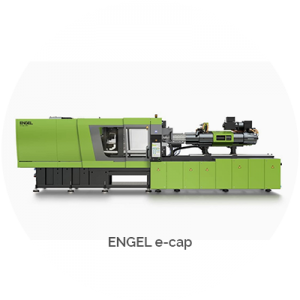 An all-electric high performance machine for maximum output and minimum energy consumption in the production of caps and closures
Achieving maximum output with minimal energy consumption: The ENGEL e-cap is the all-electric, high-performance injection molding machine for your efficient caps and closures production. Shortest cycle times, outstanding productivity and a maximum of good parts allow you to achieve unsurpassable production conditions in the future.
maximum performance – powerful injection unit coupled with increased ejector force and clamping speed
meticulous manufacturing – impressive process stability results in a maximum of good parts
optimum efficiency – less energy and cooling water consumption and maximum availability
leading system competence – strong global partnerships for molds and auxiliaries
clamping force – from 1100 kN to 4200 kN
e-duo
The electric powerhouse for large precision parts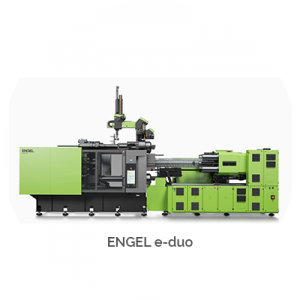 A powerful dual-platen large-scale machine with electric drive technology – perfect for large-scale precision parts
When large parts require extreme precision: The ENGEL e-duo injection molding machine is a combination of the power and flexibility of our successful dual-platen, large-scale machine with the special precision and energy efficiency of our proven electric drive technology. Specifically, the ENGEL e-duo is ideal for manufacturing parts with long flow paths enabling you to perfectly meet your high quality and efficiency standards from a single source.
efficient production – space-saving, flexible injection molding machine with a smart, energy-efficient drive concept
top productivity – high injection speed and integrated servo-hydraulic system for parallel operation of the core pulls
rigorous quality – perfect platen parallelism, smart contact force system and force transmission by way of two symmetrically arranged spindles
clamping force – from 5,000 kN to 7,000 kN
v-duo
Space-saving vertical machine for large lightweight components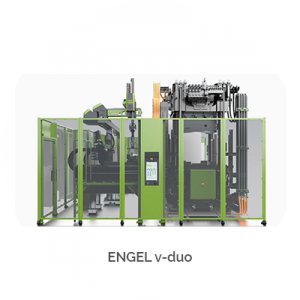 A compact vertical machine – perfect for sensitive manufacturing of fiber composite parts and for processes with high cavity pressure
A compact vertical machine – perfect for sensitive manufacturing of fiber composite parts and for processes with high cavity pressure
The future of the automobile is in its lightweight design: This is why we developed the ENGEL v-duo. This vertical large-scale machine is a sensitive power package that achieves extremely accurate results, especially in fiber composite applications and processes with high cavity pressure. Moreover, it is highlighted by many individual equipment options, excellent energy efficiency and its compact size.
space-saving precision – ideal for inserting pre-pregs or for the high-pressure RTM process
flexible clamping unit – maximum accessibility and operational safety make the ENGEL v-duo an excellent choice for fully automated production processes
superior cost-effectiveness – tie-bar guiding, platen parallelism control and ENGEL ecodrive as standard parameters
clamping force – from 4,000 kN to 36,000 kN
victory | victory 80 | victory 120 | victory 300 tech | victory 120 AMM
The tie-bar-less machine for efficient production of technical moldings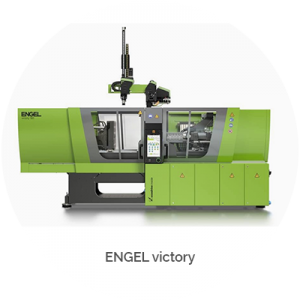 A universal tie-bar-less plastics machine for flexible, efficient and trustworthy production of technical moldings
Flexible, energy-efficient and reliable: The universal ENGEL victory is your perfect modular system for manufacturing a broad array of technical moldings. Thanks to its proven tie-bar-less technology, you can use this relatively small injection molding machine even for large molds. Virtually the only investment you need to make is in the clamping force.
highly adaptable concept – the optimal basic machine for numerous varying applications and a wealth of technologies
low energy consumption – low friction, clamping pressure lock-in and electro-hydraulic control pump, ENGEL ecodrive (optional)
infinite freedom – ENGEL tie-bar-less technology for complex, innovative mold designs, rapid mold change and unimpeded robot movements
optimal mold protection – patented ENGEL force divider for impressive platen parallelism and uniform clamping force distribution
clamping force – from 280 kN to 5,000 kN
see video (victory 1050/180 – product: 40mm flip-top cap)

see video (quick tool change demonstration)

see video (injection molding machine victory – tie-bar-less technology)
victory 80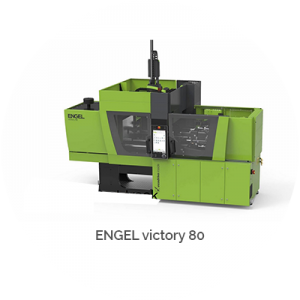 victory 80 fast track – tie-bar-less, hydraulic
ENGEL has the perfect solution if you need a machine on short notice – you gain from easy machine availability and flexibility.
Great quality and short lead-times
If you need a machine on short notice, a quick, high-quality solution is of key importance: the fast track model series for the victory and duo sees ENGEL offers customers superior technology with a comprehensive, but fixed specification, and a very short lead-time.
Here is what this means in practical terms on a victory 80. As usual, everything comes from a single source: a victory injection molding machine, successfully tested many times in practical applications, with a perfectly matched automation solution. The lead-time for a victory fast track of this type is 6 working weeks after receipt of order. For more details, please call us.
Material
victory 120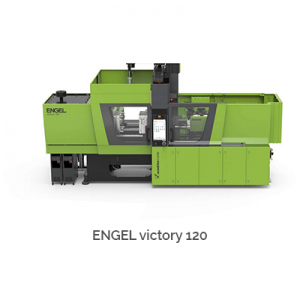 victory 120 tech – tie-bar-less, hydraulic
ENGEL delivers top-quality machines – and supports you in gaining the optimum from the numerous machine advantages: the tie-bar-less design offers great cost-effectiveness and efficiency while new yet proven assistance systems ensure that you can cut complexity and rejects.
Transparency, assistance and efficiency before your eyes
On a victory 460/120 tech injection molding machine, ENGEL is showing state of the art intelligent production: in addition to the proven products, iQ weight control, iQ clamp control and iQ flow control, the two new assistance systems, iQ melt control and iQ process observer are installed on this exhibit.
At K, ENGEL is clearly demonstrating iQ weight control's great potential to close the loop for recyclables by processing fully recycled ABS. To simulate real life conditions, recycled materials from two different companies (MGG Polymers and Bage-Plastics) with different flow properties are being used. The assistance system sets the parameters to suit the new circumstances during the first shot after the material change so that good parts are consistently produced regardless of the recycled material supplier.
Material
victory 300 tech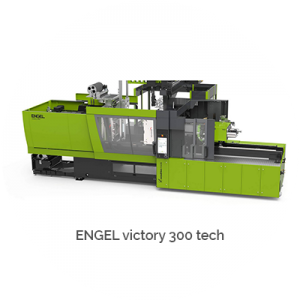 victory 300 tech – tie-bar-less, hydraulic
Smart surfaces are getting increasingly important – ENGEL has developed proven technologies such as foilmelt which allow an abundance of possible material combinations. It is evidenced by parts that both visually and functionally excel in quality.
Highly flexible to tackle future demands
The demand for foil applications is growing – especially with regard to topics such as autonomous driving. To meet the requirements and take up challenges that this development involves, ENGEL foilmelt is the right solution. It facilitates processing of both multi-layer foil systems with paint film surfaces, as well as structured, backlight able and functionalized foils with capacitive electronics. At K 2019, we further increased the degree of technology integration: contour trimming takes place directly in the mold, eliminating the need for an external laser station, i.e. a complete work step.
In Düsseldorf, you will have the opportunity to witness a highly flexible roll-to-roll IMD application for unlimited design options up close: on a victory 1060/300 tech injection molding machine and integrated viper 20 linear robot. We will be making complex, three-dimensional sample parts with various decorations. This production-ready method, developed in cooperation with Leonhard Kurz, Schöfer and Isosport Verbundbauteile, makes it possible to thermoform, back inject and die-cut an unlimited selection of surface systems from roll to roll in the mold in this one-step process. At the K show, ENGEL will be using recycled material in the form of plant scrap shredded together with the foil.
Material
victory 120 AMM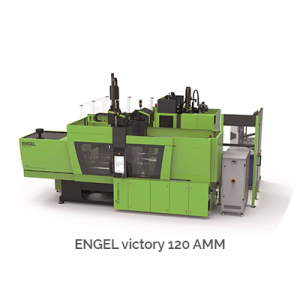 victory 120 AMM | insert 60V/45 – tie-bar-less, hydraulic | vertical, hydraulic
At ENGEL, we are known for getting off the beaten track – this is also true in the choice of materials: in Düsseldorf, we are showing our solution for processing amorphous metals. Thanks to its high strength and hardness, combined with high ductile qualities, they can be used in mobility, aerospace, medical technology, industry, lifestyle and electronics. Let us look at the application opportunities at K.
A world premiere: amorphous metals in a polymer composite for the first time
ENGEL paves the way for mass production with metal alloys and their very special properties: the new victory AMM (Amorphous Metal Molding) has been developed for processing amorphous metals from the Heraeus AMLOY product line; the machine differs significantly from a victory for plastics processing on the injection side. At K, a victory 120 AMM will be combined with an ENGEL insert 60V/45 rotary xs vertical injection molding machine, fitted with a two-station rotary table.
At our stand, we are showing the production of housing demo parts which meet the requirements of a wide variety of portable electronic devices such as smartphones, tablet computers and e-book readers. The basic body of the housing is first injection molded from a zirconium-based AMLOY alloy on the victory AMM. After a part is removed, deposited and transferred by a viper linear or easix articulated robot, the insert machine injects a liquid silicone rubber (LSR) seal.
Material
AMLOY, liquid silicone rubber (LSR)
e-victory
The tie-bar-less machine for precision technical mouldings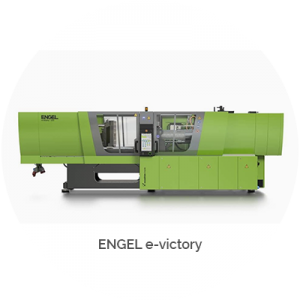 The smart, clean, tie-bar-less machine for the production of small technical and medical technology parts
Whether filigree or complex, optical or micro-parts: the ENGEL e-victory injection moulding machine delivers quality that meets the strictest requirements. With its servo-electric injection unit, the tie-bar-less mould area and the low-emission drive technology, the ENGEL e-victory is the smart, clean choice for the production of precision technical mouldings or small medical parts.
perfect precision – tie-bar-less injection moulding machine with a precision, servo-powered, electrical injection unit
flexible use – suitable for moulds with and without core pulls thanks to "on-board" hydraulics
excellent energy efficiency – tie-bar-less machine with a servo-powered, electrical injection unit, clamp pressure lock-in & innovative, quiet ENGEL ecodrive servo-hydraulics
excellent mould protection – ENGEL force divider: perfect platen parallelism & uniform clamping force distribution
more freedom – for complex, innovative, mould designs, rapid mould change & unobstructed robot movements
clamping force – from 280 kN to 4,000 kN
e-mac | e-mac 280
Small all-electric injection molding machine for standard applications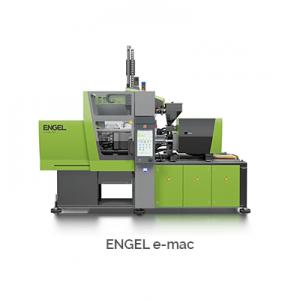 A cost-effective, all-electric small machine for extremely productive, economical and energy-efficient operation
Small machine and high output in turn for a low investment: Impressive because of its speed, precision and extremely economical, energy-efficient operation, the ENGEL e-mac is your successful entry into the world of all-electric injection molding. In a nutshell: it is an investment that pays back surprisingly quickly thanks to its attractive purchasing price.
compact efficiency – injection molding machine with high productivity and small footprint
flexible spectrum of applications – advanced options package for standard applications
long service life – thanks to linear guiding of the moving platen
low energy consumption – all-electric drive concept with an innovative energy recovery system
clamping force – from 500 kN to 2,800 kN
Series pushing the higher limit further up
Fast, precise, energy efficient and available at an attractive price. With this range of characteristics, all-electric series have become very well established, especially in the teletronics and technical molding industries. For Fakuma 2017, ENGEL expanded the series on the upper end with a 2,800 kN version.
see video (e-mac 310/100 automotive)
e-mac 280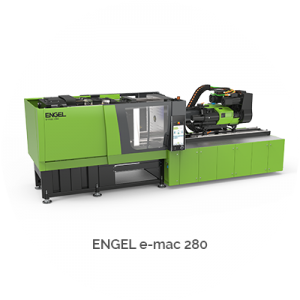 Workaholic with iQ – e-mac 280 | Toggle lever, all-electric
The all-electric e-mac delivers what is essential in series production: stable processes, never failing precision and round-the-clock efficiency. And due to an advanced machine concept, it does this with low maintenance costs and a long, trustworthy life span. An undisputable benefit for you: smart assistance systems from our inject 4.0 programme reduce rejects or downtime to practically negligible levels. With a self-regulating e-mac, you can trust this problem-free production – for the lifetime of an ENGEL machine.
The family is growing
The e-mac series was up to now available with clamping forces from 500 to 1,800 kN. To increase area productivity and consequently cost efficiency, the Teletronics and Technical Molding industries are utilizing progressively larger molds with a larger number of cavities. ENGEL has taken this trend into account by enlarging the series.
A perfect fit
Particularly interesting is the new size, with a clamping force of 2,800 kN, for the following industries:
teletronics
technical molding
Always ready to surprise: the e-mac series is not only impressive in technical molding and teletronics applications but also in the medical and packaging area with the standard features of an all-electric injection molding machine, its compact design and maximum performance.
Energy efficiency and precision – united in a compact footprint
During the eight days of the trade fair in Düsseldorf, on an all-electric e-mac 740/280 injection molding machine, tube collars made of HDPE (Borouge) with a total shot weight of 81.6 grams were produced in a 48-cavity mold from Sibo. The cycle time was eight seconds – falling right within the range in which the e-mac fully demonstrates the benefits of its production efficiency.
Material
e-motion | e-motion 120 TL | e-motion 160 T combi
All-electric injection molding machine for high-end applications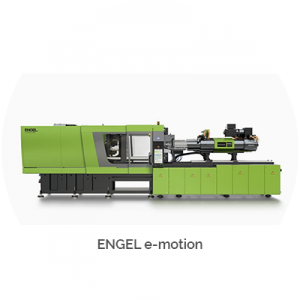 A durable, all-electric injection molding machine for highly efficient production of parts which require constant, clean quality
Greater output, more speed and precision, top cleanliness: The ENGEL e-motion is the optimal production unit for the continuously growing demands of a dynamic market, thanks to a sophisticated, flexible, all-electric machine concept that gives you constant, clean quality in an extremely efficient way.
low maintenance costs – sturdy injection molding machine with a meticulously designed, closed-circuit lubrication system
outstanding dynamism – short injection times due to dynamic servo-motors with breathtaking acceleration performance
efficient production – energy-efficient drive systems and superior performance thanks to short dry cycle times
uncompromised cleanliness – clean room capability thanks to sealed toggle levers and accurate linear guides for the moving platen
e-motion TL – all-electric machine solution with the proven tie-bar-less design
clamping force – from 300 kN to 6,500 kN
e-motion 120 TL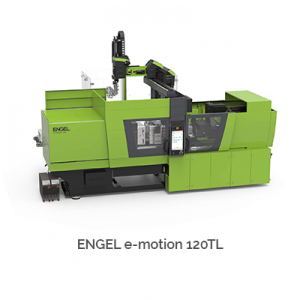 e-motion 120 TL – Tie-bar-less, all-electric
Improved melt uniformity and purity
We open up new liberties for lighting designers: At ENGEL, we have developed a new plasticizing process specifically for PMMA processing, with reduced thermal load and ensured air-tightness. This renders high luminous efficiency, even for light guides of complex shapes and long structures, along with minimizing material damage to LED geometries with long flow paths. The huge potential of this new development is demonstrated on an all-electric and tie-bar-less e-motion 310/120 TL injection molding machine.
Material
e-motion 160 T combi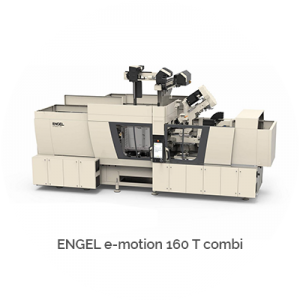 e-motion 160 T combi – Toggle lever, all-electric
Since 1945, ENGEL has strived to recognize the individual needs of the customer: with the broadest modular kit on the market, this is reflected in multi-color applications, which are increasingly in demand. Whether you are interested in a hybrid, all-electric or hydraulic version – we can deliver a complete and perfectly matched production cell from a single source.
Multiple components for shorter cycle times
ENGEL often paves new ways in this industry, as can be seen in this case as well, where – uncommonly – more is less. We have broken up the injection molding process for producing the housing sections for medical devices into two parts. By simultaneously spraying two thin films, which cool down very quickly, we bypass the longer cooling time of one-component production. The result is a substantial shortening of the cycle time.
This innovation is presented on a cleanroom version of an all-electric ENGEL e-motion 310H/170W/160 T combi injection molding machine with an 8-cavity mold by Hack Formenbau. The two-component precision mold is fully servo-electric in its operation and is the first to use a software program newly developed by ENGEL. This means that the servo-electric movements of core-pulls, for example, can be controlled in the same way as those of hydraulic systems. You can also look forward to experiencing a world premiere of this exhibit: the new ENGEL compact cell makes a substantial contribution to the compact production cell design.
Material
e-speed
High-speed machine for maximum output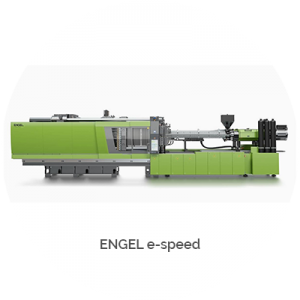 A sturdy, fast and dynamic injection molding machine – designed specifically for continuous high performance in the packaging industry
Maximum speed, dynamics and performance: The ENGEL e-speed is fitted for durable high-performance from top to bottom. All system components perform the most demanding tasks smoothly, proving to be perfectly matched for the intensive use in the packaging industry. Moreover, if you are looking for top energy efficiency in this class of injection molding machine, this one will also impress you with its all-electric clamping unit and innovative energy recovery system.
fastest ENGEL injection molding machine – designed for continuous high-speed and maximum output
short cycle times – extremely short dry cycle times, high injection speed, parallel movements
enhanced efficiency – even with high shot volumes, thanks to the servo-electric screw drive
immaculate cleanliness – durable machine concept with encapsulated toggle levers and linear guidance of the moving platen
clamping force – from 3,800 kN to 6,500 kN
insert
Vertical injection molding machine for perfectly overmolded insert parts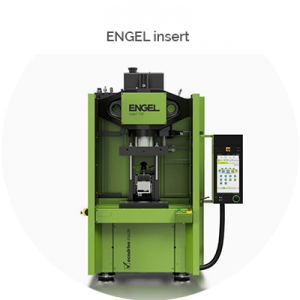 A compact, variable injection molding machine with vertical clamping unit – perfectly suited for precision molding of insert parts
In the process of overmolding inserts, precision is of utmost importance. With its compact, variable machine concept and vertical clamping unit, the ENGEL insert is the ideal solution. In order to meet every mold requirement, this model range is comes both with a vertical and a horizontal injection unit. Plus, as the ENGEL e-insert, available with a servo-powered, electric injection unit and featuring the innovative hydraulic ENGEL ecodrive as a standard, it will achieve even more precision.
individual injection molding machine – available in the single, rotary and shuttle variants, depending on the mold area requirements
small footprint – ergonomically optimized working height without operator platform, short design especially in case of a vertical injection unit
outstanding energy-efficiency – low friction, clamping pressure lock-in and electro-hydraulic control pump, ENGEL ecodrive
easy accessibility – efficiently protected open work area by means of a light curtain
clamping force – from 300 kN to 4,000 kN
elast
Elastomer injection molding machine for special requirements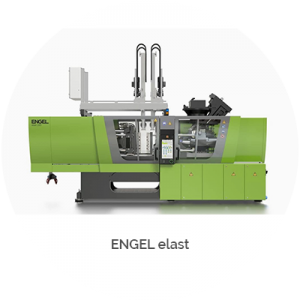 A flexible, powerful injection molding machine for highly efficient, stable processing of rubber, solid and liquid silicones and thermoplastic elastomers
The ENGEL elast is the flexible power package for elastomer applications of all types – whether your elastomer products are designed to seal, dampen or provide protection. This well-rounded series of machines and automation solutions is perfectly suited for highly efficient processing of rubber, solid and liquid silicone or thermoplastic elastomers.
homogeneous material preparation – using FIFO or screw units for rubber strips or solid silicone
shortest cycle times – an injection molding machine with machine movements specially designed for the task
high platen stiffness – for particularly strict quality requirements in elastomer and silicone part production
clamping force – from 450 kN to 6,000 kN
flexseal
Compact machine for O-rings and flat seals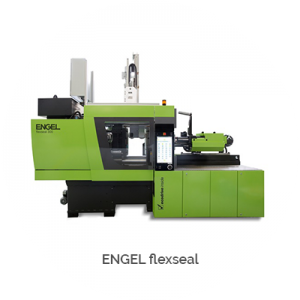 A compact hydraulic machine for efficient processing of all common rubber compounds – specifically developed for O-rings and flat seals
For all those who intend to produce O-rings and flat seals competitively using minimum space: the compact hydraulic ENGEL flexseal machine ensures efficient processing of all common rubber compounds. The horizontal machine design with screw injection unit secures maximum accuracy in the production with small and medium shot volumes this requires.
low space requirements – delivers more output on a smaller footprint
open design – free accessibility to the strip feeder and injection unit
versatile configurations – injection unit individually selectable and compatible with existing molds
superior precision – excellent results with all common elastomers (rubber, solid silicone, LSR and TPE)
fully automatic production – standardized interfaces for take-out equipment and unobstructed ejection chute
particularly energy efficient – equipped with the hydraulic ENGEL ecodrive as standard
clamping force – 3000 kN
Injection Molding Machines
machines from 280 kN to 55,000 kN clamping force
Automation
Conveyor systems
Conveying technology
Automation
Safety systems
Facility safety technology
Automation
Famox system
Mold change systems
Engel Injection Molding Machines
Engel is the world-largest manufacturer of plastics and rubber injection molding machines, offering electrical, hydraulic and hybrid injection molding machines. ENGEL is one of the few 100% family-owned global companies, which is making constant efforts in quality management to offer its clients injection molding machines up to date with all market trends and requirements. The corporate philosophy of this Austrian company is to offer its clients complete injection molding machine solutions from one source (plastics and rubber injection molding machines, automatization, education, and training). The spirit of innovation, built upon decades of experience: ENGEL always keeps abreast of the latest developments and relies on creating state-of-the-art technologies and securing sustainable global growth.
Presentation of ENGEL company (PDF 2.14 MB)
Locations of ENGEL plants worldwide (PDF 1.18 MB)
10 reasons to choose ENGEL (PDF 1.25 MB)
ENERGY EFFICIENCY
Energy efficiency is a concept that in our part of the world became important towards the end of 2008 and the beginning of 2009, at the outset of the world economic crisis. Most business people had, until then, mostly declaratively considered power consumption as a significant element of the total cost analysis. In these considerations, the impact of energy efficiency on the environment pollution had hardly been tackled at all.
Neofyton was among the first companies in Serbia and the region to start actively demonstrating the importance of energy efficiency, both by cutting production costs and therefore increasing profit rates and building awareness of the resource shortage and broader ecological principles.
Energy savings through the use of Neofyton's machines
In comparison with our direct competitors in the field of plastics injection machines, and with the utilization of standard hydraulics with integrated so-called "smart" pumps, our machines consume as much as 50% less energy. The use of servo-hydraulics opens up the potential of savings as high as 70%. We have a very precise power consumption measuring device to prove this.
The company Engel was the first plastics injection machine manufacturer back in 2009, which introduced the power consumption page as a standard component of the control assembly – "Ecograph", where - next to the weight of each product (molded part) in every cycle - total hourly consumption is shown, as well as the specific power consumption per one kilogram of processed plastics (kWh/kg).
ENVIRONMENTAL PROTECTION
The equipment we represent contributes to ENVIRONMENT PROTECTION in several ways.
When it comes to ancillary equipment, above all water chillers by our supplier Eurochille, used for temperature control of both hydraulics and machine servo motors and molds (tools) in which finished products are made, the chiller systems we sell facilitate the use of a new cooling system based on the so-called "adiabatic effect".
In summer, the hydraulics and servo motors of the injection molding machines call for cooling with water at a maximum of 28°C. Using the so-called "free cooling" device with the "adiabatic effect", cooling of process water is performed without cooling compressors (which use freon as the heat exchanger). Heat exchange, i.e. cooling happens exclusively by the use of ventilators, which translates into six- to eightfold savings compared to traditional chillers that use freon-based compressors.
One of our customers has reduced the required cooling energy by 1.400.000 kWh per year, i.e. by about 70.000 EUR, using the "adiabatic" cooling devices. An additional benefit is the elimination of major pollution risks which might arise from emissions of freon into the atmosphere due to tube puncture or breakage.
A similar calculation can be applied to our Engel injection molding machines, as well as to the Piovan granulate dryers.
Neofyton – a partner of ENGEL's
Neofyton is ENGEL's representative for the markets of Serbia, Croatia, Bosnia and Herzegovina, Macedonia, Montenegro, Nigeria and Cameroon.
ENGEL iQ weight control helps you to keep control of all production segments: this intelligent software thinks and estimates – shot by shot. The iQ weight control compensates for product quality fluctuations and changes in ambient conditions around injection molding machines – without the need for manual adjustments, fully automatically and in real time.
The Engel e-connect user portal
All information in one location – available any time and any place. A free portal for e-connection of users groups together all the information you need about your production system. Logging on the portal enables access to all the required information any time you need them.
Engel e-connect user portal (PDF 652 KB)
Download free e-connect application for: iOS (iPhone/iPad), Android or Windows (Phone/Desktop)
The free ENGEL e-calc app is an all-inclusive tool for every injection molder. This tool facilitates straightforward calculation of shot volume, filling pressure, clamping force, cooling time and the screw speed. Instead of spending time on calculations, you will quickly get the desired results with just a few clicks, clearly displayed on one page.
Download free e-calc application for: iOS, Android or Windows (Phone/Desktop).
ENGEL plastyfine/plastyfine lite
Detect molding defects quickly and easily with the ENGEL plastyfine app. An extensive image database is always at hand and helps you to identify defects. ENGEL plastyfine not only describes the physical causes but also provides technical process remedies. Your mobile advisor also offers important tips on how to reduce and avoid defects. The impact of parameter adjustments on the process and quality of the molded parts is presented in a simple and understandable way. Helpful troubleshooting hints as well as general processing information are just a click away. Check out the free ENGEL plastyfine lite version or take explore the full functionality of the ENGEL plastyfine app.
Download free plastyfine lite application for: iOS (iPhone/iPad) or Android.
Download free plastyfine application for: iOS (iPhone/iPad) or Android.
Neofyton provides "turnkey" solutions
From system design to machine installation and training