Injection molding technologies – processes
Multi-component injection molding
01. coinjection
Mastering cost and quality optimization
Two components – superior results: Thanks to ENGEL co-injection, you can not only produce parts at a lower cost, but also increase their durability or safety for food storage. However, if you are simply interested in the fascinating marbling effect of your products – ENGEL co-injection is the injection molding technology of choice.
cut costs – with multi-layer components by injecting inexpensive core material (e.g. recycled material) into a superior first component (skin)
improve quality – reinforcing a skin component with a fiber-reinforced core
safe for food storage – use of gas-tight material (such as EVOH) as a barrier layer in the core of packaging material
fascinating effects – creating a reproducible marbling effect or tiger stripe pattern by alternating injection molding
02. combimelt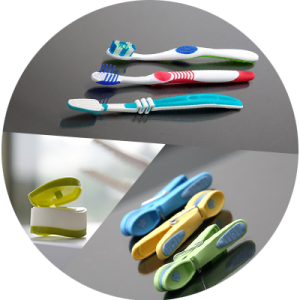 Different materials combined with competence
Smart combination instead of costly and time-consuming assembly: ENGEL combimelt facilitates injection molding of innovative parts, from different materials, in a single step. The result: Superior product properties, great color combinations and additional properties.
one-shot process – up to six injection units can be actuated simultaneously or sequentially
efficient production – space- and energy-saving composite injection molding machine solutions in short cycle times
full flexibility – assembly molding – as well suited for micro parts as for "heavyweights"
incomparable know-how – ENGEL is the leader in combined solutions with more than 4,000 multi-component machines
Process technologies
01. coinmelt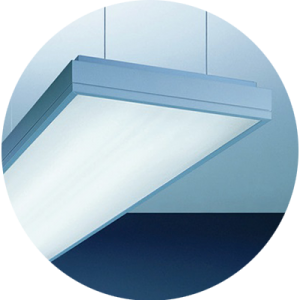 Injection compression molding process for special purposes
Precise surfaces for particularly demanding requirements: The ENGEL coinmelt injection compression molding process yields perfect quality in applications ranging from automotive glazing and optical lenses to molding of filigree, micro-scaled structures.
reduced clamping force – for optimum melt distribution in elongated cavities
homogeneous cavity pressure – perfect for molding of low-torsion, large-surface parts
superb performance – highest reproducibility and dynamic performance
high-precision manufacturing – active parallelism control of the clamping unit
more efficiency – customized equipment packages
02. foammelt (MuCell®)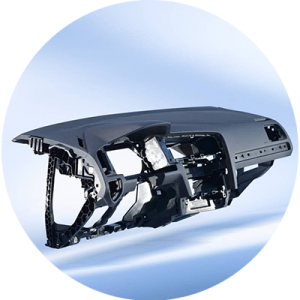 Precision lightweight parts made of micro-foam structures
Low pressure – immaculate results: ENGEL foammelt (MuCell®) helps you create warp-free, lightweight molded parts. In this process, a propellant introduced into the plasticizing unit causes controlled expansion of the melt after injection into the mold. Negative compression further ensures a uniform cell distribution in the foam structure.
flawless quality – foam injection molding for high-precision, low-distortion, dimensionally stable molded parts
low-weight components – lighter parts thanks to microscopically fine foam with a uniform cell structure
controlled foaming process – injecting propellant gas (nitrogen or carbon dioxide) directly into the plasticising unit
lower clamping force – patented low-pressure injection molding
superior safety – foam injection molding with optimum ease-of-use and machine productivity
MuCell® is a registered trademark of Trexel, Inc.
03. gasmelt/watermelt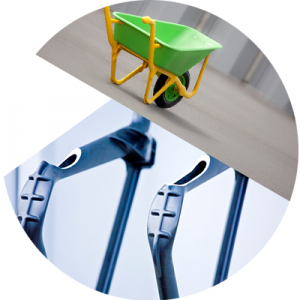 Precise surfaces and less material
Economical response to traditional challenges: ENGEL gasmelt/watermelt is the perfect option in molding specific hollows, complex pipe structures or avoiding shrinkage. This fluid injection technology helps you produce molded parts with both thick walls and walls of considerably differing thicknesses without undesirable surface flaws.
immaculate surface – easier to cool thanks to lower wall thicknesses (our partner: PME Fluidtec, Bauer Kompressoren)
less material consumption – specific hollows save material and cut production costs
flexible applications – for all molded parts with thick walls and with considerably differing wall thicknesses
gas as pressure medium – gas-assisted injection molding machines to generate small gas bubbles in local material concentrations or even complex hollow sections
water as pressure medium – water-assisted injection molding machines ideal for tubular bodies of any design
04. variomelt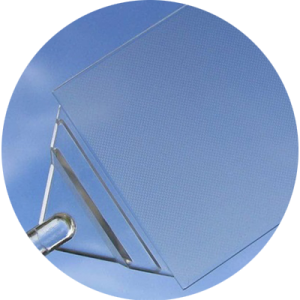 Optimized surfaces as results of controlled temperature variations
Minimal wall thicknesses, perfect cavity filling or a high-gloss finish: ENGEL variomelt facilitates production of state-of-the-art consumer electronics housings up to the highest standards. This variothermal injection molding technology is ideal for overmolding PC-ABS onto pre-molded organic sheets. The result: perfectly smooth surfaces despite different shrinkage rates and very thin walls.
wide range of applications – ideal for state-of-the-art injection molding of consumer electronics, light guide panels, lenses, styling parts and co.
optimal results – sturdy housing or crystal-clear parts with thin walls and smooth surfaces
perfectly combinational – with other ENGEL injection molding technologies such as organomelt, optimelt, coinmelt, foilmelt
impeccable finish – a result of overmolding with translucent piano black
Surface and optics
01. glazemelt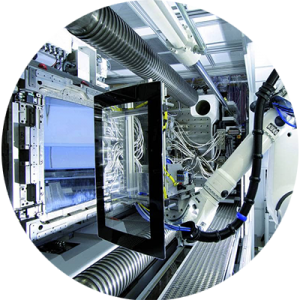 Combination injection molding for large-surface crystal-clear parts
Silicate glass belongs to the past: ENGEL glazemelt enables injection molding of flat, crystal-clear components from plastics, which proves to be very beneficial. This glazing is lighter, offers limitless flexible design features and combines perfectly with other materials – including functional integration!
superior quality – large-area, low-stress multi-component optical parts
high-performance production with combination injection molding – machine with low clamping force thanks to stack molds
versatile applications – a great method for producing all kinds of large multi-component
incredibly flexible design – more flexible design and optimal functional integration in the automotive industry
02. tecomelt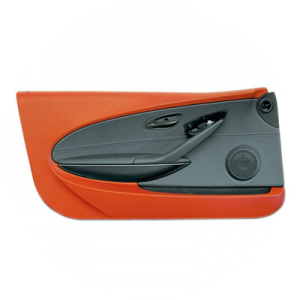 Perfect trims for vehicle manufacturing
Not only pleasing to the eye: in modern vehicle manufacturing reduced splitting and improved noise insulation makes textile-plastic composite parts essential. Thanks to ENGEL tecomelt, these elements can be injection molded in a particularly efficient, material-friendly and economical way.
broad array of applications – back injection molding of trims for pillars, doors, rear shelves, boot trims, etc.
one-shot process – low-pressure injection molding machine for an one-off molding of the component and the assembly details plus the textile decorative trim
ideally combined – most suitable for use with sensitive woven fabrics and foils
material-friendly process – multi-point gate system with cascade control or injection molding with a compression-injection process
03. foilmelt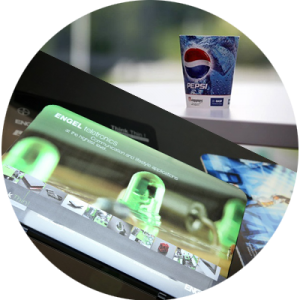 Smart surfaces and additional features thanks to foils
Whether your aim is personalized decorative touch or integration of pioneering, intelligent technology: ENGEL foilmelt allows your products to "make a statement". For example, giving surfaces particularly accentuated styling with custom effects, or – thanks to supplementary electronics – smart functions.
splendid styling effects – metal, aluminum or chameleon effects, holograms, etc. simply injection molded
flexible manufacturing – extremely flexible designs and rapid styling changes
smart features – supporting logistics and control (RFID technology and pressure-sensitive "smart plastics")
one-shot process – immediate production of surface styling in the injection molding machine with no need for finishing works
permanent bonds – reliable marriage of decorative and functional elements
04. clearmelt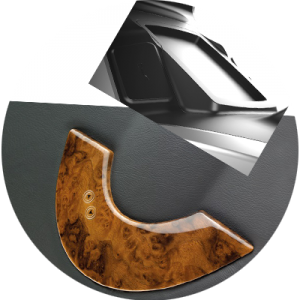 Injection molding which yields scratch-resistant, self-healing surfaces with a 3D effect
No more expensive multi-layer coatings: ENGEL clearmelt facilitates time-saving and efficient manufacturing of durable scratch-resistant and yet highly-sensitive, self-healing PUR coatings. The eye-catching 3D effect, the integration of decorative components, or pioneering smart switch functions make this technology an outstanding highlight.
superior quality – highest scratch- resistance and 3D effect even with thin coating thicknesses
well-proven technology – multiple component injection molding with sliding table, reversing plate, etc.
economical manufacturing – particularly time-saving, efficient injection molding process
innovative features – PUR flooded carriers with integrated circuits – perfectly protected and convenient to use (such as vehicle center consoles)
05. optimelt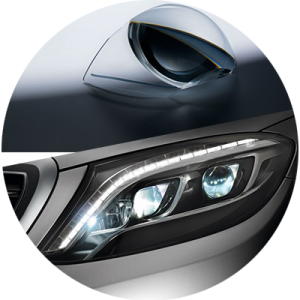 Top-quality optical molded parts
Highest quality and great economic efficiency: ENGEL optimelt tackles both challenges perfectly. This sophisticated injection molding process helps you to make your mark with optical molded parts that meet the highest standards in terms of contour accuracy, internal stress and transparency.
adaptable – for demanding projection and lighting optics
low-stress molded parts – high-precision injection-compression molding of lenses and optical components
total perfection – variothermal mold temperature control for the finest structures and extreme precision
efficient production – multilayer injection molding for high contour accuracy and reduced cycle times
06. varysoft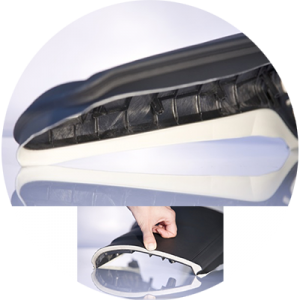 Exceptionally comfortable interior parts for the automotive industry
Classy look and luxurious tactile properties: ENGEL varysoft is your excellent choice for efficient production of multi-dimensional, soft-touch components with a much softer feel. It also holds true for single-step production of premium parts used in vehicle interiors by injecting a PUR foam layer between a thermoplastic carrier and a pre-heated decorative film.
economical production – one-shot method encompassing all three process steps
integrated infrared furnace – for pre-heating the film
exclusive quality – injection molding interior elements with an especially soft core and high-quality interior surface
imaginative styling – ideal for undercuts in the component design
pioneering technology – innovative soft-touch technology for forward-looking interior styling
07. DecoJect®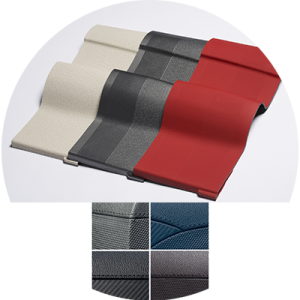 Molding and designing in one step
The process integration within DecoJect® – the coupling of injection molding with IMG (In-Mold-Graining) directly from the roll to the mold – secures significant technical advantages. In contrast to traditional IMD methods, the molded film remains in the mold and is directly back-injected. Plus, a vacuum-capable nickel shell yields grained surfaces with a premium appearance.
versatile – achieve sophisticated product properties and various surface finishes
efficient – straightforward and rapid changes in visual appearance by simply replacing the film
sturdy – scratch-resistant components thanks to DecoJect® films
harmonious – harmonization of interior surfaces coming from various manufacturing processes
Lightweight
01. organomelt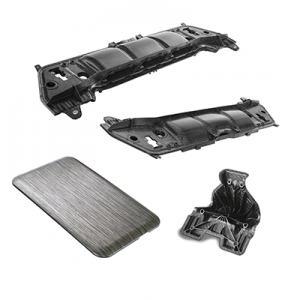 Steel strong lightweight plastic components
Lightweight components instead of steel and aluminum sheets: ENGEL organomelt is the ideal process for manufacturing components with excellent stability and unsurpassable mechanical properties.
maximum stability – composite technology to achieve permanent bonding of thermoplastic semi-finished fiber products with high-quality plastics
one-shot production – highly-integrated, automated thermoforming and injection molding process for continuous fiber reinforced thermoplastic composites
true savings – cost- and resource-efficient production of ready-to-use lightweight parts
numerous applications – innovative lightweight plastics engineering for automotive parts, portable electronic devices, etc.
technology center for lightweight composites – R&D and implementation of tailored plant solutions
02. HP-RTM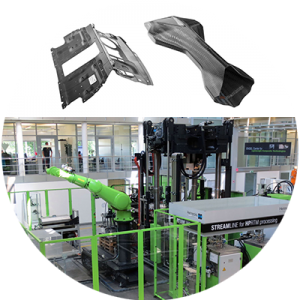 Fiber composite technology with thermoset systems
Efficient production of large, stable and lightweight components: ENGEL HP-RTM fiber composite technology is the key to superior styling and premium properties of flat parts in the automotive industry. It is a process of soaking dry, semi-finished fiber products with injected resin and subsequent curing under heat.
compact production unit – low height and foundation load
higher efficiency – clamping units with ENGEL ecodrive and well-proven ENGEL automation as standard equipment
superior process reliability – process monitoring and documentation
flawlessly designed production – fully-integrated control of the resin-injection system
high-quality components – highest quality and stability for roof systems, car body components, etc.
03. SMC
Sheet Molding Compound – rugged and with excellent malleability
Flow molding (compression molding) is a processing method for sheet molding compounds (SMC) which has been used routinely for more than 50 years – mostly in the automotive, commercial vehicles, electrical, construction and aircraft industries.
This technology involves processing a stack of usually carbon or glass fiber reinforced, free-flowing pre-pregs in a compression molding process. One of ENGEL's offers here is the v-duo, which features high closing speeds and active parallelism control – ideal conditions for fully automated and precise component production. As a provider of turnkey solutions, from the individual press to highly-integrated processing lines, ENGEL offers tailored systems for efficient series production of SMC components.
outstanding strength – structural components with high strength values for maximum performance in lightweight automobile construction
functionality – complex geometries and functional integration supported directly on the component
fully automatic – fully automated production cells from the pre-preg to the finished, ready-to-fit component part
paintable – the use of in-mold coating means that Class-A quality surfaces can be optimally prepared for painting downstream
Thermoset
01. LIM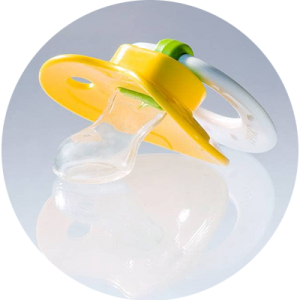 Flexible liquid silicone processing
Whatever your product portfolio may be – micro silicone parts, baby bottle teats or large volume insulators: ENGEL LIM (Liquid Injection Molding) is your best choice for LSR applications, enabling you to produce liquid silicone in a single, fully automated step, even with multi-component applications and certainly without reworking and scrap.
economical manufacturing – fully automated and 24/7 silicone injection molding
flexible systems – LIM injection units featuring a screw conveyor or an injection barrel
maximum support – a broad array of plasticizing pumps easily integrated with the ENGEL control unit
well-defined results – low-burr products eliminate rework and scrap
customized solutions – hydraulic or all-electric, horizontal or vertical injection molding machines depending on the application
02. Duroplast BMC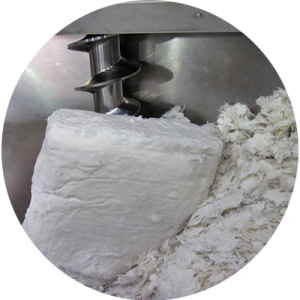 Thermoset processing to achieve top quality
Thanks to their resistance to scratches, impacts and high temperatures, thermosets are used wherever parts are exposed to severe mechanical stresses. ENGEL's thermoset BMC technology delivers extremely wear-resistant systems for an efficient production of these sturdy materials.
versatile systems – for free flowing thermoset materials or moist polyester molding materials
customized solutions – thermoset injection molding with specially designed injection units and feed units
perfectly suited accessories – universal injection-compression molding and ventilation programs, wear-resistant plasticizing units, temperature-controlled nozzles and matching auxiliary units
unbeatable know-how – perfectly designed turnkey solutions
Technology competence
01. Clean Room Components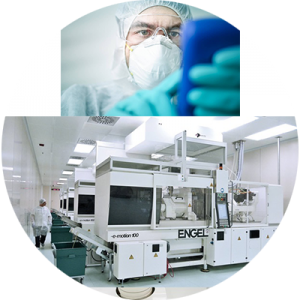 Perfect, standardized cleanliness in production
There is no compromising when it comes to human lives and health: ENGEL clean room components are a guarantee that you will have perfect conditions, in line with the latest quality standards for injection molding of your sensitive or medical products. Both our injection molding machines and our automation systems meet all the prescribed specifications and standards.
cleanroom competence – longstanding experience in medical production joined with the expertise of a global market leader ENGEL
optimized production – creating an economically viable machine concept after in-depth expert analysis
flexible systems – complete machine in the cleanroom or a satellite solution – the machine outside the cleanroom
sophisticated concept – completely encapsulated drives and guides, optimum accessibility and easy cleaning
clean environment – GMP barrel extraction minimizes the particulate and heat load in the cleanroom
full process control – permanent monitoring of all process-relevant parameters
Material-specific processes
01. PVC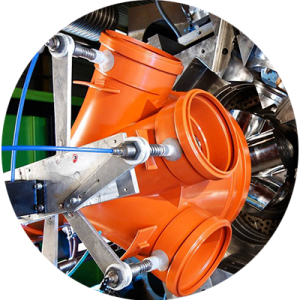 Economical production with reliable quality
PVC dry blends and granulates require most advanced processing expertise: ENGEL PVC technology guarantees you premium, cost-effective production. We are permanently engaged in improving processes to give you a competitive advantage on the global market for standards-compliant, visually impeccable parts.
superb quality – producing perfect parts and minimizing rejects
all-encompassing process know-how – continuous development to optimize product quality
expertly designed systems – optimally matched machine components
versatile production – PVC injection molding of different material types and as-delivered conditions
customized solutions – screw geometries and tailor-made geometries available for special applications/materials
02. Amorphous Metal Molding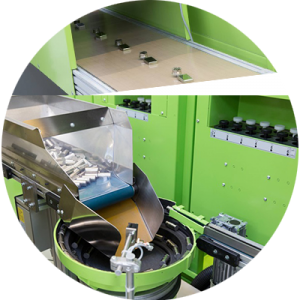 Accepting the challenge of amorphous metal molding revolution
Superbly elastic, virtually indestructible and absolutely corrosion-resistant: ENGEL enters a new era of metal processing of AMM materials. AMMs are a series of revolutionary amorphous zirconium alloys that allow you to produce first-class metallic components using the injection molding process. In partnership with Heraeus, Germany, we have developed an innovative machine solution for this sensitive process based on our all-electric ENGEL e-motion as well as on our tie-bar-less ENGEL victory: alloy ingots are first melted under vacuum by means of induction heating and then injected into a cooled mold. The results: extremely precise metal parts with a perfect, rework-free surface.
revolutionary material – amorphous zirconium alloys: extremely tough, high tensile strength and flexibility combined with excellent elastic recovery
cutting-edge technology – developed with ENGEL's proven injection molding expertise for amorphous alloys on the basis of the all-electric ENGEL e-motion 110/victory 120
varied applications – ENGEL metal injection molding is ideal for consumer electronics, medical, military and aerospace technology as well as for lifestyle applications
Injection Molding Machines
machines from 280 kN to 55,000 kN clamping force
Automation
Conveyor systems
Conveying technology
Automation
Safety systems
Facility safety technology
Automation
Famox system
Mold change systems
Engel is the world-largest manufacturer of plastics and rubber injection molding machines, offering electrical, hydraulic and hybrid injection molding machines. ENGEL is one of the few 100% family-owned global companies, which is making constant efforts in quality management to offer its clients injection molding machines up to date with all market trends and requirements. The corporate philosophy of this Austrian company is to offer its clients complete injection molding machine solutions from one source (plastics and rubber injection molding machines, automatization, education, and training). The spirit of innovation, built upon decades of experience: ENGEL always keeps abreast of the latest developments and relies on creating state-of-the-art technologies and securing sustainable global growth.
Presentation of ENGEL company (PDF 2.14 MB)
Locations of ENGEL plants worldwide (PDF 1.18 MB)
10 reasons to choose ENGEL (PDF 1.25 MB)
ENERGY EFFICIENCY
Energy efficiency is a concept that in our part of the world became important towards the end of 2008 and the beginning of 2009, at the outset of the world economic crisis. Most business people had, until then, mostly declaratively considered power consumption as a significant element of the total cost analysis. In these considerations, the impact of energy efficiency on the environment pollution had hardly been tackled at all.
Neofyton was among the first companies in Serbia and the region to start actively demonstrating the importance of energy efficiency, both by cutting production costs and therefore increasing profit rates and building awareness of the resource shortage and broader ecological principles.
Energy savings through the use of Neofyton's machines
In comparison with our direct competitors in the field of plastics injection machines, and with the utilization of standard hydraulics with integrated so-called "smart" pumps, our machines consume as much as 50% less energy. The use of servo-hydraulics opens up the potential of savings as high as 70%. We have a very precise power consumption measuring device to prove this.
The company Engel was the first plastics injection machine manufacturer back in 2009, which introduced the power consumption page as a standard component of the control assembly – "Ecograph", where - next to the weight of each product (molded part) in every cycle - total hourly consumption is shown, as well as the specific power consumption per one kilogram of processed plastics (kWh/kg).
ENVIRONMENTAL PROTECTION
The equipment we represent contributes to ENVIRONMENT PROTECTION in several ways.
When it comes to ancillary equipment, above all water chillers by our supplier Eurochille, used for temperature control of both hydraulics and machine servo motors and molds (tools) in which finished products are made, the chiller systems we sell facilitate the use of a new cooling system based on the so-called "adiabatic effect".
In summer, the hydraulics and servo motors of the injection molding machines call for cooling with water at a maximum of 28°C. Using the so-called "free cooling" device with the "adiabatic effect", cooling of process water is performed without cooling compressors (which use freon as the heat exchanger). Heat exchange, i.e. cooling happens exclusively by the use of ventilators, which translates into six- to eightfold savings compared to traditional chillers that use freon-based compressors.
One of our customers has reduced the required cooling energy by 1.400.000 kWh per year, i.e. by about 70.000 EUR, using the "adiabatic" cooling devices. An additional benefit is the elimination of major pollution risks which might arise from emissions of freon into the atmosphere due to tube puncture or breakage.
A similar calculation can be applied to our Engel injection molding machines, as well as to the Piovan granulate dryers.
Neofyton – a partner of ENGEL's
Neofyton is ENGEL's representative for the markets of Serbia, Croatia, Bosnia and Herzegovina, Macedonia, Montenegro, Nigeria and Cameroon.
ENGEL iQ weight control helps you to keep control of all production segments: this intelligent software thinks and estimates – shot by shot. The iQ weight control compensates for product quality fluctuations and changes in ambient conditions around injection molding machines – without the need for manual adjustments, fully automatically and in real time.
The Engel e-connect user portal
All information in one location – available any time and any place. A free portal for e-connection of users groups together all the information you need about your production system. Logging on the portal enables access to all the required information any time you need them.
Engel e-connect user portal (PDF 652 KB)
Download free e-connect application for: iOS (iPhone/iPad), Android or Windows (Phone/Desktop)
The free ENGEL e-calc app is an all-inclusive tool for every injection molder. This tool facilitates straightforward calculation of shot volume, filling pressure, clamping force, cooling time and the screw speed. Instead of spending time on calculations, you will quickly get the desired results with just a few clicks, clearly displayed on one page.
Download free e-calc application for: iOS, Android or Windows (Phone/Desktop).
ENGEL plastyfine/plastyfine lite
Detect molding defects quickly and easily with the ENGEL plastyfine app. An extensive image database is always at hand and helps you to identify defects. ENGEL plastyfine not only describes the physical causes but also provides technical process remedies. Your mobile advisor also offers important tips on how to reduce and avoid defects. The impact of parameter adjustments on the process and quality of the molded parts is presented in a simple and understandable way. Helpful troubleshooting hints as well as general processing information are just a click away. Check out the free ENGEL plastyfine lite version or take explore the full functionality of the ENGEL plastyfine app.
Download free plastyfine lite application for: iOS (iPhone/iPad) or Android.
Download free plastyfine application for: iOS (iPhone/iPad) ili Android.
Neofyton provides "turnkey" solutions
From system design to machine installation and training