Kompanija Engel je najveći svetski proizvođač mašina za brizganje plastike i gume, koji u svom proizvodnom programu poseduje električne, hidraulične i hibridne mašine za brizganje. ENGEL je jedna od retkih globalnih kompanija, 100% u porodičnom vlasništvu, koja ulaže napor u konstantno upravljanje kvalitetom kako bi kupcima ponudila mašine za brizganje plastike koje prate sve trendove i zahteve tržišta. Korporativna filozofija ove austrijske kompanije je da svojim kupcima ponudi kompletna rešenja u oblasti brizganja plastike iz jednog izvora (mašine za brizganje plastike i gume, automatizacija, obuka, trening). Duh inovacije, izgrađen na decenijama iskustva: ENGEL je uvek u toku i oslanja se na kreiranje najnovijih tehnologija i obezbeđivanje održivog globalnog rasta.
Prezentacija ENGEL kompanije (PDF 2.14 MB)
Lokacije ENGEL fabrika u svetu (PDF 1.18 MB)
10 razloga da izaberete ENGEL (PDF 1.25 MB)
Injection Moulding Machines
machines from 280 kN to 55,000 kN clamping force
Automation
Conveyor systems
Conveying technology
Automation
Safety systems
Facility safety technology
Automation
Famox system
Mould change systems
Injection moulding technologies – processes
Multi-component injection moulding
01. coinjection
Mastering cost & quality optimisation
Two components, superior results: Thanks to ENGEL coinjection, you can not only produce parts at a lower cost, but also make them more robust or safe for food storage. And if you are simply interested in the fascinating marbling effect for your products – ENGEL coinjection is the right injection moulding technology.
save costs – with multi-layer components by injecting inexpensive core material (e.g. recycled material) into a premium first component (skin)
improve quality – reinforcing a skin component with a fibre-reinforced core
safe for food storage – using a gas-tight material (such as EVOH) as a barrier layer in the core of packaging material
amazing effects – creating a reproducible marbling effect or tiger stripe pattern by interval injection moulding
02. combimelt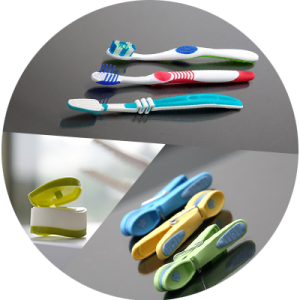 Different materials combined with competence
Clever combination instead of expansive and time-consuming assembly: ENGEL combimelt enables injection moulding innovative parts from different materials in one single step. The result: Superior product properties, great colour combinations and additional features.
one-shot process – up to six injection units can be actuated simultaneously or sequentially
efficient production – space- and energy-saving composite injection moulding machine solutions & short cycle times
full flexibility – assembly moulding equally well suited for micro parts and "heavyweights"
maximum know-how – ENGEL is the leader in combined solutions with more than 4,000 multi-component machines
Process technologies
01. coinmelt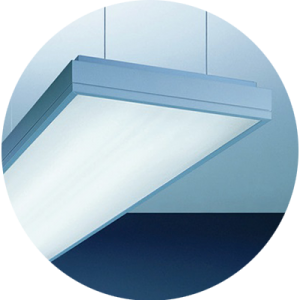 Injection compression moulding process for special requirements
Precise surfaces for particularly exacting requirements: The ENGEL coinmelt injection compression moulding process allows for perfect quality in applications ranging from automotive glazing and optical lenses to moulding of filigree, micro-scaled structures.
reduced clamping force – for optimum melt distribution in elongated cavities
homogeneous cavity pressure – perfect for moulding of low-torsion, large-surface parts
top performance – highest reproducibility & dynamic performance
precise manufacturing – active parallelism control of the clamping unit
more efficiency – equipment packages tailored to your application
02. foammelt (MuCell®)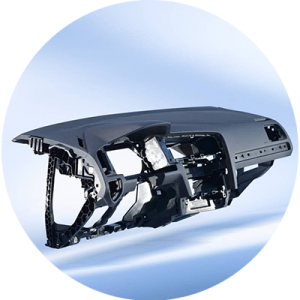 Precision lightweight parts made of micro-foam structures
Low pressure – perfect results: ENGEL foammelt (MuCell®) helps you create warp-free, lightweight moulded parts with a low weight. In this process, a propellant metered into the plasticising unit causes the melt to expand in a controlled way after injection into the mould. Negative compression further ensures a uniform cell distribution in the foam structure.
perfect quality – foam injection moulding for high-precision, low-distortion, dimensionally stable moulded parts
lighter components – lower weight thanks to microscopically fine foam with a uniform cell structure
controlled foaming process – injecting propellant gas (nitrogen or carbon dioxide) directly into the plasticising unit
lower clamping force – patented low-pressure injection moulding
premium safety – foam injection moulding with optimum ease-of-use & machine productivity
MuCell® is a registered trademark of Trexel, Inc.
03. gasmelt/watermelt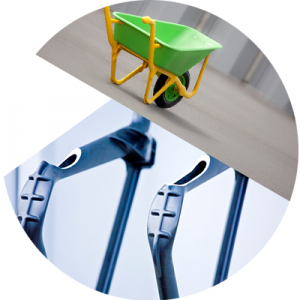 Precise surfaces & less material
The economical solution for traditional challenges: ENGEL gasmelt/watermelt is the perfect option when it comes to moulding specific hollows, complex pipe structures or avoiding shrinkage. This fluid injection technology helps you produce moulded parts with either high or considerably differing wall thicknesses without undesirable surface defects.
precise surface – easier to cool thanks to lower wall thicknesses (our partner: PME Fluidtec, Bauer Kompressoren)
less material – specific hollows save material & production costs
flexible applications – for all moulded parts with high & with considerably differing wall thicknesses
gas as pressure medium – gas-assisted injection moulding machines to create small gas bubbles in local material concentrations or even complex hollow sections
water as pressure medium – water-assisted injection moulding machines ideal for tube bodies of any design
04. variomelt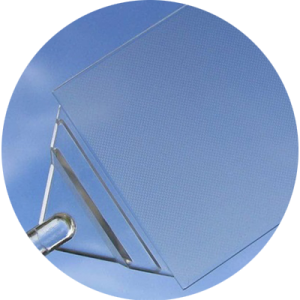 Optimised surfaces thanks to controlled temperature variation
Minimal wall thicknesses, perfect cavity filling or a high-gloss finish: ENGEL variomelt allows to produce state-of-the-art consumer electronics housings that meet the strictest requirements. This variothermal injection moulding technology is ideally suited for overmoulding PC-ABS onto pre-moulded organic sheets. The result: extremely smooth surfaces despite different shrinkage rates and very thin wall thicknesses.
flexible applications – ideal for state-of-the-art injection moulding of consumer electronics, light guide panels, lenses, styling parts & co.
optimal results – robust housing or crystal-clear parts with thin walls & smooth surfaces
perfectly combinable – with other ENGEL injection moulding technologies such as organomelt, optimelt, coinmelt, foilmelt
perfect finish – thanks to overmoulding with translucent piano black
Surface & optics
01. glazemelt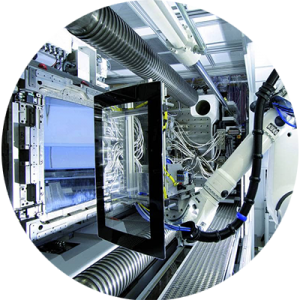 Combination injection moulding for large-surface crystal-clear parts
Silicate glass is a thing of the past: ENGEL glazemelt enables injection moulding of flat, crystal-clear components from plastics and thus leverage many benefits. This glazing is lighter, offers absolutely flexible design and combines perfectly with other materials – including functional integration!
premium quality – Large-area, low-stress multi-component optical parts
efficient production with combination injection moulding – machine with low clamping force thanks to stack moulds
flexible applications – a great method for producing large multi-component parts of any kind
absolutely flexible design – more flexible design and optimal functional integration in the automotive industry
02. tecomelt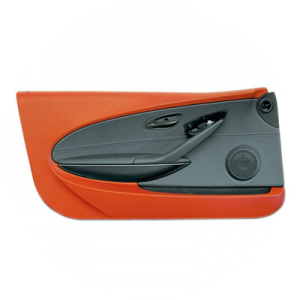 Perfect trims for vehicle manufacturing
More than just beautiful to look at: Reduced splitting and improved noise insulation make textile-plastic composite parts essential in modern vehicle manufacturing. Thanks to ENGEL tecomelt, you can injection mould these elements in a particularly efficient, material-friendly and cost-optimised way.
wide range of applications – back injection moulding of trims for pillars, doors, rear shelves, boot trims, etc.
one-shot process – low-pressure injection moulding machine for moulding the component & the assembly details plus the textile decorative trim in a single step
perfectly combined – ideal for use with sensitive woven fabrics & foils
material-friendly process – multi-point gate system with cascade control or injection moulding with a compression-injection process
03. foilmelt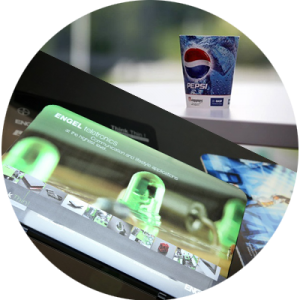 Smart surfaces & additional features thanks to foils
Whether you are looking for an individual decor or to integrate pioneering, intelligent technology: ENGEL foilmelt allows you to give your products that "certain something". For example, giving surfaces specially accentuated styling with custom effects, or – thanks to supplementary electronics – smart functions.
fascinating styling effects – metal, aluminium or chameleon effects, holograms, etc. simply injection moulded
flexible manufacturing – highly flexible designs & fast styling changes
smart features – supporting logistics and control (RFID technology & pressure-sensitive "smart plastics")
one-shot process – direct production of surface styling in the injection moulding machine without the need for finishing works
permanent bonds – reliable integration of decorative & functional elements
04. clearmelt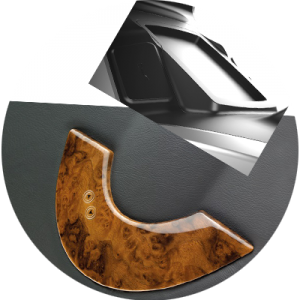 Injection moulding scratch-resistant, self-healing surfaces with a 3D effect
Forget about expensive multi-layer coatings: ENGEL clearmelt enables time-saving and efficient manufacturing of durable scratch-resistant and yet highly-sensitive, self-healing PUR coatings. The impressive 3D effect, the integration of decorative components, or pioneering smart switch functions make this technology a genuine highlight.
excellent quality – highest scratch- resistance & 3D effect even with thin coating thicknesses
proven technology – multiple component injection moulding with sliding table, reversing plate, etc.
efficient manufacturing – particularly time-saving, efficient injection moulding process
innovative details – PUR flooded carriers with integrated circuits – perfectly protected and convenient to use (such as vehicle centre consoles)
05. optimelt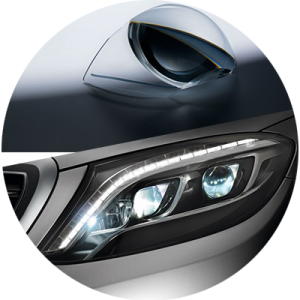 Top-quality optical moulded parts
Premium quality and great economic efficiency: ENGEL optimelt allows to meet both challenges perfectly. This sophisticated injection moulding process helps you to succeed with optical moulded parts that meet the highest standards in terms of contour accuracy, internal stress and transparency.
versatile – for demanding projection and lighting optics
low-stress moulded parts – high-precision injection-compression moulding of lenses and optical components
absolute perfection – variothermal mould temperature control for the finest structures & extreme precision
efficient production – multilayer injection moulding for high contour accuracy and reduced cycle times
06. varysoft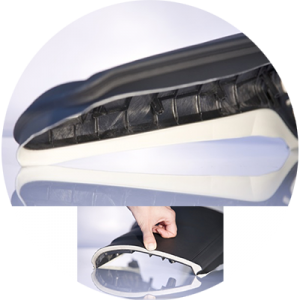 Particularly comfortable interior parts for the automotive industry
Exclusive look and even more tactile excellence: ENGEL varysoft is your perfect choice for efficiently manufacturing multi-dimensional, soft-touch components with a much softer feel. Or for single-step production of premium parts used in vehicle interiors by injecting a PUR foam layer between a thermoplastic carrier and a pre-heated decorative film.
efficient production – all three process steps in a one-shot method
integrated infrared furnace – for pre-heating the film
perfect quality – injection moulding interior elements with an especially soft core and high-quality interior surface
variable styling – ideal for undercuts in the component design
pioneering technology – innovative soft-touch technology for forward-looking interior styling
07. DecoJect®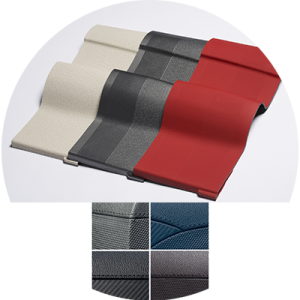 Moulding and designing in one step
The process integration within DecoJect® – the combination of injection moulding with IMG (In-Mould-Graining) directly from the roll to the mould – secures significant technical advancements. In contrast to legacy IMD methods, the moulded film remains in the mould and is directly back-injected. Plus, a vacuum-capable nickel shell allows for grained surfaces with a premium appearance.
flexible – achieve sophisticated product properties and various surface finishes
efficient – easy and fast changes to visual appearance by simply replacing the film
robust – scratch-resistant components thanks to DecoJect® films
harmonious – harmonisation of interior surfaces from various manufacturing processes
Lightweight
01. organomelt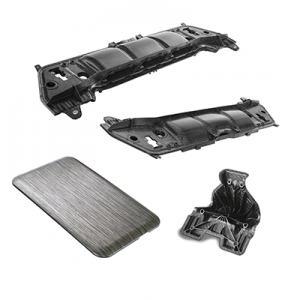 Lightweight plastic components as strong as steel
Replacing steel and aluminium sheets with lightweight components: ENGEL organomelt is the ideal process for manufacturing components with excellent stability and unbeatable mechanical properties.
maximum stability – composite technology for permanent bonding of thermoplastic semi-finished fibre products with high-quality plastics
one-shot production – highly-integrated, automated thermoforming and injection moulding process for continuous fibre reinforced thermoplastic composites
genuine savings – cost- & resource-efficient production of ready-to-use lightweight parts
variety of applications – innovative lightweight plastics engineering for automotive parts, portable electronic devices, etc.
technology centre for lightweight composites – research & development and implementation of tailored plant solutions
02. HP-RTM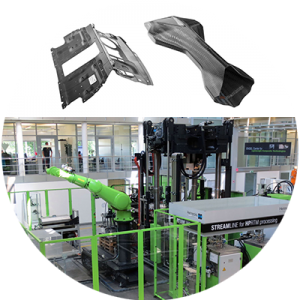 Fibre composite technology with thermoset systems
Large, stable and lightweight components efficiently produced: ENGEL HP-RTM fibre composite technology gives you the key to superior styling and premium properties of flat parts in the automotive industry. This process involves soaking dry, semi-finished fibre products with injected resin and subsequent curing under heat.
compact production unit – low height & foundation load
more efficiency – clamping units with ENGEL ecodrive & proven ENGEL automation as standard equipment
excellent process reliability – process monitoring and documentation
perfectly designed production – fully-integrated control of the resin-injection system
premium components – highest quality & stability for roof systems, car body components, etc.
03. SMC
Sheet Moulding Compound – rugged & with excellent malleability
Flow moulding (compression moulding) is a processing method for sheet moulding compounds (SMC) which has been used successfully for more than 50 years – above all in the automotive, commercial vehicles, electrical, construction and aircraft industries.
This technology involves processing a stack of typically carbon or glass fibre reinforced, free-flowing pre-prags in a compression moulding process. One of ENGEL's offerings here is the v-duo, which benefits from high closing speeds and active parallelism control – ideal conditions for fully automated and precise component manufacturing. As a provider of turnkey solutions, from the individual press to highly-integrated processing lines, ENGEL offers custom-built systems for efficient series production of SMC components.
high-strength – structural components with outstanding strength values for maximum performance in lightweight automobile construction
functional – complex geometries and functional integration supported directly on the component
fully automatic – fully automated production cells from the pre-prag to the finished, ready-to-fit component part
paintable – the use of in-mould coating means that Class-A quality surfaces can be optimally prepared for painting downstream
Thermoset
01. LIM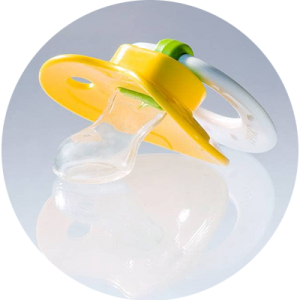 Flexible processing of liquid silicone
Whether you need micro silicone parts, baby bottle teats or large volume insulators: ENGEL LIM (Liquid Injection Moulding) is the first choice for your LSR applications, allowing you to produce liquid silicone in a single, fully automated step, even with multi-component applications and without reworking and scrap.
efficient manufacturing – fully automated & 24/7 silicone injection moulding
variable systems – LIM injection units featuring a screw conveyor or an injection barrel
perfect support – a wide range of plasticising pumps & integrated with the ENGEL control unit
precise results – low-burr products remove the need for reworking and eliminate scrap
individual solutions – hydraulic or all-electric, horizontal or vertical injection moulding machines depending on the application
02. Duroplast BMC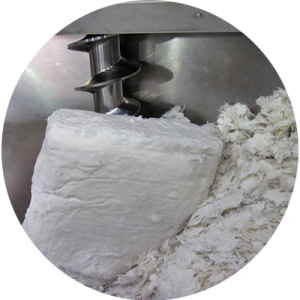 Thermoset processing to the highest quality
Thanks to their resistance to scratches, impacts and high temperatures, thermosets are used wherever parts are exposed to the highest mechanical stresses. ENGEL's thermoset BMC technology supplies extremely wear-resistant systems for the efficient production of these demanding materials.
flexible systems – for free flowing thermoset materials or moist polyester moulding materials
tailor-made solutions – thermoset injection moulding with specially designed injection units & feed units
perfect accessories – universal injection-compression moulding and ventilation programmes, wear-resistant plasticising units, temperature-controlled nozzles & matching auxiliary units
top know-how – perfectly designed turnkey solutions
Technology competence
01. Clean Room Components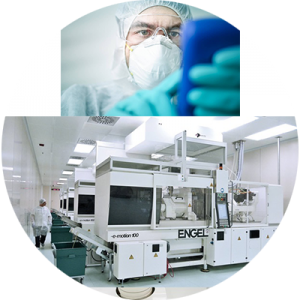 Perfect, standardised cleanliness in production
When it comes to human lives and health, there can be no compromises: ENGEL clean room components are guaranteed to give you perfect conditions, in line with the latest quality standards for injection moulding of your sensitive or medical products. Both our injection moulding machines and our automation systems meet all mandatory specifications and standards.
cleanroom competence – many years of experience in medical production coupled with the expertise of the global market leader ENGEL
optimising production – creating an economically viable machine concept after exhaustive, expert analysis
flexible systems – complete machine in the cleanroom, or with the machine outside as a satellite solution
sophisticated concept – complete encapsulation of the drives and guides, optimum accessibility & easy cleaning
clean environment – GMP barrel extraction minimises the particulate and heat load in the cleanroom
constant processes – permanent monitoring of all process-relevant parameters
Material-specific processes
01. PVC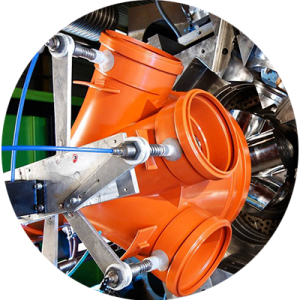 Economic production with reliable quality
PVC dry blends and granulates require maximum processing expertise: ENGEL PVC technology guarantees you premium, cost-effective production. We constantly work on improving processes to give you a competitive advantage on the global market for standards-compliant, visually perfect parts.
premium quality – producing perfect parts & minimising rejects
comprehensive process know-how – continuous development to optimise product quality
perfectly designed systems – optimally matched machine components
flexible production – PVC injection moulding of different material types & as-delivered conditions
individual solutions – screw geometries and custom geometries available for special applications/materials
02. Amorphous Metal Moulding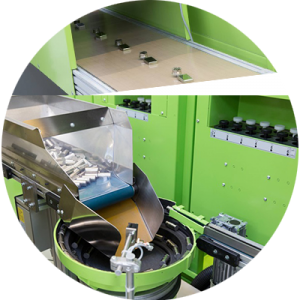 Ready for the amorphous metal moulding revolution
Superbly elastic, virtually indestructible & absolutely free of corrosion: ENGEL enters a new era of metal processing of AMM materials. AMMs are a series of revolutionary amorphous zirconium alloys that allow you to produce premium metallic components using the injection moulding process. As a partner of Heraeus, Germany, we have developed an innovative machine solution for this sensitive process based on our all-electric ENGEL e-motion as well as on our tie-bar-less ENGEL victory: alloy ingots are first melted under vacuum by means of induction heating and then injected into a cooled mould. The results: extremely precise metal parts with a perfect, rework-free surface.
revolutionary material – amorphous zirconium alloys: extremely tough, high tensile strength and flexibility combined with excellent elastic recovery
innovative technology – developed with ENGEL's proven injection moulding expertise for amorphous alloys on the basis of the all-electric ENGEL e-motion 110/victory 120
versatile applications – ENGEL metal injection moulding is ideal for consumer electronics, medical, military and aerospace technology as well as for lifestyle applications
ENERGY EFFICIENCY
Energetska efikasnost u industriji je pojam koji je na našim prostorima postao bitan krajem 2008. i početkom 2009. godine, sa početkom svetske ekonomske krize. Većina privrednika je, do tada, najčešće deklarativno razmatrala trošak struje, kao bitan element kompletnog pregleda troškova. Pritom uticaj energetske efikasnosti na zagađenje prirode gotovo uopšte nije bio razmatran.
Kompanija Neofyton je među prvima u Srbiji i regionu počela aktivno prezentovanje značaja energetske efikasnosti, kako zbog smanjenja troškova proizvodnje, pa samim tim i povećanja profitne stope, tako i zbog podizanja svesti o ograničenosti resursa i širim ekološkim principima.
Ušteda energije korišćenjem Neofyton mašina
U poređenju sa direktnim konkurentima u sferi mašina za brizganje plastike, a korišćenjem standardne hidraulike u koju su ugrađene tzv. "smart" pumpe, naše mašine troše i do 50% manje energije. Korišćenjem servo-hidraulike, postoji potencijal za uštedu do čak 70%. Posedujemo veoma precizan uređaj za merenje potrošnje električne energije, kojim se to i dokazuje.
Kompanija Engel je bila prvi proizvođač mašina za brizganje plastike, još 2009. godine, koji je u svoj upravljački sklop uveo, kao standardnu opciju, stranicu za prikaz potrošnje struje – "Ecograph", gde se navođenjem težine za svaki proizvod (kalup), u svim ciklusima dobija podatak, kako o ukupnoj potrošnji struje po satu, tako i o specifičnoj potrošnji struje po kilogramu prerađene plastike (kWh/kg).
ENVIRONMENTAL PROTECTION
Oprema koju zastupamo doprinosi OČUVANJU ŽIVOTNE SREDINE na nekoliko načina.
Kada govorimo o pratećoj opremi, a pre svega o čilerima za hlađenje vode našeg dobavljača Eurochille, kojima se temperira kako hidraulika i servo motori u mašinama, tako i kalupi (alati) u kojima se i formiraju gotovi proizvodi, čilerski sistemi koje mi prodajemo omogućavaju novi koncept hlađenja korišćenjem tzv. "adijabatskog efekta".
U letnjem periodu hidraulika i servo motori mašina za brizganje zahtevaju hlađenje vodom temperature do 28°C. Korišćenjem tzv. "free cooling" uređaja sa "adijabatskim efektom", hlađenje procesne vode se odvija bez korišćenja rashladnih kompresora (koji koriste freone za izmenu toplote). Izmena toplote, tj. hlađenje se odvija isključivo korišćenjem ventilatora, čime se postiže ušteda od 6 do 8 puta u odnosu na klasične čilere koji koriste kompresore sa freonom.
Jedan od naših kupaca je, korišćenjem "adijabatskih" uređaja za hlađenje, umanjio potrebnu količinu električne energije za hlađenje, za 1.400.000 kWh/godišnje, tj. za oko 70.000 EUR. Dodatna prednost je odsustvo rizika, da usled pucanja cevi dođe do curenja freona u atmosferu i velikog zagađenja.
Slična računica se može primeniti na naše Engel mašine za brizganje plastike, kao i na Piovan sušare za sušanje granulata.
Neofyton partner kompanije ENGEL
Neofyton je zastupnik kompanije ENGEL za tržišta Srbija, Hrvatske, Bosne i Hercegovine, Makedonije, Crne Gore, Nigerije i Kameruna.
ENGEL iQ weight control (kontrola težine) pomaže vam da zadržite kontrolu nad svim delovima proizvodnje: ovaj inteligentni softver misli i ocenjuje – komad po komad. iQ weight control nadoknađuje fluktuacije u kvalitetu materijala i u okruženju mašine za brizganje – bez ručnog prilagođavanja, potpuno automatski i u realnom vremenu.
Engel e-connect korisnički portal
Sve informacije na jednoj lokaciji – dostupne u bilo koje vreme i svugde. Besplatni portal za e-povezivanje korisnika grupira sve informacije koje su vam potrebne u vezi vašeg proizvodnog sistema. Prijavljivanje na portal omogućava pristup svim potrebnim informacijama uvek kada su Vam potrebne.
Engel e-connect korisnički portal (PDF 652 KB)
Skinite besplatnu e-connect aplikaciju za: iOS (iPhone/iPad), Android ili Windows (Phone/Desktop)
The free ENGEL e-calc app is a comprehensive tool for every injection moulder. With this tool you can very easily calculate shot volume, filling pressure, clamping force, cooling time and the screw speed. Instead of making tedious calculations, you will quickly receive the desired results within just a few clicks. These are displayed clearly structured on one page.
Skinite besplatnu e-calc aplikaciju za: iOS, Android ili Windows (Phone/Desktop).
ENGEL plastyfine/plastyfine lite
Recognise moulding defects quickly and easily with the ENGEL plastyfine app. The comprehensive image database is always at hand and helps you to identify defects. ENGEL plastyfine describes both the physical causes and technical process remedies. Your mobile advisor also includes important tips for reducing and avoiding defects. The effects of parameter adjustments on the process and quality of the moulded parts is presented in a clear and understandable way. Helpful hints for troubleshooting as well as general processing information can be called up with the click of a button. Test the free ENGEL plastyfine lite version or take advantage of the full functionality of the ENGEL plastyfine app.
Skinite besplatnu plastyfine lite aplikaciju za: iOS (iPhone/iPad) ili Android.
Skinite besplatnu plastyfine aplikaciju za: iOS (iPhone/iPad) ili Android.
Neofyton provides "turnkey" solutions
From system design to machine installation and training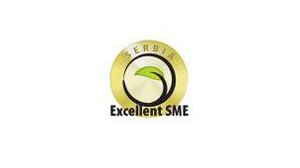 Excellent Small & Medium Enterprises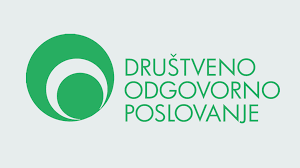 Djordje Vajfert Award for Corporate Social Responsibility - Serbian Chamber of Commerce