Your specialist
for high-tech injection moulds
ifw mould tec GmbH is one of the world's leading specialists in the production of high-quality moulds, developed for the shortest possible set-up and production cycles.
We manufacture injection moulds for the construction, automotive, furniture and electrical industries. The vertical integration of our services extends from production development of the parts and prototyping, to mould development and production, through to in-house mould testing. We also advise and support our customers in the design of complete production facilities.
Our strengths include outstanding expertise, leading edge technology and top-quality service. Long-standing customer relationships – of up to 50 years or more in over 70 countries worldwide – speak for themselves.
 About IFW (PDF )
1969 – Company founded by Manfred Otte
1971 – Apprentice training begins
1972 – Construction of Pyhrnstrasse plant (mould tec) completed
1973 – First patent application
1979 – Acquisition and renovation of the Am Windfeld site (now kunststofftechnik) and ifw apprentice workshop opens
1989 – 1993 – Expansion of ifw mould tec
1994 – Technical centre opens
1998 – 2004 – Expansion of ifw kunststofftechnik
2007 – Founding of the ifw group holding company, ifw Manfred Otte GmbH
2008 – Expansion – technical centre and design engineering
2011 – Series production starts for the automotive component industry
2012 – Production of PPSU parts starts; series production of high-temperature materials
2014 – Commissioning of a 3200-tonne injection moulding machine at ifw kunststofftechnik
2015 – Expansion of the machinery park at ifw kunststofftechnik
2016 – Expansion of the machinery park and introduction of the MES system at ifw mould tec
2017 – Acquisition of the Industriepark St. Pankraz
2018 – Commissioning of the first automated production cell at mould tec
2019 – ifw celebrates its 50th anniversary
2021 – Expansion of the machinery park at ifw kunststofftechnik
2022 – introduction of the MES system at ifw kunststofftechnik
Discover the sensational success story of ifw: from its establishment in 1969 to one of the industry's leading drivers of innovation worldwide, with a main goal of always setting new standards. All made possible by the optimum interaction between motivated employees and company management, and the trust of our customers.
Moulds for new technologies
Resource-efficient moulds
Consultation
Consultation begins in discussions with our Sales team, the Product Development and Design Engineering departments. It is tailored to the individual customer requirements. Consequently, our services also include consultation with regard to optimum materials and ideal product design.
Our experienced design engineers work with state-of-the-art CAD systems to develop perfect moulds. Moldflow simulations and, if required, strength calculations (finite element) are conducted in order to design the optimum mould for our customers. At the customer's request, we can also use leading edge technologies to produce prototypes (rapid prototyping).
ifw moulds help you to manufacture your products efficiently and cost-effectively. We are pleased to advise you with regard to optimum machine design and selection of the ideal number of cavities. Naturally, we also advise and support our customers in the design of complete production facilities.
Product design and development
Alongside production of injection moulds, ifw can provide all the necessary product development and product design for injection-moulded components. The component requirements are compiled in consultation with the customer.
ifw takes responsibility for the entire component development process through to first series production. This ensures product design suitable for plastics. Material accumulation and the consequent unnecessary increase in cycle time can be avoided. Optimum component filling is verified by means of Moldflow simulation. Component function can be checked on prototypes produced with our in-house 3D printer.
However, ifw can also assist in selecting the injection-moulding materials. Very much experience in the processing of materials in our lab and ifw kunststofftechnik and close cooperation with the material manufacturers, ensures the correct selection of plastics.
Even when the customer specifies geometries, ifw checks whether component optimisations are possible. While maintaining component functionality, the cost-effectiveness of production can often be significantly improved by the slightest of changes. The resulting savings over the entire mould service life can be huge.
Moldflow simulations
In order to obtain the most detailed information possible in advance, ifw employs the Moldflow-Insight module. This examines injection situations, analyses pressures and optimises cooling.
The in-mould simulations allow degassing points to be defined as early as the design phase. Simulation of shrinkage and warpage significantly simplifies mould dimensioning. Even core displacements and stresses in the mould during the injection moulding process can be simulated.
Mould breakage and resulting cost-intensive production outages can be avoided in advance with appropriate diagnostics.
Design by means of Moldflow allows initial samples to be produced more quickly and rework to be reduced to a minimum. In turn, this allows mould lead times to be significantly decreased.
Conclusion: The cost-effectiveness of moulds can be improved significantly using the optimum process parameters determined in advance and by adapting cooling to the simulation results.
Rapid prototyping
Components are produced by 3D printing to test their functionality in advance. This allows assembly operations to be verified and simple function tests to be conducted.
Thanks to production of an actual component, decisions can be made in advance as to how this component needs to be changed for it to fulfil its function in practice.
To gain initial insights into the function of tool elements, various tool components are also produced by 3D printing in order to test the motion sequences as quickly as possible for their functionality. 
ifw offers the production of components by 3D printing as a service. Elements with dimensions of up to 254 x 254 x 305 mm can be printed in an FDM process. Different colours of ABS material are available for this purpose.
In-house technical centre
In our technical centre, moulds are tested and fine-tuned for production. The centre is equipped for this purpose with state-of-the-art injection moulding machines of up to 1300 tonnes. If needs be, we also have access to machines between 40 and 3200 t at our sister company ifw kunststofftechnik GmbH.
Training courses
ifw offers the opportunity to attend test runs and see moulds being used in production. This allows us to assist customers in maintaining the moulds and making alterations, e.g. other dimensions, on the actual injection moulding machine. We also offer our customers on-site commissioning, wherever in the world that site may be.
After Sales & Service
In order to assure our customers smooth production over the long term, we consider it absolutely essential to provide comprehensive after-sales service. This service is not restricted to ifw moulds. Injection moulds from renowned third-party manufacturers can also be repaired, modified, or completely overhauled.
When

 

new ifw moulds

 

are delivered, they are accompanied with comprehensive documentation as well as an operation and maintenance manual.
Customers

 

can

 

easily reorder spare parts

 

based on the assembly drawing. These parts are manufactured at ifw and adapted on site by ifw service engineers. Larger moulds are returned to ifw for repairs.
ifw standard parts

 

(in stock) –

 

short delivery times!
moulds are inspected, serviced, and cleaned as necessary. On request, the

 

technical condition

 

can be

 

assessed

 

after a longer production run and the mould prepared for the next production interval.
Repairs are carried out using

 

state-of-the-art technical methods and machines.

 

We conduct mould part measurements, reverse engineering into CAD, machining operations through to sampling, and technical process optimisation.

Enhancements

 

and

 

mould optimisations

 

with mechanical changes can be performed at any time.

 

Engraving changes, additional or changed texture inserts, and the insertion of such items as shot counters and date markers can also be carried out.
Resolution of production disruption

 

is discussed and clarified with our ifw service engineers over the phone. If necessary, we dispatch engineers to our customers anywhere in the world.
Worldwide engineer deployment

 

also for process optimisation.
Education

 

and

 

training, both at ifw and on customer premises.
Organisation of injection moulding contract work

 

for 0-series, small series through to transition into series operation at ifw or customer production.
Wastewater systems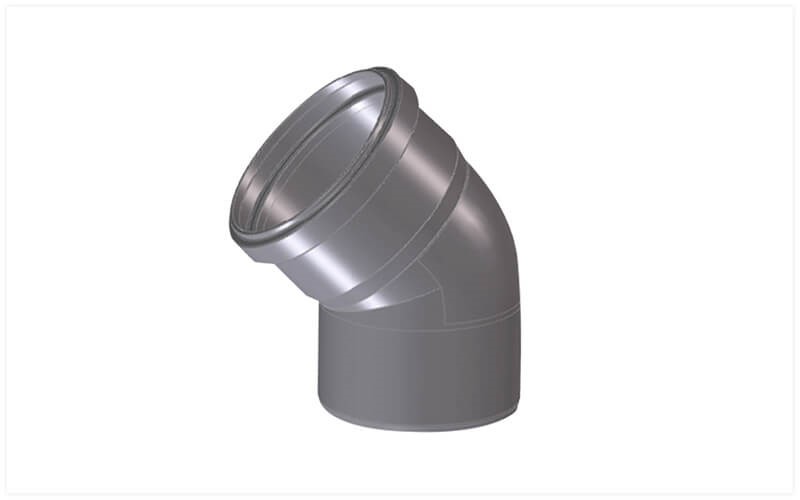 In the field of wastewater disposal, the advantages of ifw moulds come into their own. With tried-and-tested mould details (some of them patented) and outstanding mould systems, ifw has established a name for itself in the industry as the number one full-range supplier in the field of wastewater.
Many years of experience, research and applied development have made ifw mould tec the leading expert in the production of high-tech injection moulds for wastewater systems. 
Perfect design, outstanding precision and high-quality materials provide ideal conditions for your production facilities.
Exhaust systems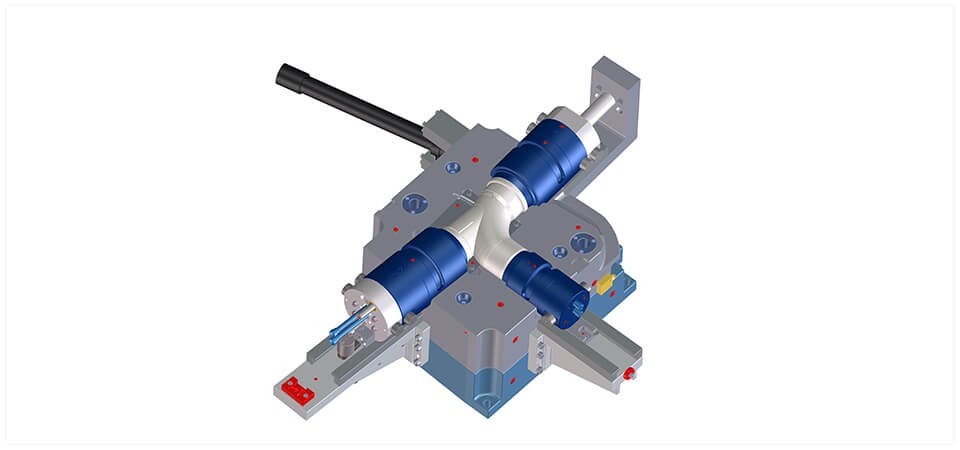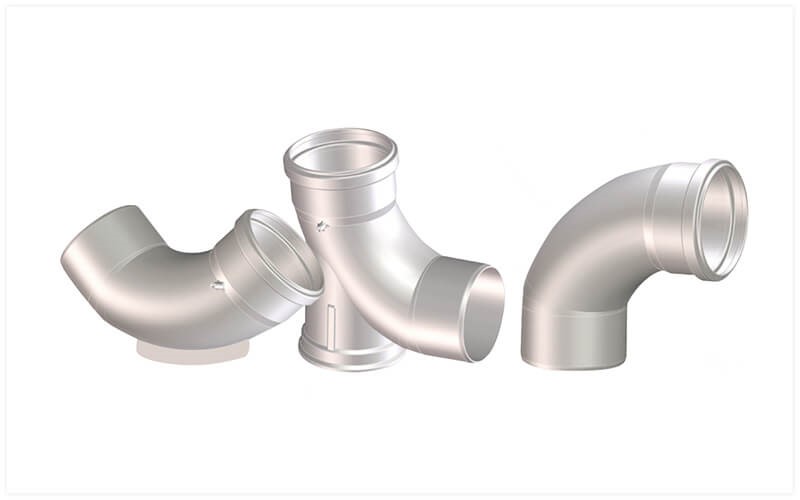 Modern condensing boiler systems make completely new demands of the exhaust system. Excellent gas tightness alone is not sufficient for these systems. The pipes must also be leak-tight and resistant to condensates, some of which are corrosive.
Due to the low exhaust gas temperatures, drain systems made of plastic are the ideal choice. We supply high-tech moulds, tailor-made for this application area. They are optimised for processing special plastic materials, such as modified flame-retardant PP, PPS and PVDF.
The range of parts includes boiler flue connections, adaptors, elbows, inspection bends, inspection tees, condensate drains, sleeves, roof outlets, chimney and duct covers, spacers, sealing covers and many more.
At the same time, we can also offer you high-quality parts production at ifw kunststofftechnik. In order to ensure compliance with the strict quality standards concerning long-term leak-tightness of fittings, we regularly conduct relevant tests in our in-house test laboratory.
Ventilation systems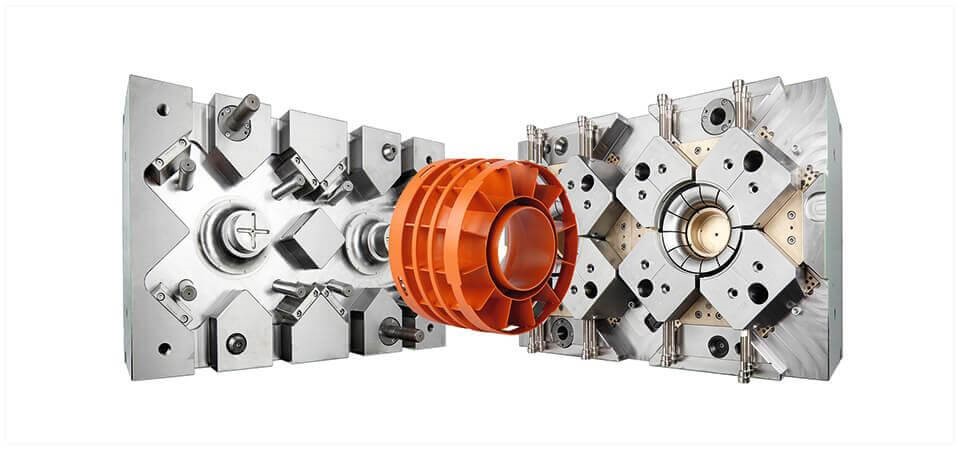 A healthy indoor environment with fresh, oxygen-rich air is of vital importance for personal well-being. At the same time, regulation of the humidity plays a major role in preventing health hazards and damage to the fabric of the building.
Perfect design and high-grade materials, such as PE, PP and PPS, guarantee durable, low-maintenance moulds for your production facilities. For critical environments, such as clean rooms, special materials such as PVDF are used. We supply high-tech moulds for this purpose, which are perfectly suited to processing these high-quality plastics.
Longstanding expertise, experience and applied research & development have resulted in high-precision injection moulding tools for reliable ventilation systems.
Water supply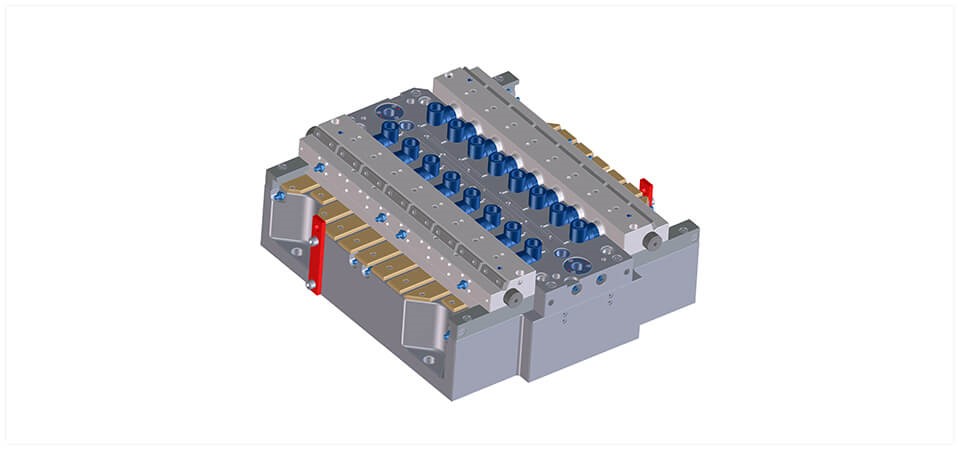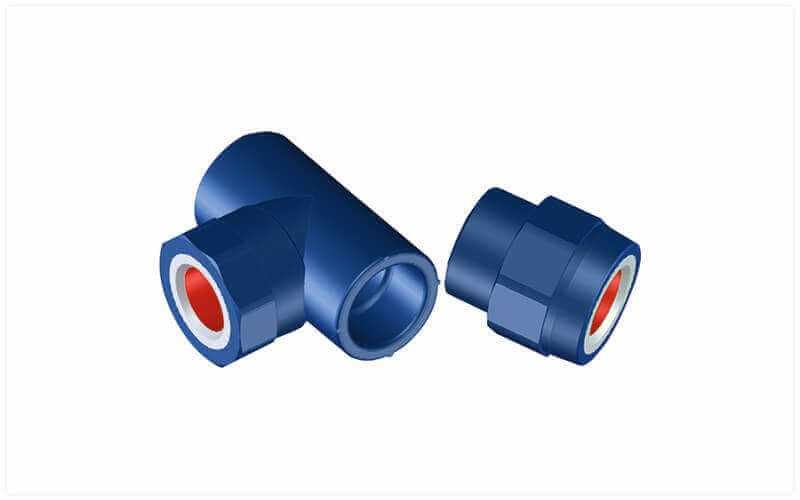 Modern water supply systems convey water reliably and losslessly from the source to the application area. An adequate and reliable supply of hot water, both for heating and for sanitary facilities, is also very important.
For the drinking water supply, we only use special plastics approved for direct contact with drinking water, such as polypropylene (PP) and polyethylene (PE).
Particular requirements are made of the material used for hot water supply pipes, as it not only has to comply with strict hygiene standards, but also withstand high temperatures. Consequently, polyphenylsulfone (PPSU) is often used due to its high temperature stability. This however also means special processing requirements for the injection moulding process.
With our long-standing experience and the aid of Moldflow simulations, we can produce optimum designs for the gating system and its geometry without affecting the material, for example with excessive shear. Optionally, hot runners can be integrated into the injection moulds, which ensure efficient material feed and save material, particularly in the case of PE.
On request, ifw also supports production processes with regular inspections, both before and during series production. The material tests include DSC analysis, MFR determination, tensile tests and part tests, such as time to failure under internal pressure. They are conducted in-house in accordance with various standards (e.g. ISO EN 1167, ASTM D1598/99) that form the basis for approvals by ÖVGW (the Austrian Gas and Water Association).
Gas supply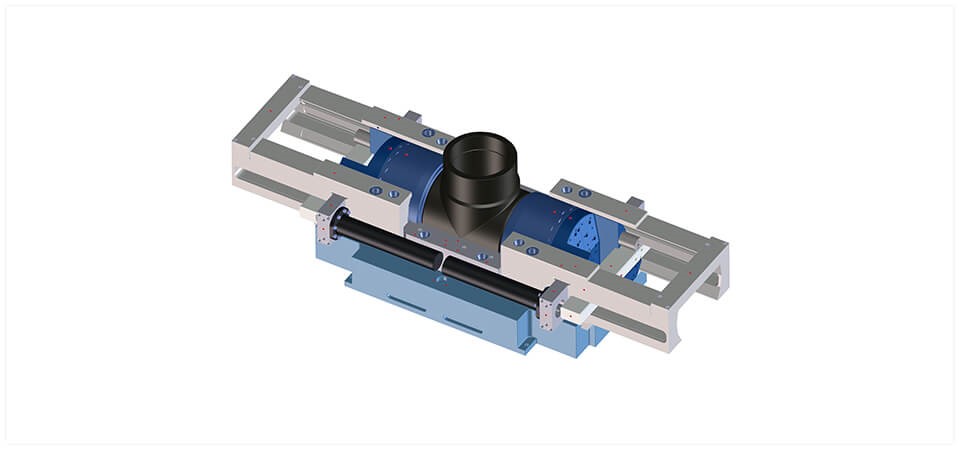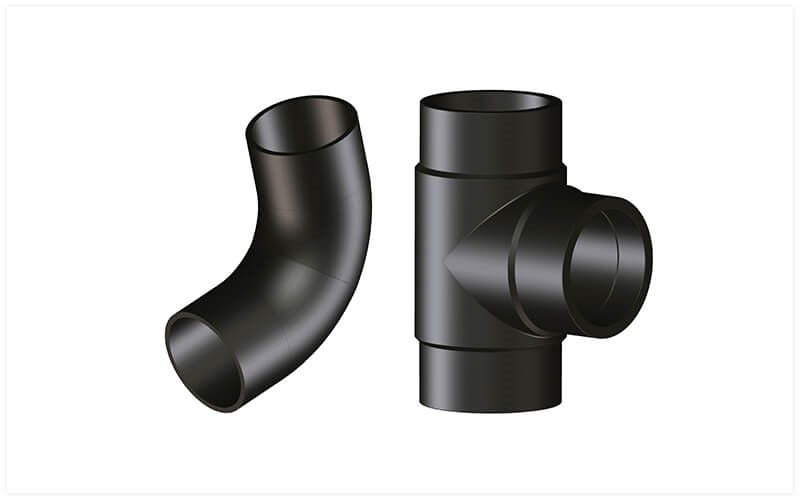 A safe, reliable supply of natural gas is a key factor in economic and municipal development. Consequently, high molecular weight polyethylene (HMWPE) is used for manufacturing gas supply fittings.
The moulds are made for fittings ranging in diameter from 16 to 630 mm and used for socket, butt and electrofusion welding. The range of parts includes elbows, tees, branches, sockets, reducers, end caps, stub ends, connectors, weld saddles and many more.
In addition , the special ifw modular assembly system allows you to manufacture complete article groups in one master mould. The modular design of this mould system leads to a reduction in production costs and to further increases in your production efficiency.
Other components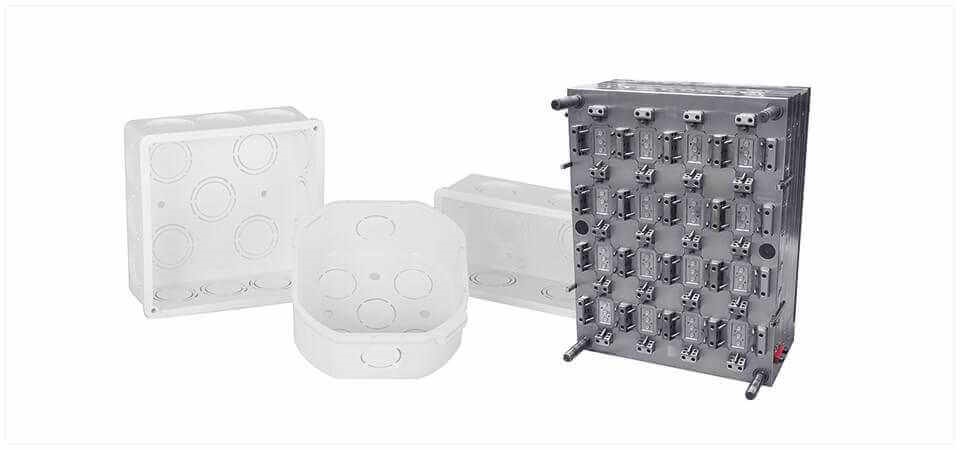 Our extensive experience in mould-making is the ideal basis for meeting your individual requirements.
ifw moulds are used for processing materials such as PVC, PP, PE, ABS, POM, PVDF and PPSU, as well as for filled and fibre-reinforced materials.
Simply contact us – we look forward to your enquiry