Ready for high-powered performance
Get ahead of the competition with your packaging: ENGEL packaging offers you perfectly designed injection molding machines and turnkey solutions for efficient, cost-effective and clean production of packaging products of any shape, color and size.
ENERGY EFFICIENCY
Energy efficiency is a concept that in our part of the world became important towards the end of 2008 and the beginning of 2009, at the outset of the world economic crisis. Most business people had, until then, mostly declaratively considered power consumption as a significant element of the total cost analysis. In these considerations, the impact of energy efficiency on the environment pollution had hardly been tackled at all.
Neofyton was among the first companies in Serbia and the region to start actively demonstrating the importance of energy efficiency, both by cutting production costs and therefore increasing profit rates and building awareness of the resource shortage and broader ecological principles.
Energy savings through the use of Neofyton's machines
In comparison with our direct competitors in the field of plastics injection machines, and with the utilization of standard hydraulics with integrated so-called "smart" pumps, our machines consume as much as 50% less energy. The use of servo-hydraulics opens up the potential of savings as high as 70%. We have a very precise power consumption measuring device to prove this.
The company Engel was the first plastics injection machine manufacturer back in 2009, which introduced the power consumption page as a standard component of the control assembly – "Ecograph", where – next to the weight of each product (molded part) in every cycle – total hourly consumption is shown, as well as the specific power consumption per one kilogram of processed plastics (kWh/kg).
ENVIRONMENTAL PROTECTION
The equipment we represent contributes to ENVIRONMENT PROTECTION in several ways.
When it comes to ancillary equipment, above all water chillers by our supplier Eurochille, used for temperature control of both hydraulics and machine servo motors and molds (tools) in which finished products are made, the chiller systems we sell facilitate the use of a new cooling system based on the so-called "adiabatic effect".
In summer, the hydraulics and servo motors of the injection molding machines call for cooling with water at a maximum of 28°C. Using the so-called "free cooling" device with the "adiabatic effect", cooling of process water is performed without cooling compressors (which use freon as the heat exchanger). Heat exchange, i.e. cooling happens exclusively by the use of ventilators, which translates into six- to eightfold savings compared to traditional chillers that use freon-based compressors.
One of our customers has reduced the required cooling energy by 1.400.000 kWh per year, i.e. by about 70.000 EUR, using the "adiabatic" cooling devices. An additional benefit is the elimination of major pollution risks which might arise from emissions of freon into the atmosphere due to tube puncture or breakage.
A similar calculation can be applied to our Engel injection molding machines, as well as to the Piovan granulate dryers.
Thin Wall Containers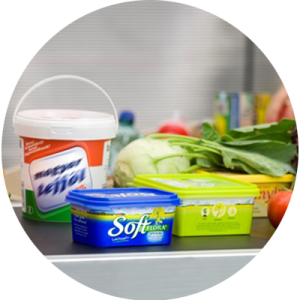 Environment-friendly packaging with high-tech aspirations
The less packaging, the greater your profit: ENGEL makes thin wall containers a low-cost product with high-tech aspirations. Our innovative, high-performance injection molding machine concepts allow you to produce thin wall containers with maximum stability efficiently and cost-effectively.
cutting materials consumption – high injection performance allows for minimal wall thicknesses
increase productivity – maximum output as a result of short cycle times
reduce operating costs – sturdy, energy-efficient injection molding machines with minimal cooling water consumption and low maintenance costs
support cleanliness – cleanroom-capable machines guarantee clean packaging production
safe production – intelligent control technology for extremely fast, coordinated movements
Pails, Buckets and Round Containers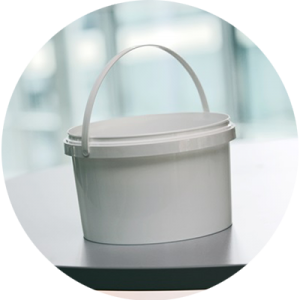 Efficient production of extremely sturdy products
To be competitive with round containers of any kind, it is important to deliver lightweight and very durable products at the same time: In collaboration with you and leading mold makers, ENGEL packaging develops perfectly designed, highly efficient and ecological machine concepts for your packaging technology challenges.
maximized output – powerful packaging machine concepts for shortest cycle times in pail, bucket and round container production
clean production – food-safe, cleanroom-capable manufacturing
flexible production – space-saving production, parallel label inserting and easy demolding
resource conservation – state-of-the-art, efficient systems with intelligent energy management
deliver quality – consistently high product quality and maximum machine availability
Caps and Closures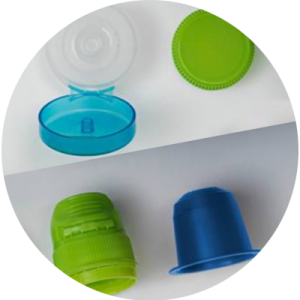 Maximum high-efficiency output at record speed
In the beverage, cosmetics, cleaning and food industry alike: ENGEL packaging offers flexible innovative machine concepts that help you to achieve maximum output of efficiently and cleanly produced standard caps and closures or sophisticated custom solutions.
boost productivity – high-performance machines for the shortest cycle times and maximum output
production safety – high process stability thanks to ENGEL CC 300 machine control units and self-teaching auto-protect mold protection
cutting operating costs – unbeatable energy efficiency, minimum cooling water consumption and low maintenance costs
support cleanliness – lubricant-free systems guarantee cleanroom-capable packaging production
work flexibly – HL technology for large bulky but small footprint tools
Neofyton provides "turnkey" solutions
From system design to machine installation and training