MB Conveyors ima više od 30 godina tradicije i iskustva u mehanici i proizvodnji transportnih traka. Sistemska funkcionalnost i profitabilnost, usluga i briga o klijentima, istraživanje i razvoj uz podršku stručnjaka su glavne osobine kompanije.
Kvalitet proizvoda je osiguran vršenjem rigoroznih testova na svakom koraku proizvodne linije, pri čemu se koriste najnoviji proizvodni sistemi i najkvalitetniji materijali.
O kompaniji i proizvodima (PDF 25.2 MB)
SOFT DROP System for PET preforms storage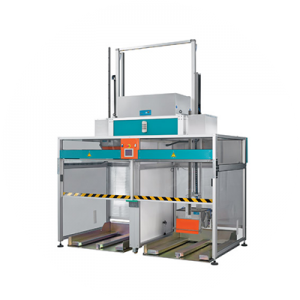 SOFT DROP System for PET preforms storage
Since 1991, MB Conveyors has produced a very efficient system to eliminate damage caused to PET preforms during storage inside the container.
The operating principle of the Soft Drop: the moulding cycle is received from the IMM and conveyed by means of a CPT conveyor to the PA conveyor/distributor installed for the programmed filling of hoppers/lowerators.
When the loading phase ends, the hopper descends into the storage container and, using an ultrasound sensor, releases the preforms at a minimum predefined height. This release height remains constant throughout the container filling phase. When the first container is filled, filling of the second container begins, while an acoustic-visual alarm warns the operator that the filled container must be replaced with an empty one.
MAIN TECHNICAL FEATURES:
Dimensions of containers for standard Soft Drop: base 1000 x 1200 x h. 1200 m
Standard Soft Drop complete with control panel
Main implementations of Soft Drop:
– quality control by weighing with tolerance 0 to + 12 preforms per container
– installation of vibrating platforms
– construction of loading conveyor complete with cooling device
T-CONVEYOR PET preforms storage line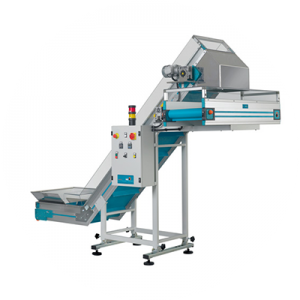 T-CONVEYOR PET preforms storage line
The T-Conveyor is a widely used solution in the PET sector for the storage of preforms in containers. Compared to the Soft Drop, this solution does not include the hoppers descending into the container and is therefore proposed when it is sure that there is no possibility of damage to the preforms as they drop from the PA conveyor into the container.
The CP conveyor receives the preforms from the production unit outlet and conveys these to the PA distributor which unloads these according to a predefined logic into two storage containers.
The control panel, if requested complete with PLC, controls the filling logic.
PV - vibrating platform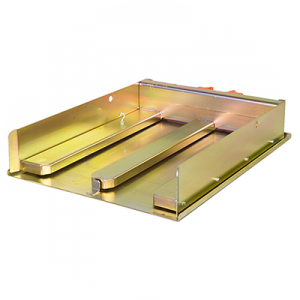 PV – vibrating platform
The vibrating platforms produced by MB are an essential accessory to optimize the storage capacity of the containers where the product is stored, and to eliminate its central accumulation ( pyramid effect ).
MB vibrating platforms find their standard application in the PET preforms production, where they can be integrated into complex filling systems as Soft Drop or TConveyors.
An appropriate setting of the intervention timing of the platform during the filling process can result in an increase of the capacity of the container from +5 to + 12/15 %
MB vibrating platforms are made of sturdy, bended and welded metal sheet, fully treated with zinc – plating process
A variable intensity vibrator determines the vibrations necessary for the optimization of the containers' filling
MB vibrating platforms are suitable for containers with the following dimensions : base 800/1000 x 1200 mm and maximum height 1350 mm (pallet included)
ENERGY EFFICIENCY
Energetska efikasnost u industriji je pojam koji je na našim prostorima postao bitan krajem 2008. i početkom 2009. godine, sa početkom svetske ekonomske krize. Većina privrednika je, do tada, najčešće deklarativno razmatrala trošak struje, kao bitan element kompletnog pregleda troškova. Pritom uticaj energetske efikasnosti na zagađenje prirode gotovo uopšte nije bio razmatran.
Kompanija Neofyton je među prvima u Srbiji i regionu počela aktivno prezentovanje značaja energetske efikasnosti, kako zbog smanjenja troškova proizvodnje, pa samim tim i povećanja profitne stope, tako i zbog podizanja svesti o ograničenosti resursa i širim ekološkim principima.
Ušteda energije korišćenjem Neofyton mašina
U poređenju sa direktnim konkurentima u sferi mašina za brizganje plastike, a korišćenjem standardne hidraulike u koju su ugrađene tzv. "smart" pumpe, naše mašine troše i do 50% manje energije. Korišćenjem servo-hidraulike, postoji potencijal za uštedu do čak 70%. Posedujemo veoma precizan uređaj za merenje potrošnje električne energije, kojim se to i dokazuje.
Kompanija Engel je bila prvi proizvođač mašina za brizganje plastike, još 2009. godine, koji je u svoj upravljački sklop uveo, kao standardnu opciju, stranicu za prikaz potrošnje struje – "Ecograph", gde se navođenjem težine za svaki proizvod (kalup), u svim ciklusima dobija podatak, kako o ukupnoj potrošnji struje po satu, tako i o specifičnoj potrošnji struje po kilogramu prerađene plastike (kWh/kg).
ENVIRONMENTAL PROTECTION
Oprema koju zastupamo doprinosi OČUVANJU ŽIVOTNE SREDINE na nekoliko načina.
Kada govorimo o pratećoj opremi, a pre svega o čilerima za hlađenje vode našeg dobavljača Eurochille, kojima se temperira kako hidraulika i servo motori u mašinama, tako i kalupi (alati) u kojima se i formiraju gotovi proizvodi, čilerski sistemi koje mi prodajemo omogućavaju novi koncept hlađenja korišćenjem tzv. "adijabatskog efekta".
U letnjem periodu hidraulika i servo motori mašina za brizganje zahtevaju hlađenje vodom temperature do 28°C. Korišćenjem tzv. "free cooling" uređaja sa "adijabatskim efektom", hlađenje procesne vode se odvija bez korišćenja rashladnih kompresora (koji koriste freone za izmenu toplote). Izmena toplote, tj. hlađenje se odvija isključivo korišćenjem ventilatora, čime se postiže ušteda od 6 do 8 puta u odnosu na klasične čilere koji koriste kompresore sa freonom.
Jedan od naših kupaca je, korišćenjem "adijabatskih" uređaja za hlađenje, umanjio potrebnu količinu električne energije za hlađenje, za 1.400.000 kWh/godišnje, tj. za oko 70.000 EUR. Dodatna prednost je odsustvo rizika, da usled pucanja cevi dođe do curenja freona u atmosferu i velikog zagađenja.
Slična računica se može primeniti na naše Engel mašine za brizganje plastike, kao i na Piovan sušare za sušanje granulata.
Neofyton – partner MB Conveyors kompanije
Kompanija Neofyton je MB Conveyors partner za tržišta Srbije, Bosne i Hercegovine, Makedonije, Nigerije i Kameruna.
FSRV PLUS samostalni spiralni valjak separator – separator nove generacije, osmišljen da poboljša performanse tradicionalnog spiralnog valjka i postigne izuzetno precizno i efikasno odvajanje proizvoda od ulivka.
Neofyton provides "turnkey" solutions
From system design to machine installation and training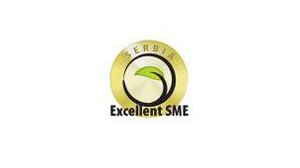 Excellent Small & Medium Enterprises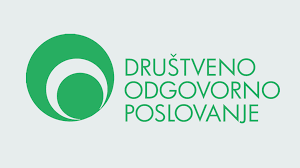 Djordje Vajfert Award for Corporate Social Responsibility - Serbian Chamber of Commerce