EU-DRYmould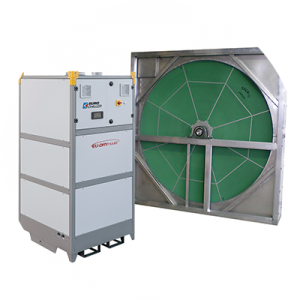 EU-DRYmould is a process air dehumidifier preventing the formation of condensation on the surface of injection and blow moulds. EU-DRYmould takes advantage of the principle of the absorbent Rotary Wheel Dryers, which address the issue of high levels of energy consumption by utilising a rotating wheel which continuously puts dry desiccant into service while regenerating saturated desiccant in the same rotational cycle.
FEATURES
Dew point temperature better than -10°C
EC type process fan with variable speed control
Process air recycling
25% regeneration of electrical power thanks to an economizer
10% electrical power savings thanks to a new design heating chamber
Microprocessor control with 4,3" touch screen panel, with circuit diagram and dew-point display
Direct coupled fan for regeneration, with no maintenance
Various range of options
Easy access for regular maintenance
Temperature control units
Process air dehumidifiers
Process air dehumidifiers
Eurochiller, a manufacturer of industrial cooling systems, stands out among its competitors in that it constantly develops "green" technologies and chillers with high energy efficiency.
Neofyton, in co-operation with Eurochiller has expertise in designing and start-up of central cooling systems.
Philosophy of Eurochiller (PDF 3.76 MB)
Products of Eurochiller (PDF 1.30 MB)
ENERGY EFFICIENCY
Energetska efikasnost u industriji je pojam koji je na našim prostorima postao bitan krajem 2008. i početkom 2009. godine, sa početkom svetske ekonomske krize. Većina privrednika je, do tada, najčešće deklarativno razmatrala trošak struje, kao bitan element kompletnog pregleda troškova. Pritom uticaj energetske efikasnosti na zagađenje prirode gotovo uopšte nije bio razmatran.
Kompanija Neofyton je među prvima u Srbiji i regionu počela aktivno prezentovanje značaja energetske efikasnosti, kako zbog smanjenja troškova proizvodnje, pa samim tim i povećanja profitne stope, tako i zbog podizanja svesti o ograničenosti resursa i širim ekološkim principima.
Ušteda energije korišćenjem Neofyton mašina
U poređenju sa direktnim konkurentima u sferi mašina za brizganje plastike, a korišćenjem standardne hidraulike u koju su ugrađene tzv. "smart" pumpe, naše mašine troše i do 50% manje energije. Korišćenjem servo-hidraulike, postoji potencijal za uštedu do čak 70%. Posedujemo veoma precizan uređaj za merenje potrošnje električne energije, kojim se to i dokazuje.
Kompanija Engel je bila prvi proizvođač mašina za brizganje plastike, još 2009. godine, koji je u svoj upravljački sklop uveo, kao standardnu opciju, stranicu za prikaz potrošnje struje – "Ecograph", gde se navođenjem težine za svaki proizvod (kalup), u svim ciklusima dobija podatak, kako o ukupnoj potrošnji struje po satu, tako i o specifičnoj potrošnji struje po kilogramu prerađene plastike (kWh/kg).
ENVIRONMENTAL PROTECTION
Oprema koju zastupamo doprinosi OČUVANJU ŽIVOTNE SREDINE na nekoliko načina.
Kada govorimo o pratećoj opremi, a pre svega o čilerima za hlađenje vode našeg dobavljača Eurochille, kojima se temperira kako hidraulika i servo motori u mašinama, tako i kalupi (alati) u kojima se i formiraju gotovi proizvodi, čilerski sistemi koje mi prodajemo omogućavaju novi koncept hlađenja korišćenjem tzv. "adijabatskog efekta".
U letnjem periodu hidraulika i servo motori mašina za brizganje zahtevaju hlađenje vodom temperature do 28°C. Korišćenjem tzv. "free cooling" uređaja sa "adijabatskim efektom", hlađenje procesne vode se odvija bez korišćenja rashladnih kompresora (koji koriste freone za izmenu toplote). Izmena toplote, tj. hlađenje se odvija isključivo korišćenjem ventilatora, čime se postiže ušteda od 6 do 8 puta u odnosu na klasične čilere koji koriste kompresore sa freonom.
Jedan od naših kupaca je, korišćenjem "adijabatskih" uređaja za hlađenje, umanjio potrebnu količinu električne energije za hlađenje, za 1.400.000 kWh/godišnje, tj. za oko 70.000 EUR. Dodatna prednost je odsustvo rizika, da usled pucanja cevi dođe do curenja freona u atmosferu i velikog zagađenja.
Slična računica se može primeniti na naše Engel mašine za brizganje plastike, kao i na Piovan sušare za sušanje granulata.
Eurochiller – maximum energy efficiency, great energy savings, longer service life of compressors
Neofyton is Eurochiller's partner for the markets of Serbia, Bosnia and Herzegovina, Macedonia, Nigeria, and Cameroon. Find out more about us, have a look at our capabilities and our installations all over the world.
Neofyton provides "turnkey" solutions
From system design to machine installation and training