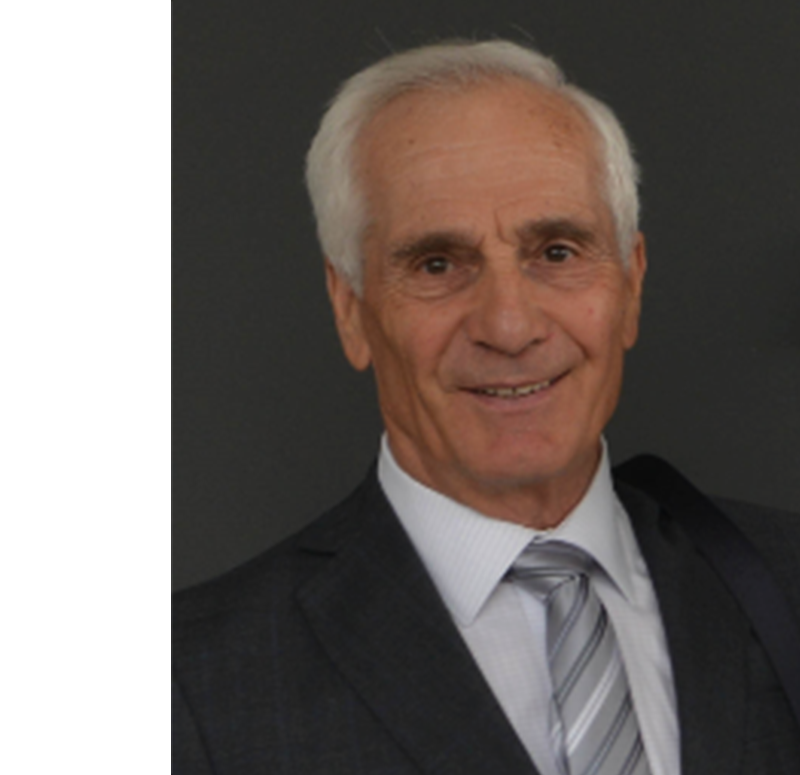 Idea on Neofyton stemmed from a desire of a machine engineer and economist, Stojan Tadic in order to ensure a bright future for his sons. The company's name resulted from researching the history of Novi Sad in 18th and 19th century during Greek-Serbian trade peak. The company was named after Greek term for "novi sad" (flower, crop) – "neofyton", symbolizing the company's development and growth as a new life.
From the very first moment, the entire family was actively involved in business operations. Zoran was completing polymer technologies at the Faculty of Technology, therefore it was logical to join the business of machine and spare parts trade. Stojan was the general manager from the beginning, and a very successful one as witnessed from the present state of the company. Soon upon completion of studies, Zoran signed the first manufacturer's representative agreement with company "Dr Boy", which was a turning point. Mother Radmila has been a moral support from the start, as well as the manager of accounting department. Brother Miroslav has taken over all operations related to logistics, freight and transport. Neofyton company has covered all segments in order to achieve their initial goal – "All services from a single source".
Establishment
In 1992, company Neofyton was established with the idea to provide turnkey solutions, including designing systems and installing plastic injection machines, as well as training.
"Event planning"
Magazine Poli – EXIT festival – Valorplast – Svet plastike i gume
"DR Boy"
Zoran Tadic signed the first manufacturer's representative agreement with company "Dr Boy", which was a turning point.
"EUROCHILLER"
Neofyton signed a contract with company Eurochiller – manufacturer of industrial cooling systems and chillers.
"ENGEL" & "TRIA"
In 2009, Neofyton signed contracts with companies ENGEL and TRIA. Engel is one of the world leading manufacturers of plastics and rubber injection molding machines. Furthermore, Tria granulators for plastics are a perfect solution for all industrial plastics processing procedures.
"PIOVAN"
We signed a contract with company Piovan, one of the leading suppliers of ancillary equipment for the plastic industry.
NEOFYTON CROATIA
We opened a representative office in Zagreb, Croatia.
NEOFYTON NIGERIA
As the representative for markets in Serbia, Croatia, Bosnia and Herzegovina, Macedonia, Montenegro and Slovenia, Neofyton became the representative for African market in 2016 where new representative office is to be established (NEOFYTON Nigeria & Cameroon). Moreover, in 2016, Neofyton signed a contract with company "MB Conveyors" with 25 yearlong tradition and experience regarding mechanics and conveying lanes.
New address
Neofyton has entered the new headquarters located in Partizanska streed no. 27b, in Novi Sad. The facility covering 1.300 m² area was purchased with the financial aid from the company Engel, and with general intention to provide additional services to our buyers.
PROPAK WEST AFRICA 2018 & ITF
The first Injection Technology Forum – ITF 2018 – was planned as the meeting point for science and industry, buyers and sellers, manufacturers and traders, al people involved in plastics industry and injection technology, while Neofyton company was the organizer. Furthermore, this was the first exhibition of Neofyton company at the largest plastics fair in West Africa – PROPAK 2018 – in the most populous Nigerian city of Lagos.
Polymer Laboratory
On June 22nd 2018, a joint project of the Faculty of Technical Sciences and company Neofyton with its partners ENGEL from Austria and Piovan from Italy resulted in opening the Polymer Laboratory within the Department of production engineering.
Award by the Serbian Chamber of Commerce
Company Neofyton received the prestigious corporate social responsibility award by the Serbian Chamber of Commerce – ĐORĐE VAJFERT.
Propak 2019 West Africa
Neofyton was invited for the second time in a row to exhibit at the biggest plastics fair in West Africa – PROPAK 2019 – in the most populous Nigerian city of Lagos, from September 17th to 19th. Neofyton exhibited ENGEL E-MOTION 740/160T at this year's fair.
WINTEC
Neofiton becomes a representative of the Vintec machine for our region and West Africa. The Vintec brand is 100% owned by the Austrian company ENGEL. Vintec's state-of-the-art production facility is located in Changzhou, China. Vintec was founded in 2013. I have already gained an exceptional reputation and a positive reputation among customers, as evidenced by the fact that Vintec has successfully served and marketed injection molding machines in the most demanding markets of Europe, the United States, Mexico, China and Russia.
Consulting and sales
We design, optimize and sell plastic injection systems.
Commissioning/
Training
Training and education are a part of our standard offer during the start-up of machines and ancillary equipment.
Transportation
Delivery of injection molding machines and ancillary equipment is done on a turn-key basis.
Maintenance
We are servicing injection molding machines and equipment, we supply spare parts.
Neofyton – winner of the National Award for Corporate Social Responsibility "Đorđe Vajfert", awarded by the Serbian Chamber of Commerce
The Neofyton company is a winner of the prestigious Award for Corporate Social Responsibility "Đorđe Vajfert", awarded by the Serbian Chamber of Commerce. Our company ranked second in the category of micro and small companies, for the project of a polymer laboratory donated to the Faculty of Technical Sciences of the University of Novi Sad.
The Award was presented to the general manager of the company, Zoran Tadić, by the Minister of Environmental Protection in the Government of the Republic of Serbia, Goran Trivan.
Read all about it on the internet site of the Serbian Chamber of Commerce – pks.rs , from which the news was taken.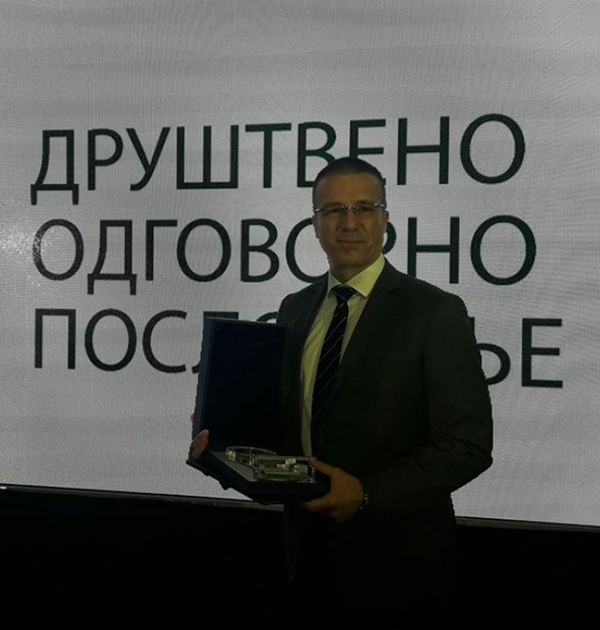 The Neofyton company and their partner company Engel are proud winners of the Grand Prix 63 awarded at the Belgrade Technical Fair.
At the 63rd International Fair of Techniques and Technical Achievements, the most successful exhibitors were presented with traditional awards and accolades "Step into the Future".
According to the expert panel of the Belgrade Fair, the GREAT AWARD "STEP INTO THE FUTURE" for the best exhibit was deserved by the following exhibitors: in the field of "Innovations and New Technologies " Engel Austria GmbH, injection molding machine "e-mac 440/180.
The expert panel of the Belgrade Fair was made up of the following members: Prof. Dr. Lazar Saranovac (chairman), Prof. Dr. Nenad Mitrović, Prof. Dr. Dragan Povrenović, Prof. Dr. Ljubodrag Tanović, Prof. Dr. Vesna Radojević, Asst.Prof. Dr. Kosta Jovanović.
Taken from sajam.rs
Let us preserve the environment for future generations
ENERGY EFFICIENCY
Energy efficiency is a concept that in our part of the world became important towards the end of 2008 and the beginning of 2009, at the outset of the world economic crisis. Most business people had, until then, mostly declaratively considered power consumption as a significant element of the total cost analysis. In these considerations, the impact of energy efficiency on the environment pollution had hardly been tackled at all.
Neofyton was among the first companies in Serbia and the region to start actively demonstrating the importance of energy efficiency, both by cutting production costs and therefore increasing profit rates and building awareness of the resource shortage and broader ecological principles.
Energy saving
Energy savings through the use of Neofyton's machines
In comparison with our direct competitors in the field of plastics injection machines, and with the utilization of standard hydraulics with integrated so-called "smart" pumps, our machines consume as much as 50% less energy. The use of servo-hydraulics opens up the potential of savings as high as 70%. We have a very precise power consumption measuring device to prove this.
The company Engel was the first plastics injection machine manufacturer back in 2009, which introduced the power consumption page as a standard component of the control assembly – "Ecograph", where – next to the weight of each product (molded part) in every cycle – total hourly consumption is shown, as well as the specific power consumption per one kilogram of processed plastics (kWh/kg).
ENVIRONMENTAL PROTECTION
The equipment we represent contributes to ENVIRONMENT PROTECTION in several ways. When it comes to ancillary equipment, above all water chillers by our supplier Eurochille, used for temperature control of both hydraulics and machine servo motors and molds (tools) in which finished products are made, the chiller systems we sell facilitate the use of a new cooling system based on the so-called "adiabatic effect".
In summer, the hydraulics and servo motors of the injection molding machines call for cooling with water at a maximum of 28°C. Using the so-called "free cooling" device with the "adiabatic effect", cooling of process water is performed without cooling compressors (which use freon as the heat exchanger). Heat exchange, i.e. cooling happens exclusively by the use of ventilators, which translates into six- to eightfold savings compared to traditional chillers that use freon- based compressors.
One of our customers has reduced the required cooling energy by 1.400.000 kWh per year, i.e. by about 70.000 EUR, using the "adiabatic" cooling devices. An additional benefit is the elimination of major pollution risks which might arise from emissions of freon into the atmosphere due to tube puncture or breakage.
A similar calculation can be applied to our Engel injection molding machines, as well as to the Piovan granulate dryers.
A corporate goal of the company is the maximum quality and service for the customer. Keeping abreast of technological innovations and delivering the most up-to-date and most cost-effective systems in Serbia and the surrounding markets, we create "tailor-made" solutions. Superior quality and product portfolio, development of innovative, specialized solutions, focus on customers, technical innovations and orientation to future market trends – this is the basis of our development and advancement. We are striving to push the limits of current technical achievements and to provide always new and unique solutions, created to perfectly meet your requirements.
The secret of innovation is combining known things in a new way!
With partnership to success – a principle applied since 1992
PARTNERSHIP WITH CUSTOMERS
Client-oriented, we are ready to create solutions for all your requirements and provide full support from the very inception of your idea to its realization.
PROFESSIONALISM
We solve all problems and requests of our clients on time, complying with the highest quality standards.
DELIVERING SATISFACTION
Our goal is to provide our customers with superior services, not only by delivering machines and equipment, but also complete systems of solutions, thereby building partnerships with our clients.
PROSPERITY
Always turned towards innovations, we wish to be the first and the best at providing services to our customers.
NEOFYTON HR
Resulting from a very good co-operation with Croatian companies, Neofyton opened a representative office in Zagreb in 2013.
NEOFYTON Nigeria & Cameroon
Neofyton has been present on the African market since 2016, when a representative office was opened in Nigeria. The year 2018 marked the first participation of Neofyton in the largest plastics fair in West Africa – PROPAK 2018, in Lagos.
We represent the largest manufacturers of plastic injection machines and equipment, who meet the maximum energy efficiency and productivity requirements.
Neofyton co-operates with more than 250 companies including AD Plastika Split, Drina-plastika Nova Pazova, Greiner&JP Nova Pazova, Grundfos Inđija…
Year in year out, the number of employees at Neofyton grows, to reach 30 people of various profiles in 2022. Neofyton – the winning team!
As many as 155 plants are using our machines. Some of them are Aling Conel Gajdobra, Bekto-Precisa Goražde, Telur Zagreb, Veritas Sarajevo, WIK Prilep…
Address by the general manager of the Neofyton company
The most successful year so far
During 2019, our company continued to develop in the most important business sectors of selling machines and equipment in the ex-YU markets, but it also started selling and placing machines and equipment in the market of Nigeria. Moreover, in September of 2019, we took part once again in the PROPAK WEST AFRIKA 2019 – fair in Nigeria, where, in co-operation with our partners ENGEL, PIOVAN and a Serbian company INMOLD, we presented not only machines and equipment, but also a complete range of services our company provides: engineering, designing, personnel training, and post-sales services.
A year of recognitions
It is our pleasure and honor to have become winners of two prestigious and important awards in 2019 – the Award for Corporate Social Responsibility "Đorđe Vajfert" and the Grand Prix 63 awarded at the Belgrade Technical Fair. These recognitions are telling us that Neofyton is headed in the right direction.
Investment in education is one of the major strategies of our company. When I say this, I do not only mean the education of our staff, but above all the education of new experts at the University of Novi Sad. In the course of 2018, a Polymer Laboratory within the Faculty of Technical Sciences, in co-operation with the Faculty of Technology, was started. Every year, students will acquire necessary knowledge in the field of plastic injection and, what is particularly important, gain integrated knowledge about industry in general, about connecting injection molds (which is pure machine engineering) with plastics processing related to the polymer industry, as well as ancillary technologies such as drying, grinding and subsequent conversion into finished products, through the application of state-of-the-art achievements in Industry 4.0, related to processing industry.

The success of a company may be measured by the usual methods, through accounting reports, sales reports or market share, but I want to point out an especially important aspect for me, and it is the human factor. I feel that in 2018 we managed to further improve interpersonal relations in our company, to create an even more efficient team, which ensures support to our customers in an efficient way. We also engaged two engineers from Nigeria, who are now an integral part of the Neofyton team which is growing and becoming increasingly efficient, to the pleasure and benefit of our partners, who are the very reason for our existence – as our motto says:
Through partnership to success!
Increase of revenues

27%

27%

Total assets

19%

19%

Buildings, machines and equipment

9%

9%

Income

18%

18%
Increase of revenues

31%

31%

Total assets

34%

34%

Buildings, machines and equipment

36%

36%

Income

33%

33%
Increase of revenues

42%

42%

Total assets

47%

47%

Buildings, machines and equipment

55%

55%

Income

49%

49%
Increase of revenues

46%

46%

Total assets

49%

49%

Buildings, machines and equipment

50%

50%

Income

40%

40%
Increase of revenues

55%

55%

Total assets

57%

57%

Buildings, machines and equipment

48%

48%

Income

46%

46%
What some people said about us
We are pleased with the first results of the production to which your company made a significant contribution. I hope we will successfully finalize the ongoing projects through forthcoming activities and start new business arrangements with you.
Dear Sirs, your service engineer Đorđe has done his job work well, professionally and perfectly. He also answered numerous questions our colleagues asked. We are fully satisfied.
We only needed you for spare parts and you proved to be very professional in this. It is a real pleasure working with you all.