Preform tooling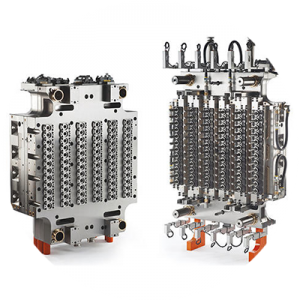 As the world's second-largest mold maker, SIPA is able to deliver global tooling programs for new molds or mold conversions from single to 144 cavities.
To ensure top quality, every SIPA mold is tested before shipping on dedicated XFORM machines. Over the years we have developed extensive knowledge of many different applications, even the most specialised ones, from narrow necks to wide mouths and thick walls.
Highlights:
Innovative design of injection components: less wear, lower risk of flashing, better cooling, excellent quality of parting line
Easier filling ability of injection mold thanks to our XMOLD technology which reduces the friction and improves cycle time
Optimized cooling layout to support fast cycle times and save energy costs
Patented hot runner technology to minimize hot runner downtime
8 millions life cycle guaranteed without need of components refurbishing with LongLife solution
Special hot runners design to reduce material stress and working pressures
MODELS:
Our ever expanding portfolio includes:
Complete molds (cold half + hot half) up to 144 cavities
Conversions of existing molds (full or partial changeover)
Mold spare parts and components
Hot half spare parts and components
Refurbishment options
Electronic temperature controllers
Applications
Our range of solutions is wide and versatile. We can supply molds with up to 144 cavities for standard applications like mineral water or soft drinks, however we have a wide range of solutions also for special applications like wide mouth preforms or long preforms for 5 gallon containers.
Blowing molds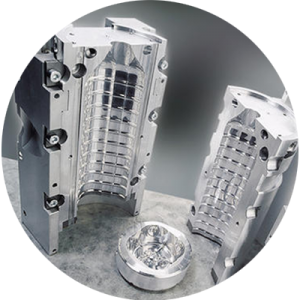 SIPA supplies blow molds for the beverage, food, and consumer goods industry to fit most of the major brands of re-heat stretch blow molder machines. Our blowing specialists can advise you on how to achieve the best possible bottle quality even before the start of the production.
In our laboratories, extensive tests and inspections are performed on both molds and sample bottles through high-quality measuring and testing equipment.
SIPA produces aluminum and stainless steel molds for any application and any shape of container (round, oval, square, complex-shaped) with a wide variety of engravings and decorations.
Highlights:
Our blowing molds fully exploit SIPA's deep knowledge of the complete container production process
Container design service available both from aestetical and performance point of view
Innovative solution to reduce consumptions and improve the formation of complex shapes: XVENT
Optimization of production costs
Weight reduction
Applications
SIPA supplies blowing molds for a wide range of applications in the field of beverages, food and non-food products: still and sparkling mineral water, carbonated soft drinks, milk and dairy products, juices, rtd tea and coffe, isotonic drinks, beer and liquors, detergents, personal care, chemicals, edible oil, sauces and dressing, etc.
TYPE:
Our Portfolio Includes
Molds for linear blow molders
Mono-block molds for rotary blow molders
Quick-change molds (shell molds) for rotary blow molders
Quick-change conversion system with mother mold and quick-change shell molds
Interchangeability kits to make quick-change molds compatible with different types of blow molders
Refurbishment & conversion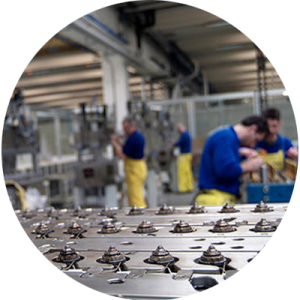 EXTEND MOLD LIFE, APPLICATIONS AND EFFICIENCY
Our flexible conversion and refurbishment services help you make the most of your tooling. For example, our LongLife service extends the life of preform mold cold halves up to 8 million cycles before first maintenance is needed.
We also provide a mold audit service to assess the quality of our customers' preforms over time and schedule the needed servicing procedures. SIPA's audits help you identify efficiency losses along the production line and make the right improvements to keep performance high and optimize your investment plans.
When refurbishing molds, SIPA can provide:
Improved cooling for neck rings
Improved cooling for cavities
Two-piece cavities
Extra-resistant materials
Highlights:
Longer life cycle
Better preform quality
Productivity increase
Lightweighting opportunities
Raw materials saving
Compatibility with both new and legacy tooling
Flexible range of treatments and costs
MODELS:
Refurbishing programs for COLD HALVES:
Completed on site to reduce downtime and shipping expenses, or in one of SIPA's dedicated service centers for more comprehensive service, our programs aim to restore mold performance and part quality without changing the preform shape.
Short term flash reduction re-work (metallizing) of neck rings only
Preload recovery rework of neck rings, lock rings, and cavities
Like-new mold quality recovery provides a new mold warranty, replaces the neck rings with new ones, cleans and polishes molding surfaces, and refurbishes the mold shoe, including new wear plates and gibs on the stripper plate
SIPA has the know-how and capability to refurbish hot runners of any generation, whather they use the Solid Skirt or the so-called Ultra design. We also offer three flexible programs for hot runners:
Basic, which assures preventive maintenance
Intermediate for a mid-line restoration
Complete, to fully restore hot runners to like-new condition
BOTTLE PRODUCTION SYSTEMS
With its 30-year-long experience in PET packaging, SIPA has expertise in all segments of bottle production and filling, from preforms to finished products, in food and beverage industries, chemical products, cosmetics, detergents and pharmaceuticals.
The company, which has always been innovations-oriented, has for many years also cooperated with numerous universities and research institutes. It was among the first to start succcessful production of plastic bottles made of plants and renewable sources.
About SIPA (PDF 1.48 MB)
ENERGY EFFICIENCY
Energy efficiency is a concept that in our part of the world became important towards the end of 2008 and the beginning of 2009, at the outset of the world economic crisis. Most business people had, until then, mostly declaratively considered power consumption as a significant element of the total cost analysis. In these considerations, the impact of energy efficiency on the environment pollution had hardly been tackled at all.
Neofyton was among the first companies in Serbia and the region to start actively demonstrating the importance of energy efficiency, both by cutting production costs and therefore increasing profit rates and building awareness of the resource shortage and broader ecological principles.
Energy savings through the use of Neofyton's machines
In comparison with our direct competitors in the field of plastics injection machines, and with the utilization of standard hydraulics with integrated so-called "smart" pumps, our machines consume as much as 50% less energy. The use of servo-hydraulics opens up the potential of savings as high as 70%. We have a very precise power consumption measuring device to prove this.
The company Engel was the first plastics injection machine manufacturer back in 2009, which introduced the power consumption page as a standard component of the control assembly – "Ecograph", where - next to the weight of each product (molded part) in every cycle - total hourly consumption is shown, as well as the specific power consumption per one kilogram of processed plastics (kWh/kg).
ENVIRONMENTAL PROTECTION
The equipment we represent contributes to ENVIRONMENT PROTECTION in several ways.
When it comes to ancillary equipment, above all water chillers by our supplier Eurochille, used for temperature control of both hydraulics and machine servo motors and molds (tools) in which finished products are made, the chiller systems we sell facilitate the use of a new cooling system based on the so-called "adiabatic effect".
In summer, the hydraulics and servo motors of the injection molding machines call for cooling with water at a maximum of 28°C. Using the so-called "free cooling" device with the "adiabatic effect", cooling of process water is performed without cooling compressors (which use freon as the heat exchanger). Heat exchange, i.e. cooling happens exclusively by the use of ventilators, which translates into six- to eightfold savings compared to traditional chillers that use freon-based compressors.
One of our customers has reduced the required cooling energy by 1.400.000 kWh per year, i.e. by about 70.000 EUR, using the "adiabatic" cooling devices. An additional benefit is the elimination of major pollution risks which might arise from emissions of freon into the atmosphere due to tube puncture or breakage.
A similar calculation can be applied to our Engel injection molding machines, as well as to the Piovan granulate dryers.
Neofyton SIPA S.p.A's partner and representative
Neofyton is SIPA's partner for the markets of Serbia, Bosnia and Herzegovina, Macedonia, Nigeria, and Cameroon.
SIPA is the only supplier in the market who can offer the complete service package: from the design and production of preforms, molds, and containers to the realization of complete production lines. SIPA is an ideal partner for the implementation of your projects: from pellets to palettes.
Neofyton provides "turnkey" solutions
From system design to machine installation and training