New Engel Victory 200/50 fast track injection molding machine has been delivered to Polymer Lab in Novi Sad.
Neofyton's cooperation with the Faculty of Technical Sciences and the Faculty of Technology successfully continues as a completely new Victory injection molding machine is now delivered to the students.
In June 2018, a joint project of company Neofyton with its partners ENGEL from Austria and Piovan from Italy resulted in opening the Polymer Lab within the Department of Production Engineering, Faculty of Technical Sciences and Department of Materials, Faculty of Technology in Novi Sad.
The Polymer Lab contains a completely automated production line, consisting of the injection molding machine, robots and accompanying equipment. Students of the above mentioned faculties have the opportunity to understand how the process of plastic processing works, as well as to expand their theoretical knowledge.
Machine options:
Remote Service Package for 1 machine/robot according to the ENGEL remote service general terms and conditions
mould mounting platens with additional threaded holes for more flexibility in mould mounting
Center ejector
single hydraulic corepull on moving platen
with check valve and pressure release
solenoid air valve 5/2-ways, R1/4 inch,
located on stationary platen
M3 barrel
S8 Screw – Geometry GPS (G1), diameter 25 mm L/D 24.8
UNR9 universal-shut (R9B) – ring check valve
Corrosion resistant barrelhead
Open nozzle with removable nozzle tip
Ecodrive SHV1 with excellent energy Efficiency from a highly dynamic servo pump
CC300 microcomputer
Ecograph – analysis of energy consumption of injection mould machine
iQ weight monitor software for monitoring melt volume and viscosity variations
iQ melt control – automatic recovery time optimisation
water flow control manifold for temperature circuitts on the machine rear side, 4 circuits
hosing of temperature control circutis from flow control manifold to stationary platen 2 circuits and hosing of temperature control circutis from flow control manifold to moving platen 2 circuits and
machine equipped for installation of a stand-alone robot
As a socially responsible company, Neofyton had promised to continue to support the work of the Polymer Lab as well as to renew the equipment, and that promise has been fulfilled. This technology makes the Polymer Lab unique of its kind in the Republic of Serbia and the region.
We wish the students a lot of success in further training!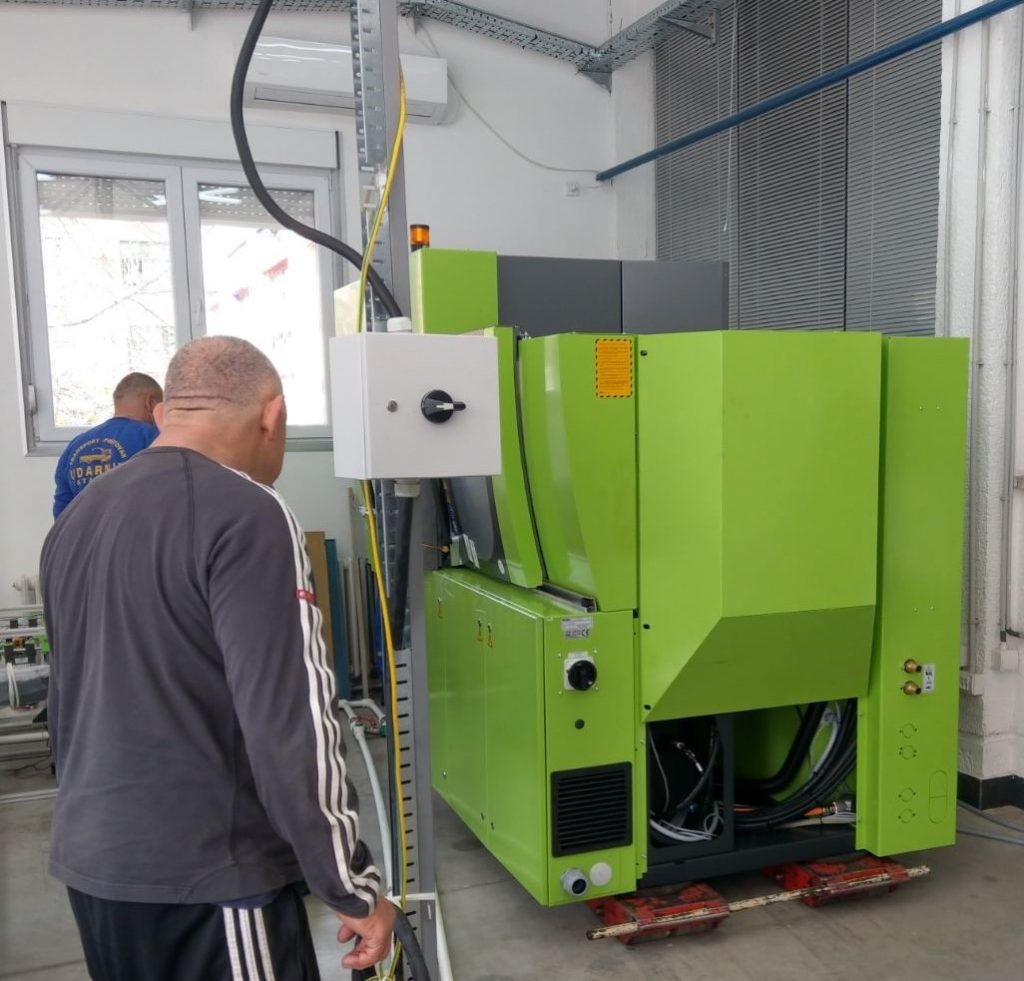 More information about Engel machines : https://neofyton.com/engel-2/
Polymer Lab open ceremony video: https://www.youtube.com/watch?v=vWlLEjxMLQk