Sa 30-godišnjim iskustvom u rešenjima za PET ambalažu, SIPA poseduje znanje u svim oblastima proizvodnje i punjenja boca, od predformi do gotovih proizvoda, u oblasti hrane i pića, hemijskih proizvoda, kozmetike, deterdženata i farmaceutskog sektora.
Kompanija, koja se oduvek bavila inovacijama, takođe je tokom godina sarađivala sa brojnim univerzitetskim i istraživačkim institutima. Jedni su od prvih koji su počeli uspešno da prave plastične boce napravljene od biljnih materija i obnovljivih izvora.
O kompaniji SIPA (PDF 1.48 MB)
BOTTLE PRODUCTION SYSTEMS
Modeli sistema za PET predforme
XFORM 350-500 GEN4 XP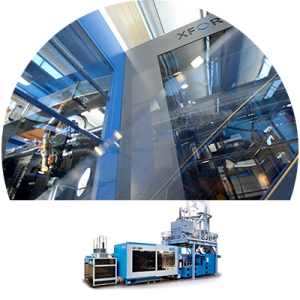 The new XFORM GEN4 XP technology complements the GEN3 in the product portoflio and aims to target the most demanding applications, guaranteeing the highest preform quality and process consistency at the lowest manufacturing cost.
While CEOs will benefits from possibly the lowest conversion cost in the industry coming from extremely fast cycle time, record-high energy efficiency, lower-in-the-industry maintenance costs and full flexibility in using legacy tooling, operators will enjoy a brand new experience, thanks to the totally redesigned 21.5″ HMI, self-setting process set-up, preform troubleshooting tutorial which ultimately deliver a top-level user friendliness.
Highlights:
Capability to install any generation of legacy tooling with no mold modification (including EOAT for the latest tooling generation)
High injection speed
Lock-to-lock below 2.5s
New increased-throughput XFlow™ screw design
More efficient post-mold cooling technology for record-low cycle times
Reduced energy consumption
GEN4 hot runner design for superior flow balance and low pressure drop
XMold™ technology for reduced melt friction and higher L/T capability
SmartLock™ stack design for unprecedented cooling for short-neck preforms
LongLife™ stack coating technology for superior mold life
Extremely low maintenance costs
Record-long mold life
Applications
Preform production systems serie XFORM 350 and 500 GEN4 can produce a wide range of preforms with excellent performance.
MATERIALS:
PET
OPP
PLA
Recycled PET
R-PET flakes
TYPE:
Thin-wall preforms (for lightweight bottles for mineral water, edible oil)
Thick-wall preforms (for carbonated beverages)
Preforms for heat set bottles
Wide mouth preforms for jars
Long preforms for large size containers
XTREME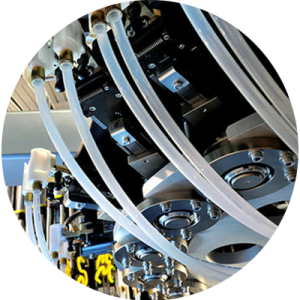 A new era in the production of PET preforms
XTREME is a rotary platform for manufacturing preform at high productivity and efficiency. With this revolutionary injection-compression molding system, SIPA has taken PET preform production into a new dimension. XTREME permits the highest L/t ratios in the industry, enabling you to produce preforms that are 8% lighter than even the lightest preform produced by conventional injection molding. And with a much faster mold changeover time of only 1 minute per cavity, a much lower injection pressure reducing material stress, AA levels and energy consumption, the possibility to produce two different preforms simultaneously, a 100% preform inspection capability, and with a much more compact footprint, XTREME redefines just about every boundary in the industry. Giving you almost unlimited freedom to design and produce extremely light preforms for mineral water and aseptic bottles with the lowest TCO. Extremely efficient, extremely flexible, extremely fast.
Highlights:
Lowest TCO in the industry
Highest ratio (L/T), design freedom
Totally oil free
Significantly reduced footprint
Reduced material stress due to lower injection pressure: low AA content and IV drop
In line preforms inspection: 100% camera quality control
Simultaneous production of two different preforms
Less material: 8% lighter preforms without losing any key properties
Extremely quick mold changeover (1 minute per cavity)
Applications
XTREME, rotary preform injection-compression systems produce a wide range of light weighted preforms with the freedom to create new and unique designs. There is almost no limitation on wall thickness, and L/t can be up to 80 – close to twice that normally possible with injection molding.
MATERIALS:
PET
recycled PET
R-PET flakes
TYPE:
extreme lightweight
Preform revolutionary design: longer preforms with very thin thickness
XTREME RENEW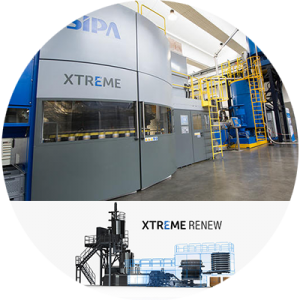 A unique solution for the Circular Economy: from 100% FLAKES to FOOD-GRADE preforms
The first circular system in the world that produces preforms and bottles while saving the environment, energy and money.
SIPA teams up with EREMA to present XTREME RENEW, the first technology in the world to PRODUCE PREFORMS FROM 100% R-PET WASHED FLAKES IN A SINGLE ENERGY CYCLE. An environment-saving and cost reducing technology, this revolutionary "bottle-to-bottle" system was designed for the circular economy: XTREME RENEW uses fewer raw material (-8%), saves more energy (-30%), has a low TCO (-15%) and reduces logistic cost (-20%) compared to any other technology.
Highlights:
Production of PREFORMS containing up to 100% rPET from simply washed flake to food-grade PET with virgin-like quality
Major process simplification
Safe and approved process (FDA, Efsa, Invima, Anvisa, …)
Top preform quality: IV stability, top colour values, clear preforms, food-contact compliant
Sustainable process, from waste to resources
Up to 15% lower TCO vs. traditional recycling concept
Major energy savings (30%) vs. traditional recycling concept
Up to 20% reduction in logistics/warehouse vs. traditional recycling concept
Applications
XTREME RENEW produce a wide range of light weighted food-grade preforms with up to 100% r-PET starting from simply washed flakes for a wide range of applications: mineral water, juices, RTD tea, milk.
MATERIALS:
ENERGY EFFICIENCY
Energetska efikasnost u industriji je pojam koji je na našim prostorima postao bitan krajem 2008. i početkom 2009. godine, sa početkom svetske ekonomske krize. Većina privrednika je, do tada, najčešće deklarativno razmatrala trošak struje, kao bitan element kompletnog pregleda troškova. Pritom uticaj energetske efikasnosti na zagađenje prirode gotovo uopšte nije bio razmatran.
Kompanija Neofyton je među prvima u Srbiji i regionu počela aktivno prezentovanje značaja energetske efikasnosti, kako zbog smanjenja troškova proizvodnje, pa samim tim i povećanja profitne stope, tako i zbog podizanja svesti o ograničenosti resursa i širim ekološkim principima.
Ušteda energije korišćenjem Neofyton mašina
U poređenju sa direktnim konkurentima u sferi mašina za brizganje plastike, a korišćenjem standardne hidraulike u koju su ugrađene tzv. "smart" pumpe, naše mašine troše i do 50% manje energije. Korišćenjem servo-hidraulike, postoji potencijal za uštedu do čak 70%. Posedujemo veoma precizan uređaj za merenje potrošnje električne energije, kojim se to i dokazuje.
Kompanija Engel je bila prvi proizvođač mašina za brizganje plastike, još 2009. godine, koji je u svoj upravljački sklop uveo, kao standardnu opciju, stranicu za prikaz potrošnje struje – "Ecograph", gde se navođenjem težine za svaki proizvod (kalup), u svim ciklusima dobija podatak, kako o ukupnoj potrošnji struje po satu, tako i o specifičnoj potrošnji struje po kilogramu prerađene plastike (kWh/kg).
ENVIRONMENTAL PROTECTION
Oprema koju zastupamo doprinosi OČUVANJU ŽIVOTNE SREDINE na nekoliko načina.
Kada govorimo o pratećoj opremi, a pre svega o čilerima za hlađenje vode našeg dobavljača Eurochille, kojima se temperira kako hidraulika i servo motori u mašinama, tako i kalupi (alati) u kojima se i formiraju gotovi proizvodi, čilerski sistemi koje mi prodajemo omogućavaju novi koncept hlađenja korišćenjem tzv. "adijabatskog efekta".
U letnjem periodu hidraulika i servo motori mašina za brizganje zahtevaju hlađenje vodom temperature do 28°C. Korišćenjem tzv. "free cooling" uređaja sa "adijabatskim efektom", hlađenje procesne vode se odvija bez korišćenja rashladnih kompresora (koji koriste freone za izmenu toplote). Izmena toplote, tj. hlađenje se odvija isključivo korišćenjem ventilatora, čime se postiže ušteda od 6 do 8 puta u odnosu na klasične čilere koji koriste kompresore sa freonom.
Jedan od naših kupaca je, korišćenjem "adijabatskih" uređaja za hlađenje, umanjio potrebnu količinu električne energije za hlađenje, za 1.400.000 kWh/godišnje, tj. za oko 70.000 EUR. Dodatna prednost je odsustvo rizika, da usled pucanja cevi dođe do curenja freona u atmosferu i velikog zagađenja.
Slična računica se može primeniti na naše Engel mašine za brizganje plastike, kao i na Piovan sušare za sušanje granulata.
Neofyton SIPA S.p.A partner i zastupnik
Kompanija Neofyton je SIPA partner za tržišta Srbije, Hrvatske, Bosne i Hercegovine, Makedonije, Nigerije i Kameruna.
SIPA je jedini snabdevač na tržištu koji vam može ponuditi kompletnu uslugu: od projektovanja i proizvodnje predformi, kalupa i kontejnera, sve do realizacije kompletnih linija za proizvodnju. SIPA je idealan partner za realizaciju vaših projekata: od peleta do palete.
Neofyton provides "turnkey" solutions
From system design to machine installation and training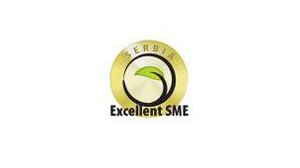 Excellent Small & Medium Enterprises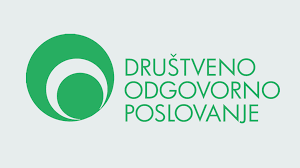 Djordje Vajfert Award for Corporate Social Responsibility - Serbian Chamber of Commerce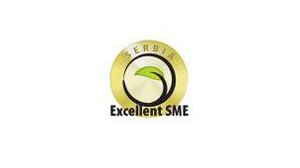 Excellent Small & Medium Enterprises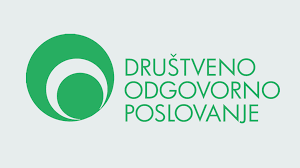 Đorđe Vajfert nagrada za društveno odgovorno poslovanje Privredne komore Srbije