XFORM 350-500 GEN4 XP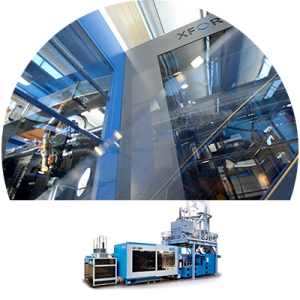 The new XFORM GEN4 XP technology complements the GEN3 in the product portoflio and aims to target the most demanding applications, guaranteeing the highest preform quality and process consistency at the lowest manufacturing cost.
While CEOs will benefits from possibly the lowest conversion cost in the industry coming from extremely fast cycle time, record-high energy efficiency, lower-in-the-industry maintenance costs and full flexibility in using legacy tooling, operators will enjoy a brand new experience, thanks to the totally redesigned 21.5″ HMI, self-setting process set-up, preform troubleshooting tutorial which ultimately deliver a top-level user friendliness.
Highlights:
Capability to install any generation of legacy tooling with no mold modification (including EOAT for the latest tooling generation)
High injection speed
Lock-to-lock below 2.5s
New increased-throughput XFlow™ screw design
More efficient post-mold cooling technology for record-low cycle times
Reduced energy consumption
GEN4 hot runner design for superior flow balance and low pressure drop
XMold™ technology for reduced melt friction and higher L/T capability
SmartLock™ stack design for unprecedented cooling for short-neck preforms
LongLife™ stack coating technology for superior mold life
Extremely low maintenance costs
Record-long mold life
Applications
Preform production systems serie XFORM 350 and 500 GEN4 can produce a wide range of preforms with excellent performance.
MATERIALS:
PET
OPP
PLA
Recycled PET
R-PET flakes
TYPE:
Thin-wall preforms (for lightweight bottles for mineral water, edible oil)
Thick-wall preforms (for carbonated beverages)
Preforms for heat set bottles
Wide mouth preforms for jars
Long preforms for large size containers
XTREME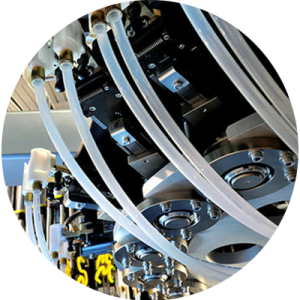 A new era in the production of PET preforms
XTREME is a rotary platform for manufacturing preform at high productivity and efficiency. With this revolutionary injection-compression molding system, SIPA has taken PET preform production into a new dimension. XTREME permits the highest L/t ratios in the industry, enabling you to produce preforms that are 8% lighter than even the lightest preform produced by conventional injection molding. And with a much faster mold changeover time of only 1 minute per cavity, a much lower injection pressure reducing material stress, AA levels and energy consumption, the possibility to produce two different preforms simultaneously, a 100% preform inspection capability, and with a much more compact footprint, XTREME redefines just about every boundary in the industry. Giving you almost unlimited freedom to design and produce extremely light preforms for mineral water and aseptic bottles with the lowest TCO. Extremely efficient, extremely flexible, extremely fast.
Highlights:
Lowest TCO in the industry
Highest ratio (L/T), design freedom
Totally oil free
Significantly reduced footprint
Reduced material stress due to lower injection pressure: low AA content and IV drop
In line preforms inspection: 100% camera quality control
Simultaneous production of two different preforms
Less material: 8% lighter preforms without losing any key properties
Extremely quick mold changeover (1 minute per cavity)
Applications
XTREME, rotary preform injection-compression systems produce a wide range of light weighted preforms with the freedom to create new and unique designs. There is almost no limitation on wall thickness, and L/t can be up to 80 – close to twice that normally possible with injection molding.
MATERIALS:
PET
recycled PET
R-PET flakes
TYPE:
extreme lightweight
Preform revolutionary design: longer preforms with very thin thickness
XTREME RENEW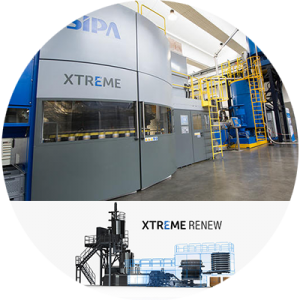 A unique solution for the Circular Economy: from 100% FLAKES to FOOD-GRADE preforms
The first circular system in the world that produces preforms and bottles while saving the environment, energy and money.
SIPA teams up with EREMA to present XTREME RENEW, the first technology in the world to PRODUCE PREFORMS FROM 100% R-PET WASHED FLAKES IN A SINGLE ENERGY CYCLE. An environment-saving and cost reducing technology, this revolutionary "bottle-to-bottle" system was designed for the circular economy: XTREME RENEW uses fewer raw material (-8%), saves more energy (-30%), has a low TCO (-15%) and reduces logistic cost (-20%) compared to any other technology.
Highlights:
Production of PREFORMS containing up to 100% rPET from simply washed flake to food-grade PET with virgin-like quality
Major process simplification
Safe and approved process (FDA, Efsa, Invima, Anvisa, …)
Top preform quality: IV stability, top color values, clear preforms, food-contact compliant
Sustainable process, from waste to resources
Up to 15% lower TCO vs. traditional recycling concept
Major energy savings (30%) vs. traditional recycling concept
Up to 20% reduction in logistics/warehouse vs. traditional recycling concept
Applications
XTREME RENEW produce a wide range of light weighted food-grade preforms with up to 100% r-PET starting from simply washed flakes for a wide range of applications: mineral water, juices, RTD tea, milk.
MATERIALS:
BOTTLE PRODUCTION SYSTEMS
With its 30-year-long experience in PET packaging, SIPA has expertise in all segments of bottle production and filling, from preforms to finished products, in food and beverage industries, chemical products, cosmetics, detergents and pharmaceuticals.
The company, which has always been innovations-oriented, has for many years also cooperated with numerous universities and research institutes. It was among the first to start succcessful production of plastic bottles made of plants and renewable sources.
About SIPA (PDF 1.48 MB)
ENERGY EFFICIENCY
Energy efficiency is a concept that in our part of the world became important towards the end of 2008 and the beginning of 2009, at the outset of the world economic crisis. Most business people had, until then, mostly declaratively considered power consumption as a significant element of the total cost analysis. In these considerations, the impact of energy efficiency on the environment pollution had hardly been tackled at all.
Neofyton was among the first companies in Serbia and the region to start actively demonstrating the importance of energy efficiency, both by cutting production costs and therefore increasing profit rates and building awareness of the resource shortage and broader ecological principles.
Energy savings through the use of Neofyton's machines
In comparison with our direct competitors in the field of plastics injection machines, and with the utilization of standard hydraulics with integrated so-called "smart" pumps, our machines consume as much as 50% less energy. The use of servo-hydraulics opens up the potential of savings as high as 70%. We have a very precise power consumption measuring device to prove this.
The company Engel was the first plastics injection machine manufacturer back in 2009, which introduced the power consumption page as a standard component of the control assembly – "Ecograph", where - next to the weight of each product (molded part) in every cycle - total hourly consumption is shown, as well as the specific power consumption per one kilogram of processed plastics (kWh/kg).
ENVIRONMENTAL PROTECTION
The equipment we represent contributes to ENVIRONMENT PROTECTION in several ways.
When it comes to ancillary equipment, above all water chillers by our supplier Eurochille, used for temperature control of both hydraulics and machine servo motors and molds (tools) in which finished products are made, the chiller systems we sell facilitate the use of a new cooling system based on the so-called "adiabatic effect".
In summer, the hydraulics and servo motors of the injection molding machines call for cooling with water at a maximum of 28°C. Using the so-called "free cooling" device with the "adiabatic effect", cooling of process water is performed without cooling compressors (which use freon as the heat exchanger). Heat exchange, i.e. cooling happens exclusively by the use of ventilators, which translates into six- to eightfold savings compared to traditional chillers that use freon-based compressors.
One of our customers has reduced the required cooling energy by 1.400.000 kWh per year, i.e. by about 70.000 EUR, using the "adiabatic" cooling devices. An additional benefit is the elimination of major pollution risks which might arise from emissions of freon into the atmosphere due to tube puncture or breakage.
A similar calculation can be applied to our Engel injection molding machines, as well as to the Piovan granulate dryers.
Neofyton SIPA S.p.A's partner and representative
Neofyton is SIPA's partner for the markets of Serbia, Bosnia and Herzegovina, Macedonia, Nigeria, and Cameroon.
SIPA is the only supplier in the market who can offer the complete service package: from the design and production of preforms, molds, and containers to the realization of complete production lines. SIPA is an ideal partner for the implementation of your projects: from pellets to palettes.
Neofyton provides "turnkey" solutions
From system design to machine installation and training